The Pittsburgh Steelers suck at defending empty sets. You know it, I know it, it's a topic we've talked about all season long. Wrote about it after Week Two, when Patrick Mahomes carved them up, and Week Six, when the Cincinnati Bengals had success with it. For the latter article, here's how I summed things up.
"Keith Butler hasn't figured out any sort of response against empty this season. Imagine what the New England Patriots, or any strong offensive team, or any team with serious receiving weapons at RB (most of them, at this point) who will kill the Steelers in empty until they come up with an answer.
Right now, it's too easy to know the coverage you're getting. With the Steelers trying to simplify coverages and limit communication busts, they're not going to disguise coverages, even with the safety, well enough to confuse any QB."
I'm sure you'll be shocked to know it's still an issue. As the Steelers return to facing top tier offenses, like the Chargers, they're being exploited again.
Six times Sunday night the Chargers snapped the ball out of empty. All six times, the Steelers had a defensive back on a running back, and a linebacker on a wide receiver. Look at 'em all.
Rivers went 5/6 for 69 yards working out of empty, the lone incompletion a low throw to a wide open Keenan Allen.
So if you want to know why linebackers got matched up on receivers so often, that was by design. Keith Butler lined his DBs up against running backs. And the results were predictable.
The Chargers do have a couple of athletic backs in Austin Ekeler and Justin Jackson, but putting L.J. Fort, or even Vince Williams, on them is an infinitely better idea than lining one of them up on Allen. You guys know how that turned out.
There were other instances where the Philip Rivers didn't snap the ball out of empty but began there to ID the coverage. If a CB was on the back, it was zone coverage. Like he did here. Coty Sensabaugh begins to walk out on Ekeler, Rivers brings him back, and complete this throw over the middle against the zone coverage he knew he was getting.
Or here, which isn't empty but I wanted to include it. On third down, the Steelers initially have Hilton lined up on Allen. A good matchup. What do the Chargers do to change that? Motion the WR across, make Allen the #3, and now he's on Fort instead.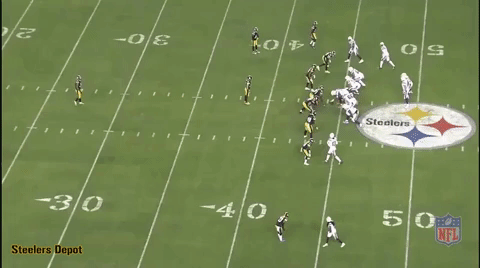 Offenses are playing chess. Keith Butler is playing Connect Four and sticking the pieces up his nose.
Defending empty is difficult. I get it. Offenses can spread the field out, get one-on-one matchups, and it's harder for defenses to disguise blitzes and coverages. I'm sure there aren't many defenses, unless they have a top tier pass rush, who are overall successful against it. But I'd bet you big money there aren't many – or any – team worse in defending it than these Steelers.
Like I wrote then, I can only imagine what the Patriots are going to do to this defense. Ditto with the Saints. And in the playoffs, assuming Pittsburgh still gets there, this is how I expect all offenses to attack this defense. There's no tendency breakers, no disguise, no surprise. Line up, lose, repeat.