All it took was nine plays and 75 yards to erase the Pittsburgh Steelers' lead. That's what the Cincinnati Bengals did, albeit briefly, to take a 21-20 lead late in the fourth quarter Sunday. The defense felt helpless. Andy Dalton marched down the field, aided by one pass interference penalty, hitting his tight ends and backs underneath, finding A.J. Green down the middle, and only needed one third down, which they converted, to do so.
How did the Bengals make it look so easy?
Some of it was on the individual. Good plays by the offense, poor reps from the defense. A lack of pass rush sure didn't help. The Steelers failed to record a single pressure the entire drive.
But another problem was schematic. On at least four plays, Dalton had a very good idea of what the coverage was going to be. The Steelers made little effort to hide it.
It's an issue that's hindered this defense throughout the year: defending teams out of empty. As I've written about in the past, I get it's a difficult task, especially in an era where offenses are scoring more than ever before. But the Steelers haven't offered up much of a solution. Patrick Mahomes went 15/19 in empty back in Week Two.
And Sunday, on the Bengals' final drive, four of Dalton's attempts came out of an empty set. They still ran it out of 11 personnel, 1 RB and 1 TE on the field, so that meant splitting the back out wide. Cincinnati did that all four times.
That can tell you plenty about what type of coverage the defense is in. Empty gives quarterbacks tons of information. A general rule of thumb is if a linebacker walks out on a flexed running back, it's man coverage. If he doesn't, expect zone. That won't tell you everything but it's a good start. Defenses need to have the ability to show tendency breakers and not be so predictable.
But Butler wasn't. On all four plays, the linebacker – Vince Williams – told Dalton what the coverage was. Three times, he walked out and the Steelers ran the same man coverage scheme. Once, he didn't, and it was zone coverage. Let's take a look.
The first instance came on the first snap of the drive. Joe Mixon split out wide and Williams follows. The Steelers are playing "55" coverage, shown below, man-under with two safeties over the top.
And here's 55 from Dick LeBeau's playbook.
Slot fade to A.J. Green, which honestly is probably the wrong read against this type of coverage, but with this being the first play of the series, Dalton might not have had as good a feel for what the Steelers were going to do. Solid coverage by Joe Haden creates the incompletion.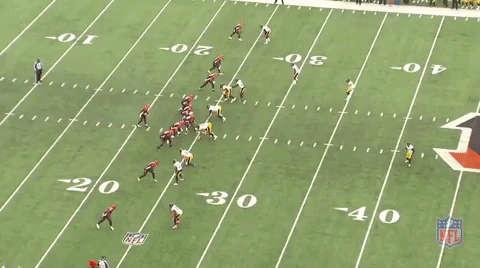 Bengals do the same thing on the next snap. Walk Mixon out, Williams follows, And it's 2 Man again. Dalton, time running out, knows to hit Mixon on an underneath crosser, having a step on Williams, for a six yard gain. Puts them in a much more manageable 3rd and 4 and they convert.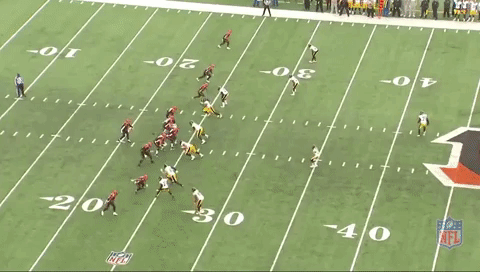 Couple plays later, Bengals back in empty. Williams is out wide on the back and yup, it's man coverage again. 2 Man, just like before. This time, Dalton wants Mixon one-on-one with Williams, because he knows it's man-to-man, but the pass is incomplete. Good coverage from the linebacker but still, Cincinnati knew what the Steelers were running and where to go with the ball. Imagine if they had Gio Bernard out there instead of Mixon.
Finally, the Bengals go empty and Williams doesn't match up with him. That means it's going to be zone. Steelers run quarters.
With A.J. Green shifted to the slot and the Bengals' #3 receiver, Dalton knows that's the matchup he wants. A linebacker, Williams, trying to carry Green vertically is a major advantage for the offense.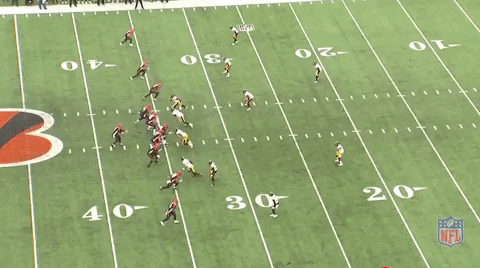 So if you're wondering how a receiver gets "matched up" on a linebacker so often, to be fair, that's not by design, that's why. Happened against Atlanta, too. Empty, CB at the bottom on the TE, CB at the top on the RB, and Calvin Ridley is free down the seam against Tyler Matakevich in zone coverage, Dirty Red trying to low wall and carry him but predictably unable to do so. It's a 21 yard gain.
My main concern isn't just what happened against the Bengals. It's the bigger picture. Keith Butler hasn't figured out any sort of response against empty this season. Imagine what the New England Patriots, or any strong offensive team, or any team with serious receiving weapons at RB (most of them, at this point) who will kill the Steelers in empty until they come up with an answer.
Right now, it's too easy to know the coverage you're getting. With the Steelers trying to simplify coverages and limit communication busts, they're not going to disguise coverages, even with the safety, well enough to confuse any QB.
LB walked out with single high? They're running Cover 1. Two deep? It's 2 Man. LB doesn't walk out? You're getting zone, probably Cover 3, but the safeties will tell you that too. That's one of this defense's biggest problems moving forward.