As we have been for several years now, we'll break down the Pittsburgh Steelers' opponent each week, telling you what to expect from a scheme and individual standpoint. Like last year, Dan Vasko and I will cover the opposing team's defense. I will focus on scheme, Dan on the players.
Today, we're checking out Sunday's opponent, the Atlanta Falcons.
Alex's Scheme Report
Falcons Run Defense
The run defense has been among the worst in the NFL. They're giving up an absurd 5 yards per carry, 29th in the NFL, while only the Arizona Cardinals have allowed more rushing touchdowns than the Falcons' six. They've also given up 15 runs of 10+ yards, well into the bottom third through the first month.
That DL is taking another hit Sunday without DT Grady Jarrett, one of the league's best interior linemen. Up front should be Terrell McClain and Jack Crawford. The ends, like most 4-3 teams, rotate but Takk McKinley and Vic Beasley are your starters. Brooks Reed rotates in behind them. In all, seven defensive linemen have played at least 100 snaps this season for Atlanta. Compare that to the Steelers, who have only two. That's natural given the scheme.
At linebacker mainly is Duke Riley and De'Vondre Campbell, the two who stay on the field in their 4-2-5 nickel front. Rookie Foyesade Oluokun is filling in at SAM, seeing snaps after Deion Jones went down for the season, a big loss for this defense. They've struggled but largely in part to the injuries they've suffered to their playmakers.
In general, they're an athletic, fast-flow defense that's going to be tough to reach and get to the perimeter on. I'd attack them with power and man schemes. Maybe a good dose of Rooesvelt Nix and pulling David DeCastro and Ramon Foster in this one.
Falcons Pass Defense
Some changes here, most notably, losing Keanu Neal to a torn ACL early in the season. At safety sits Damonte Kazee, a small but impact hitter, and Brian Poole. Corner contains Desmond Trufant on the left side, rookie Isaiah Oliver on the right, and Robert Alford in the slot when they go sub-package. Alford is the base corner.
They have only eight sacks this year, five of which come from McKinley. The defense has allowed a mountain of points, nearly 31 per game, ranking 30th in the NFL. They're having a hard time just getting off the field, allowing a 3rd down conversion rate of over 50% – only the Bengals are worse.
In coverage, they're generally a single high team running Cover 3 or Cover 1. Especially when defending empty.
When offenses go 2×2, you're most often going to get Cover 3. The Falcons don't do a great job of matching #2 vertically and they can get beat down the seam, as the Bengals proved in their shootout victory last Sunday. Hit it twice for touchdowns between the numbers and hash.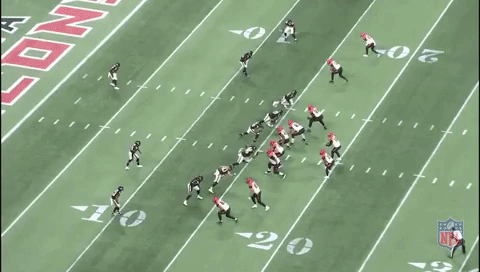 And we all know the Steelers need to get the ball vertical, get things back on track. Stress this group downfield. Worst case scenario, it opens up things underneath for the backs and tight ends.
They're not a heavy blitz team, like most even fronts, but do sprinkle in a decent amount of pressure. If they bring anyone from the secondary, count on it being the nickel corner. Plenty of stunts and twists up front, taking advantage of their athletic front, but sometimes it's easy to see based off their splits.
Check the front here with two three techs. That means someone is stunting and here, the left side twists and gets pressure.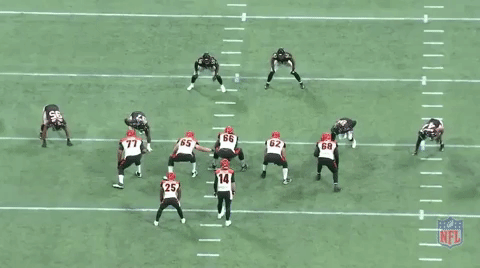 Dan's Individual Report
Defensive Line
LDE Vic Beasley Jr. defensive tackles Terrell McClain & Grady Jarrett, and RDE Takkarist McKinley.
Beasley has been limited with an ankle injury, and Jarrett has not yet participated (Wednesday) as he deals with an ankle/knee. Head coach Dan Quinn all but said Jarrett will not suit up this Sunday, which would be a significant blow to the line.  Jarrett is their nose tackle when they have three down linemen. He's by far their most talented force.
Jack Crawford will come into the rotation mostly on passing downs. Rookie Deadrin Senat and Derrick Shelby also rotate in, but Shelby's availability is up in the air due to his limited participation thus far.
The absence of Jarrett paves the way for the rookie Senat to make a big impact. He's impressed so far in limited time during the season, and should see the field a significant amount against the Steelers.
Wide base, quick hands. Solid arm length for a stockier guy at 6'0" 314 lbs. He's a very active interior lineman and as a result creates leverage in most situations. And his play recognition is quite good, especially for a rookie. Take this play, for instance. He's #94.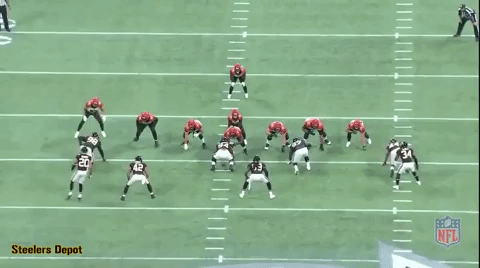 Senat is lined up right along the center's right shoulder. The Bengals are running a screen, using the right guard to chip Senat, with the Center hopefully gaining a push before pulling out to the flat. But Senat's quick hands going high pad level allow for that steady base as he maintains his ground. And you'll notice he keys in on the play fairly quickly, giving one last solid shove to slightly move the center giving him a sharper angle at the running back. His heads-up play thwarts a potential big gain as he takes the running back down for a one-yard loss.
Beasley Jr, though he's a having a slow start to the season, is still a very effective push rusher.  He saw regression in 2017 after leading the league in sacks in 2016. Make no mistake, he's still got it. His speed off the ball is among the fastest in the league, and is he beats the tackle off the snap he's almost certainly getting to the quarterback. He's just that fast.
First off, it's clear he's got a beat right off the bat, as he's in mid stride before the ball even gets into Drew Brees' hands.
But after the initial jump notice his body lean and how he torques his hips as he turns the corner.  Brees doesn't stand a chance at this point. The tackle barely gets his hands on Beasley, and it results in a sack in under 3 seconds.
His lack of overall size at the position is one of his biggest knocks, and his impact can be limited by tackles with quick feet. Marcus Gilbert matches up well in this one, but it won't be a cake walk.
Linebackers
Devondre Campbell is the Mike, Duke Riley is the Sam, and Foyesade Olukon the Will.
This may be one of the fastest linebacker groups in the NFL, particularly with Olukon and Campbell. And they're quite young as well, with Campbell (3rd year) being the veteran of the unit.
Campbell is tenacious in the run-game, and uses his hands very well when taking on blockers. And he rarely finds himself completely out of position. If he is, his speed helps mask the mistakes.
Riley is a sound tackler and again very quick. But sometimes he sits and waits in the hole too long, or moves too far out of position when diagnosing a play. This causes problems, even for someone with his speed. Take this play against Cincinnati.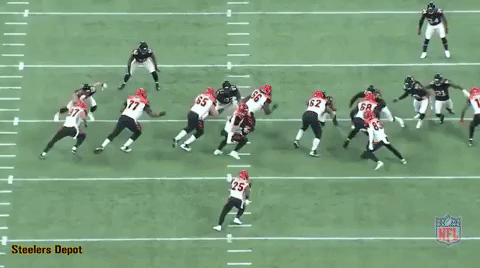 The Bengals play action fake the stretch right play, with the Falcons in zone. There is a lot of miscommunication pre-snap which might allow for the over-pursuit here, but nonetheless, Riley and the entire Atlanta defense bites to the running back. But Tyler Boyd come right out from underneath into the open flat with nobody in sight. In fairness to Riley, Boyd wasn't his guy on the play, but he's there to be that cushion and simply recognizes the route too late. One less step inside may be the difference between a first down and a no-gain.
Defensive Backs
LCB Desmond Trufant, RCB Robert Alford, strong safety Damonte Kazee, and free safety Brian Poole/Keith Tandy.
Brian Poole sees a ton of time as well and is more of a hybrid. He's often assigned to the tight ends, and is used in the box frequently. He's the most versatile guy in the secondary and you'll pretty much see him somewhere around every play. They like to use him on a corner blitz off the edge as well.
Trufant, in his 6th year, is the veteran of the group and he's still playing at a high level. Fantastic footwork, takes on receivers at the line of scrimmage often, and attacks the ball. He's a very versatile defensive back as well, and will be used primarily on the outside, but also in the slot. Plays a lot of press, and is rangy (at 6'0" with 32" arms). His one downside is his lack of strength in the run game. Not as solid of a tackler as you'd like. But the coverage skills are there.
Alford is another guy that's combative at the line of scrimmage, very good zone defender, and takes good angles. He's much more suited to strictly outside coverage unlike Trufant and Poole.
Kazee is a playmaker that has great instincts and hands. Very good in zone, but can struggle against receivers with "over the top" speed. Sometimes gets caught too shallow in his reads, but makes enough plays on the ball to where you'd almost take the aggressiveness over caution. Tandy doesn't jump out in really any area, outside of maybe the run game, he's a solid tackler. But he doesn't make a whole lot of mistakes which should count for something. He's a veteran at the position, and simply won't make or break you, but there are much worse options out there at starting safety.