As we have been for several years now, we'll break down the Pittsburgh Steelers' opponent each week, telling you what to expect from a scheme and individual standpoint. Like last year, Josh Carney and I will cover the opposing team's offense. I will focus on scheme, Josh on the players.
Today, taking a long look at the Atlanta Falcons.
Alex's Scheme Report
Falcons Run Game
It's a group getting a new face with Devonta Freeman returning after missing several games with injury. The run game has suffered with him out. Tevin Coleman is averaging 3.9 YPC and as a team, they're sitting at 4 YPC, tied for 19th in the NFL. They have just nine runs of 10+ yards, one of which comes from Julio Jones. That's tied for 21st. Backup Ito Smith seems to be showing a little more pop in the offense. At least, he was last week against the Cincinnati Bengals.
The run scheme is varied. One thing Atlanta seems to is the toss game. They like to get the ball out on the perimeter. Run it to the field more than the boundary but they've shown the willingness to do either. Crack toss by getting the WRs to come down on the DE and pull the linemen to cut the DBs.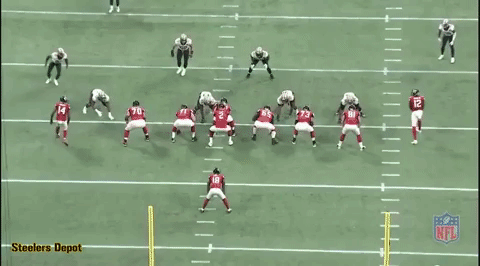 Atlanta likes to fake their zone game and run these tosses/end arounds to the receivers too. Calvin Ridley has three rushes, Mohamed Sanu has one, and Jones has his aforementioned attempt.
They also run their inside zone game and mix in some power as well. There is a fullback on the roster, #30 Ricky Ortiz, but his snap count is low even relatively speaking.
Don't know if this will continue with Freeman's presumed return but they were using a Pony backfield with Coleman and Smith. Sometimes split one out or keep both in the backfield. Either way, keep the defense in base and force linebackers to match up.
Falcons Pass Game
The strength of the offense and really, the entire team, just like the Steelers. Matt Ryan is back to being Matty Ice, completing over 68% of his passes, averaging a very healthy 9.1 YPA, thrown 10 touchdowns to just two picks.
Lot of people downplaying Julio Jones year because of the lack of red zone/end zone work but he's averaging an insane 17.3 YPC (second among all players with 20 receivers) and leads the NFL with 502 yards. There's Ridley, who is finding the end zone with a league-leading six touchdowns. Sanu and the tight ends, Austin Hooper is the starter, are more of the underneath threats.
That 9.1 YPA from Ryan ranks third in the NFL. They've completed 16 passes of 20+ yards, a lower number than I expected, though Jones is responsible for seven of them (tied for fourth). So Jones and Ridley have been the two main deep threats. Everyone else works underneath.
Two things the Falcons do well. Go empty on third down, spread you out, and they use motion to ID coverage really well. Motion the slot receiver, no one follows, they get zone, and move the sticks on third and one.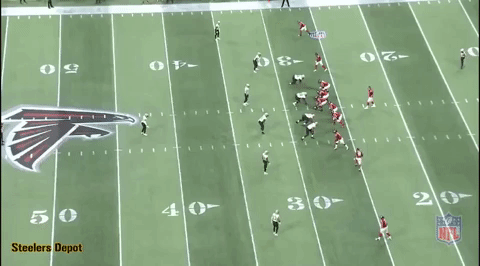 They do a nice job of moving their weapons around. Ridley, Jones, Sanu, all three guys capable of aligning in the slot.
Something I'm envious of the Falcons are great at and committed to is playaction. Look for it early and often on 1st and 10. Over the last two weeks, they've run a playfake or boot seven times on 1st and 10. Twice on 1st and 10 from between their 25-35, they ran this post/dig combination. Different personnel groupings but same concept.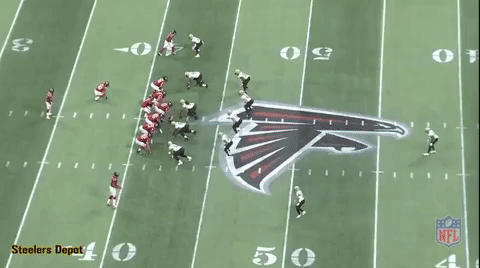 Double-moves don't seem to be a heavy part of the offense (they aren't for any team, really) but given some of Joe Haden's struggles last week, he should've given up a touchdown on one to Michael Crabtree, don't be surprised if the Falcons give it a shot.
Watch Ridley to the top. Also running a wheel to try to flood that part of the field. Good Cover 3 beater and the Steelers have run plenty of it the last two weeks as Keith Butler has attempted to simplify things. Josh has another clip in his report.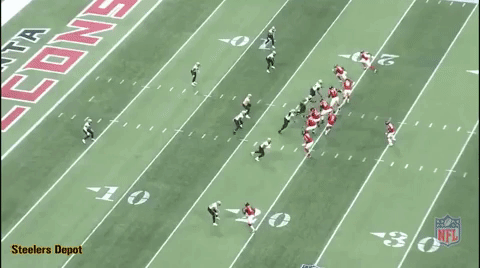 Josh's Individual Report 
It's Falcons week, Steelers fans!
A top 10 offense in football rides into Heinz Field Sunday afternoon on a hot streak, at least in terms of moving the football and putting up points. Atlanta is just two years removed from playing at an all-time level in 2016 when Kyle Shanahan was the offensive coordinator.
Steve Sarkisian is now the man in charge of the offense, and after a rough first season in 2017, the Dirty Birds are flying high again in 2018.
Through four weeks of the 2018 season, Matt Ryan, Julio Jones, and the Falcons offense sits No. 7 overall in the NFL in total offense, right behind the Steelers at No. 6. In the 4 games, Atlanta averages 410.8 yards per game, 29 points per game, 6.5 yards per play, a 48 percent third down conversion rate, and a +2 turnover margin.
Individually, Jones quietly leads the league in receiving yards with 502, while standout rookie Calvin Ridley leads the league in touchdown receptions with 5. Ryan sits 6th in the league in total passing yards (1,356) and is tied for third in the league with 10 touchdown passes.
On paper and on film, this is an explosive offense that is balanced across the board. But make no mistake: this offense goes as Ryan goes.
So far this season, he's been impressively sharp, dialing up the deep ball with regularity, and his accuracy has been off the charts early in the year.
Aside from his MVP season in 2016, Ryan doesn't get near the amount of love he deserves when it comes to elite quarterbacks in the NFL. He doesn't have the biggest arm and isn't the flashiest in the pocket, but he just gets it done at a consistent level.
Early in the year Ryan has developed major chemistry with Ridley, not Jones, which has been a surprise. Back in April, Ridley was clearly WR1 coming out of Alabama. Somehow, teams hemmed and hawed leading up to the draft and let Ridley fall into the 20s, allowing the Falcons to add him to an already potent offense.
Good luck slowing these guys down on a consistent basis. One week it can be Ridley, the next it cane be Jones, Austin Hooper, Mohamed Sanu, or an elite duo at running back in Devonta Freeman and Tevin Coleman. Some of that is definitely scheme-related, but a majority of it is just flat-out talent.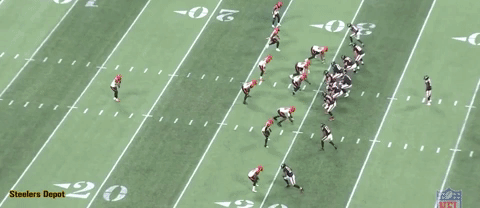 In Week 4 at the Mercedez-Benz Stadium in Atlanta, Ridley and the Falcons connected on splash play after splash play. For the second straight week, Ridley caught multiple touchdowns. His second of the game against the Cincinnati Bengals was arguably the best of his young career.
That's a veteran-level double move on a veteran cornerback in Dre Kirkpatrick. Ridley is able to get into and out of his breaks and cuts so quickly thanks to impressive lower body explosion. He's not the fastest, doesn't jump the highest, and won't impress anyone with his strength, but he's very technical in his craft.
Look at the way he sinks into his double move, drawing Kirkpatrick up the field. His explosion out of the quick stop blows Kirkpatrick away, making for an easy layup throw into the end zone from Ryan.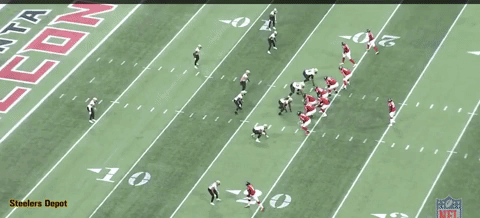 In Week 3 against the New Orleans Saints he did the same thing. Maybe it's time defenses start planning for Ridley to bust it out when the Falcons are in the right field position. He's very good at running it.
Aside from Ridley stealing the headlines this season, Jones has quietly put up monster numbers, recording 2 170+ yard games this season in Week 1 at Philadelphia and Week 4 at home against Cincinnati.
He's not getting many opportunities to run under deep balls because when Ryan does look his way in those instances, he hasn't been able to fully step into the throw due to pressure. Make no mistake though:  he isn't off to a slow start like Mike Tomlin hinted at earlier in the week. He's arguably more productive and more of a threat for the Falcons in that he's opening the field up for the rest of the offense by taking 2-3 defenders at a time. With the success of Ridley and Sanu lately at receiver, don't expect defenses to commit that help to Jones much longer.
Hooper is the prototypical move tight end for this offense. He's deadly in the middle of the field, and Ryan seems to trust him a ton when things break down. Often, it seems like that's Ryan's first look when he's scrambling, sort of like Ben Roethlisberger and Jesse James.
Along with Hooper, Logan Paulsen is the traditional inline blocker for the Falcons, but he showed in Week 4 that he could stress defenses up the seam, catching a touchdown pass after slipping behind a Bengals linebacker.
At running back, Freeman is expected back this week in some capacity but the last 3 weeks the combination of Coleman and rookie Ito Smith has been explosive. If the Falcons offensive staff were smart, they'd ease Freeman into action on Sunday by relying heavily on Coleman and Smith, giving Freeman limited work.
It's not like there's much of a drop off.
Coleman is very good at maintaining his balance through contact, allowing him to bounce off of tacklers in traffic like a bowling ball. He has a similar running style to Freeman, but the guy who has really impressed so far this season has been Smith.
He's so shifty with the ball in his hands and is able to burst side-to-side with explosive force, making him incredibly difficult to line up. I don't have access to Pro Football Focus missed tackles numbers, but based on game tape Smith has to be up there in forced missed tackles.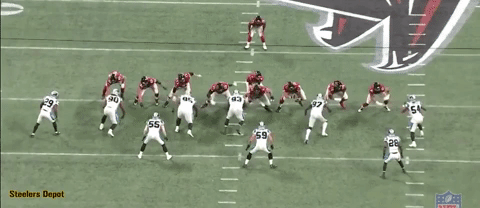 Look at how patient he is with the ball in his hands, and how lite on his feet he is. When he runs, it looks like he just glides through traffic, causing miss after miss.
When Smith was drafted, many pundits passed over him as more of an afterthought in Atlanta, at least for this season. That might be right once Freeman is fully healthy, but he's really impressed me through 3 games of his career. The guy can really play.
Up front, expect the Falcons to line up like this left to right across the offensive line:
LT — Jake Matthews
LG — Wes Schweitzer
C — Alex Mack
RG — Brandon Fusco
RT — Ryan Schraeder
Matthews and Mack are the stalwarts on this offensive line. Matthews struggled at times in Week 4 against Carl Lawson, but he's a technical run blocker and can clamp down as a pass protector, shutting down all types of rush moves. Mack has been able to stay healthy in Atlanta and is back to his dominant ways.
The loss of Andy Levitre to injury at left guard has hurt from a depth perspective, but Schweitzer has held his own in recent weeks. Fusco is out of Slippery Rock and left the Vikings for the Falcons. He's a tough evaluation at right guard because he's so powerful, but doesn't have good feet and seems to wind up on the ground a lot.
Schraeder is underrated, and is quietly a steady presence on the right side. This is a good group overall. Obviously the loss of an All-Pro caliber guard like Levitre hurts, but Schweitzer has stepped up and played well.
On special teams, this group is explosive in the return game, and very steady at specialists with the never-aging Matt Bryant and Matt Bosher at kicker and punter. That being said, Bryant has had a kick blocked this season but it was wiped out by a penalty, and Bosher has had a punt blocked.
This could be a good week for Danny Smith to dial up some of his elaborate rushes and spark the Steelers with a big special teams play.
Watch out for Marvin Hall on kickoffs. He nearly busted off two kick returns for touchdowns last week against the Bengals. The Steelers will have to be disciplined and not look for the big hit on him. He's very good at rocking the coverage unit to sleep before hitting the jets, getting upfield quickly. On tape, it looked like it caught the Bengals off guard the first two returns of the game.
Punt returner and No. 4 wide receiver Justin Hardy hasn't really done much as a punt returner. He has just five returns for an average of 5.2 yards per return and has called for fair catch four times. He's just back there to make sure the Falcons don't muff a punt.