As we have been for several years now, we'll break down the Pittsburgh Steelers' opponent each week, telling you what to expect from a scheme and individual standpoint. Like last year, Dan Vasko and I will cover the opposing team's defense. I will focus on scheme, Dan on the players.
Today, we're revisiting the Cleveland Browns.
Alex's Scheme Report
Browns' Run Defense
The run defense is interesting. The safeties and secondary appear to be doing a nice job keeping a lid on things but the front seven has struggled. And now, they're without MIKE linebacker Joe Schobert, missing with a hamstring injury.
For the season, they're allowing 4.5 YPC, tied for 20th in the NFL. The 35 runs of 10+ yards given up is dead last this season. But, like I said above, they're not letting good runs become great ones. Of those 35, only five have gone for more than 20, an above average figure overall and even more impressive considering the number of 10+ runs they've allowed. That tells me the d-line and linebackers are letting backs into the second level too often. Sure, they've played an extra game of football with four overtimes but only one of those 10+ runs came from there, an 11 yard gain by Marshawn Lynch in late September.
The Browns still run their 4-3 front. Up front, you have 3T Trevon Coley (#93) and 1T Larry Ogunjobi (#65). It's a beefy duo with Ogunjobi much more athletic than you'd expect and a real difference-maker up front. Already has four sacks this year while playing strong run defense. He first got national attention from a strong showing at the Senior Bowl. Browns got a good one.
At end is…well, you know. Myles Garrett, already one of the best DEs in the NFL. What's even scarier, and I'm not sure if this is brand new but it feels heightened, is that they're moving him all around. He'll play either end spot and even kick inside to 3T on third down. Cleveland doing a nice job of moving him around to make him that much harder to gameplan for, now that he's commanding a ton of attention.
Rookie Genard Avery has moved more to an off-ball role with Schobert out so Emmanuel Ogbah has picked up snaps at defensive end.
Like we said, at linebacker, Schobert is a loss. But the other two names still there are well-known. Christian Kirksey as the SAM, Jamie Collins as the WILL. Those are the two nickel backers with Schobert out. Previously, Collins was the odd man out.
Watch out for the occasional run stunt from this group too against heavy personnel, though it can just as often work against them. Big lane for Melvin Gordon here.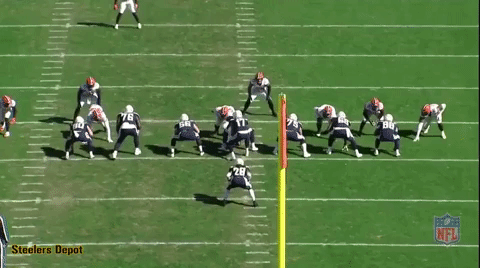 Browns' Pass Defense
While the Browns are below average in points per game allowed, I wouldn't put a ton of the fault on the pass defense. It's been pretty good and the pressure they've gotten has helped.
Cleveland is one of only two teams in the NFL to pick off more passes than touchdown passes allowed. 11 picks, nine touchdowns. Only Seattle can say the same. Those 11 picks are tied for the league-high. Five come from corners and three from linebackers.
This unit also ranks 5th in yards per attempt (7) and sixth on third down (33.3%).
There's Denzel Ward at left corner and Briean Boddy-Calhoun opposite. Travis Carrie comes in for nickel packages. Jabrill Peppers and Damarious Randall at safety though Gregg Williams made things a little interesting last week versus Tampa, having Randall play his fair share of cornerback and shadow (it wasn't exclusive, to be clear) Mike Evans. It didn't really work with Evans catching seven passes for 107 yards.
Schematically, they do a nice job of mixing up coverages. I'd recommend the Steelers to come out heavy with 12/21 personnel. Browns seem to check into Cover 2 against it and it leaves the middle of the field open, especially if the MLB is stressed on playaction and has to recover and get depth downfield. The Chargers hit them on back-to-back plays with it.
Get a good deal of pressure from Williams, which should be no surprise. And be careful trying to get the ball out hot against it. He loves to drop his defensive tackles. It's most often Coley. Here he is chipping and then making the tackle on Antonio Gates.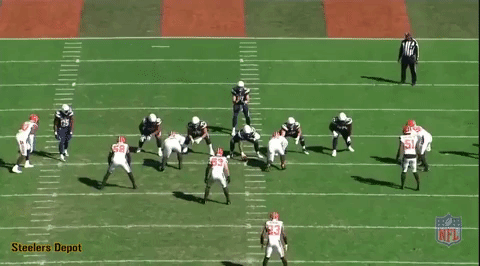 And here's a fun wrinkle. Two DB blitz with a corner and safety coming and Collins, the linebacker, playing deep center field.
One last point about their "defense." Browns' punt team has been excellent the last two weeks. Britton Colquitt has punted 15 times the last two weeks. Seven of those have had the opposing offense start at their own 11 or closer. And I'm counting all punts here, even the ones from deep in his own territory that have very little chance of traveling that far. He and the coverage team have been excellent and routinely given offenses long fields to work with. It's created some splash for the defense too, pinning the Bucs on their one last week and netting a safety two plays later. Secret weapon.
Dan's Individual Report
Defensive Line
RDE  Myles Garrett, LDE Emmanuel Ogbah, and defensive tackles Larry Ogunjobi and Trevon Coley.
Ogbah is a powerful force along the line. He's got strong hands, and won't be moved easily. Wins at the point of attack. Not the greatest athlete, but makes up for it with his size. Much more a power rusher than a speed rusher. Ogunjobi is the better pass rushed of the interior tackles, uses his hands well and can disrupt the pocket, but occasionally over-pursues.
Coley is also a solid pass rusher. Can sometimes over-pursue and abandon gaps in the run game, but overall is a quality interior lineman. Perhaps not surprisingly Coley's sack numbers are quite low. Only half a sack this year, and just two last season. But that's not very indicative of his overall effectiveness. Most of his pressure just aren't resulting in sacks, but his presence is felt.
Check out his lone sack on the season against the Ravens. He's lined up in the 3-technique as he often does. The right guard pulls to seal the edge on the play action, leaving the center on Coley. Coley (#93) takes on the center initially, but then stops for just a brief moment which causes the center to pull up as well. But then Coley fires right back inside and since he's faster and more athletic than most centers he's able to gain the inside leverage with a clean look at Joe Flacco in the pocket. He's able to run him down quickly for the sack.
This is definitely something to keep an eye on especially since most teams including the Steelers like to pull their guards. However Maurkice Pouncey probably the most athletic center in the league and has a much better shot at this matchup than most.
Linebackers
The group of linebackers started the season off on a pretty good note, with improved play from mike linebacker Joe Schobert and the continued progression of guys like will linebacker Christian Kirksey. But with a week six hamstring injury to Schobert, the group has been somewhat shuffled over the past several couple weeks. Jamie Collins Sr. is the sam and has remained there all season, but in the midst of Schobert's absence Kirksey has stepped into the middle linebacker role. Genard Avery has received the bulk of the work at will, although they've used a rotation there as well. Avery is best utilized as a pass-rusher, but also does a good job in the run-game.
After missing ten games in 2017 Collins Sr. has been healthy this season giving a boost to a unit that struggled last season. He's a run stopper first, and forces quite a few fumbles, but his probably over the past several years has been staying healthy.
Will/Mike linebacker Kirksey sticks out the most among this group. Kirksey's speed and athleticism make him a valuable asset particularly on passing downs. He's very good in space, and is quick off the snap as a speed rusher. He definitely excels in coverage.
And although he won't be seen bull rushing too many guys, he has that quickness to take advantage of slower tackles. Very sound gap discipline, and has good play recognition skills. An all-around solid football player. And he exhibits patience when diagnosing run plays (which would be ill-advised for less athletic linebackers, but Kirksey has the quickness to make the play).
Take this play versus Tampa last week. Kirksey is lined up weak-side as the Browns are in nickel. With Garrett crashing on the play it forces the left guard to engage him, leaving the "A" gap free for Kirksey to attack, and the left tackle without a man to block.
Now it's obviously Kirksey's job to bring the running back down, especially with a free lane, but I think it's important to acknowledge the difficulty. Peyton Barber has plenty of room to make a cut, maybe even two, and potentially find some room. But once Kirksey penetrates the "A" gap he stutter steps instead of attacking. This allows him recognize where Barber is cutting and then pursue the ball-carrier all the way to the ground behind the line of scrimmage. Outside of athleticism, Kirksey has the football IQ to avoid mistakes that might be made by more overly aggressive players.
Secondary
Outside corners are Denzel Ward and T.J. Carrie. Free safety is Jabrill Peppers and strong safety is Damarious Randall, though he's been a non-participant so far this week at the time of this writing. Briean Boddy-Calhoun would take over if Randall can't suit up. Carrie will see most of his work in the slot when in nickel formations, Randall moves to the outside and Boddy-Calhoun lines up as the strong safety. With E.J. Gaines likely a no-go as well, the Browns will be very thin in the secondary especially if Randall is inactive. Now on to the breakdowns.
Peppers is very good in zone coverage, can match up well with tight ends, and has the athleticism to be used in a variety of locations on the field. He'll line up in the slot, help stack the box, or play center field and protect deep on cover one. Peppers progressed a lot throughout his rookie campaign in 2017. His biggest asset is his physicality in the run game, but his presence in coverage can't be understated either. His fluidity matched with superb closing speed makes him a dangerous target.
Ward, a rookie, is a prototypical man-cover corner, but can struggle with bigger, physical receivers mainly because of his size. But he's a playmaker with great ball skills and loose hips.  Reads the quarterback's eyes well as we saw in Week One.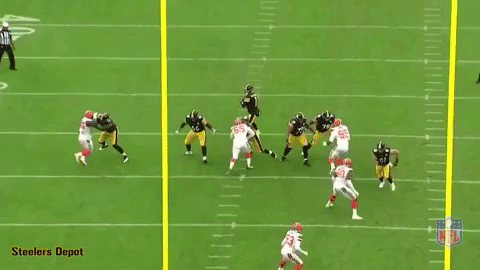 Big Ben became familiar with the rookie fairly quickly in Cleveland. The Steelers were in the red zone knocking on the door, and as he often does Ben Roethlisberger extends the play. Ward (top of the screen) is covering Ryan Switzer as Antonio Brown abandons his route and runs with Roethlisberger to the sidelines. Ward keys in on Brown almost upon the snap and makes sure to keep an eye on the slot while Switzer moves into the flat. Once Roethlisberger rolls out, Ward closes on Switzer just to eliminate that option and then instantaneously breaks inside knowing the ball is going right back to that slot as Brown cuts back inside. Ward makes a great diving interception for the first of his career and makes a statement early that he can make those types of reads and execute. He would have two picks in the game and has logged three this season.
The rookie has some serious skill.
Randall is also new to the squad coming from Green Bay. He's great at 50/50 balls, and has very good hands. He won't match up as well as Peppers with tight ends, though. Randall is more suited on the outside than in the slot, and they use him as more of a utility than a pure strong safety in some instances.