I was planning on writing this article centered around a Pittsburgh Steelers win. At the time, after James Conner's second touchdown, it sure felt that way. Regardless, on a day where Ben Roethlisberger struggled, it was their run game that gave them life. Not to mention two of their touchdowns.
Both scores on the ground came off the same concept. Their Counter OG/OF, getting the backside guard and fullback pulling and the back running downhill. Let's take a look at both plays.
Here's the first one for the first points of the 2018 season. Running it out of 11 personnel so no fullback involved. 11 personnel helps lighten the box and spread the defense out horizontally with the ball on the four, since there's no room to expand them vertically.
Here's the blocking assignment for each player.
Jesse James – Down block to the MIKE (#53)
Marcus Gilbert – Down block playside 3 tech
David DeCastro – Down block 1 tech
Maurkice Pouncey – Down block weakside 3 tech
Ramon Foster – Pull around, kick out first color (first defender)
Alejandro Villanueva – Backside seal, collapse B gap to avoid penetration by 1 tech
Conner's read is partially based on how the defense plays it but more often than not, he's turning upfield of the inside hip of the pulling guard.
Here's how it looks pre-snap.
And that's how it plays out. Key is to have those down blocks get a good push. That's so the DL can't penetrate and potentially widen the path of the puller and the back, elongating the play and letting the defense rally. Then you have to execute the kickout block by the puller and for the back to make a decisive read.
That's what happens. Great job by DeCastro, Gilbert, and James to downblock with Foster wrapping around. Giant lane for Conner, the Browns get themselves out of position (no idea what #26 is keying here) and he walks in for six.
Take a look at the whole thing.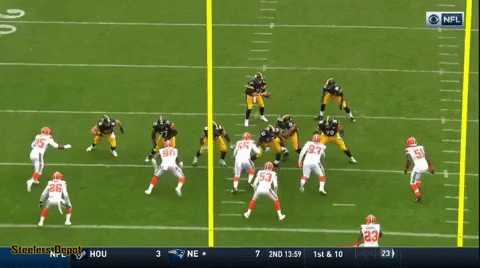 Let's jump to the second one. Same idea but out of 13 personnel (rookie OT Chukwuma Okorafor is a tight end eligible). This time, RG David DeCastro is pulling with FB Roosevelt Nix as the lead blocker. Xavier Grimble has the downblock and Conner is running off DeCastro's hip.
Strong second level blocking thanks to Okorafor and Maurkice Pouncey spring Conner into the end zone.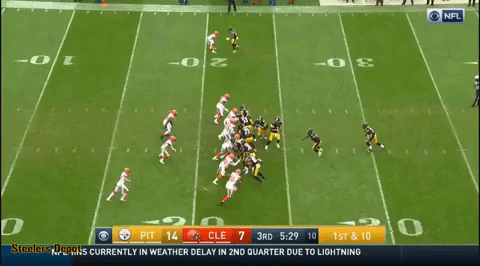 Two runs. Two touchdowns. Two untouched plays for Conner. That's what great blocking up front does. Nothing magical about it. And it highlights Randy Fichtner's, just as Todd Haley did, ability to run the same core plays out of different formations and personnel groupings.