There's no question that Sunday was a ROUGH day for the Pittsburgh Steelers special teams unit. When you talk about it this much, it almost always means things went haywire. Chris Boswell has had his confidence shaken, admitting he's going through a funk and needs to kick himself out of it. Jordan Berry's days could be numbered. The punt coverage unit struggled and there were multiple penalties that negated big plays.
In a word, bad.
What if I told you that all could've changed in a play?
Ok, not really. The bad things that happened are still giant mistakes. Ones that gotta be fixed. But the Steelers came so close to ending their special teams on the highest of notes.
Remember Tyler Matakevich's roughing the punter call at the end of the game? The one that probably seemed sorta dumb, robbing the Steelers of at least having the ball for one final play. Here's the thing. It should've been a blocked punt. It was going to be a blocked punt. But it wasn't.
Game of inches, man.
How in the world do the Steelers get so close to blocking one in such a critical moment when everyone in the stadium knows they're coming after the punter? And why didn't it happen?
It starts with great scheme. It ends with a stumble.
Special teams is like offense or defense. In a big moment, you choose your go-to play. That's what Danny Smith does here. He calls his best punt "blitz," the scheme most likely to confuse the Chiefs and get someone free.
Think of him as a defensive coordinator. Most blitzes are designed for one man to get home. This is no different. Matakevich is that man here.
Here's how the Steelers line up. Three on the left, five on the right. Chiefs have eight to block. Three to the left of the long snapper block the three Steelers on the left. The upback (#24), long snapper, and three to his right take the other five. On paper, things look easy.
So just slide everyone down to the right and it's blocked well enough, right?
That's where scheme comes in. There's two wrinkles here.
1. Cam Sutton will drop into coverage, like a nose tackle bailing out. This actually helps the rush get home. You'll see why in a second.
2. L.J. Fort, lined up in the A gap to the right of long snapper pre-snap, will loop into the left (opposite) A gap.
Here's how the right side of the rush looks. Left side isn't important. They don't have much of a duty here other than to try and win their matchup and stay out of the way of the other side. Roosevelt Nix does loop but he doesn't have much of a chance.
Let's look at what happened post-snap. The right side of the Chiefs line all slides down, as you'd expect. Sutton drops out, creating a double-team by #44 and #84 on Anthony Chickillo since they assumed both were coming and wanted to clog their gaps up.
Meanwhile, Fort is looping. Now, the right side of the line that was supposed to slide down needs to make a change because no one on the left is able to help. That creates confusion, the key to any good blitz, defense or special teams. The long snapper AND personal protector slide back to their left, both trying to pick up Fort.
With those two wrinkles. looping Fort, dropping Sutton, the Steelers have caused the Chiefs to needlessly double-team two players. That's four of Kansas City players, a giant win for Pittsburgh. Matakevich is the player designed to get block it because he's in the A gap on in the right gap, the same side as the punter's foot, increasing odds of a block if it gets home.
Instead of blocking five on five, the Steelers have the numbers advantage. They're +1.
Tyler Matakevich is free.
Up. The. Middle.
This is insane. Maybe not to you but it should be. All the Chiefs have to do is get the punt off, force the fair catch, and the Steelers have one play to go 80 yards. Statistically, it's game over. Avoid disaster, a bad snap or blocked punt, and you're golden. And Kansas City has one of the best ST coaches in the league, Dave Toub, who nearly became a head coach this offseason.
Yet here is Matakevich. All alone. He just has to make the play.
Here's the rub. Or really, the stumble. While rushing up the middle, Matakevich loses his footing. Hard to tell why – I think he tripped over one of the Chiefs' long snapper. It slows him down and he can't get to the punter in time, despite going all out, barreling into Dustin Colquitt and drawing the flag.
*This* is how close Dirty Red came to blocking it.
If he has a clean release, doesn't stumble, he's blocking it. 100%. Guaranteed. That's great technique. Thumbs together. Fingers spread. And if he touches the ball before the punter, there can't be a flag.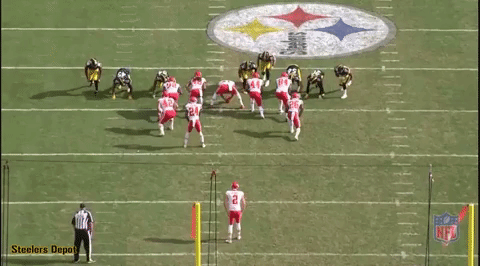 The punt will be blocked. What happens after that is anyone's guess. Time is still an issue, clearly. But it's reasonable to believe the Steelers are getting the ball somewhere around the Chiefs 30-40 with a couple seconds left. Now, you have a real chance to win the game, even if odds are still stacked against you.
It's a very similar punt block scheme as the one the Steelers did block last season in Week One vs Cleveland. And it was Matakevich who did it.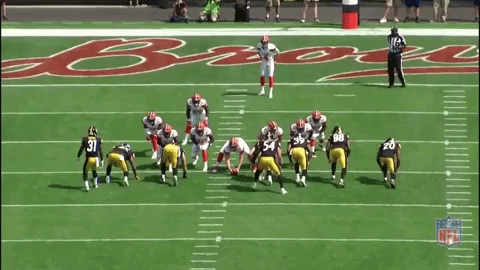 This isn't the first time I've hit on this topic. One of the things Danny Smith does REALLY well is setting up his punt block schemes. Not only in its creativity but its timing. Last year, we predicted the Steelers would block another punt (and they did). It should've happened again Sunday. A tiny trip prevented it.
Smith's unit clearly had a terrible performance in other facets and there are tons of reasons to be critical of him. I'm no exception and certainly pointed the finger at him before. He's gotta fix things, the elements within his control. But I'm willing to give him the chance to clean it up. You should too. There's plenty of good here. You just have to look a little harder for it.