Welcome to a new series we'll sprinkle in throughout the offseason. Writing about Dallas Baker's lone career catch recently got me to thinking about others in that "solo" club. Players who did one thing only one time in their entire career. One rush, one pass, one interception, one touchdown, you get the idea. Truly, a blip on the radar but Steelers nonetheless and literally, a "one" hit wonder.
We have another reader request and I'm glad you guys are enjoying the mini-series as much as you are. Running back Richard Bell played for just one season in the NFL, 1990, and a guy I had never even heard of until someone mentioned him in the comments yesterday.
While he did catch more than one pass, there were 12 of them in his career, only one found the end zone. And man, it couldn't have been any prettier.
A 12th round pick that year out of Nebraska, Bell made the team out of camp and contributed right away. His touchdown didn't come until October, the first points on the board in an eventual 27-7 loss to the Joe Montana-led 49ers.
Bubby Brister dropped back from the two yard line, hitting Bell in the right corner of the end zone. The Steelers were running a classic pick play you'll still see today. A slant by the #1 receiver, Bell, in the slot, running a fade to the corner.
San Francisco, in a surprise, dropped Hall of Famer Charles Haley into coverage. Brister's throw should have gone to the back right pylon but the pass was off the mark, throw to Bell's inside shoulder. He made an incredible adjustment to contort his body, reach over his shoulder with an outstretched right hand, and land inbounds before rolling out of the end zone.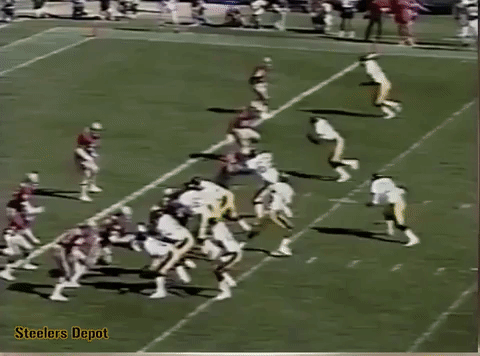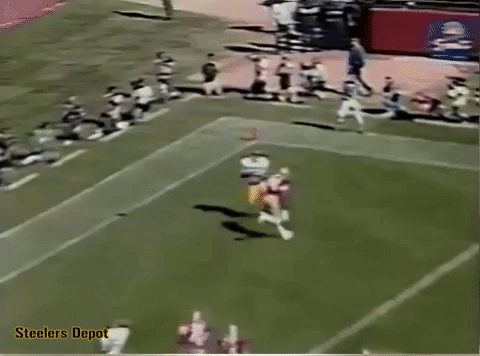 The play was initially called incomplete but after review, it was overturned.
It'd be the only touchdown of his career and he'd only make one impact play the rest of the season, a 43 yard catch and run against the Falcons several weeks later. But if there's one play you want to make, it's an insane one-handed grab over a dude enshrined in Canton.
After the season, Bell was left unprotected by the Steelers and signed with the Kansas City Chiefs as part of Plan B free agency, though he never appeared in another regular season game. Not to drift into Blast from the Past territory, but he's brought out his inner Al Powell, becoming the interim police chief of West Covina in California last year.