If you're reading this, the 2015 NFL Combine is probably already underway and as I noted in my Chalk Talk for the week, while the event does have value, it has to be viewed in the correct scope. What is and isn't worth watching during what has become such a marquee event that is often over-analyzed.
Position by position, we'll break down the key areas to pay attention below.
Quarterback: As you'll hear a lot of analysts say, and accurately so, no one cares about a quarterback's completion percentage at the Combine. Everyone is acutely aware it's a foreign environment with receivers they've never played with before. All we want to see is the football thrown in a nice, tight spiral. If they're capable of throwing the NFL's most difficult routes, like the corner route. Do they have the strength and velocity to drive the throws that need it?
Most of the drills are irrelevant save for the one or two highly mobile quarterbacks.
It's not shown on TV but quarterbacks are also asked to grip the football away from their body. A camera man circles him all the way around, focusing on how the QB holds the football. One thing teams are looking for is seeing space between the palm and the ball. If there's isn't that space, the quarterback is gripping it too tight. An example below, with Tom Brady serving as the model. This video is distributed to all 32 teams.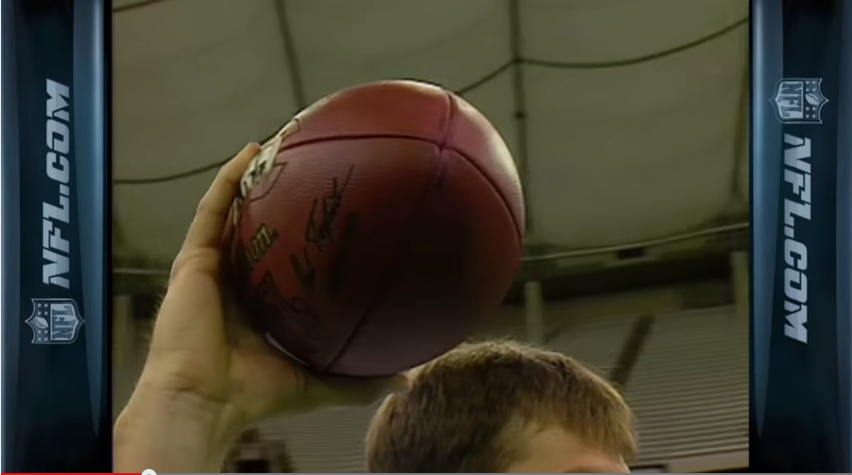 Running Back: I'm more concerned about explosion than anything else at the Combine. Especially for the bigger backs, like David Cobb or Matt Jones. We know they won't run blazing 40 times; why hold it against them? If they show explosion and pop in the hole, like Cobb shows on tape, I walk away happy. If they don't have a nice ten yard split or 40 time, you go back and check the tape to see if they're athletic enough to succeed at the next level.
Shows in some of the drills, too. The reaction drill where the runner is brought through the hole and then motioned left or right by the coach. It shows the runners instincts to change direction in an instant. Want to see the back immediately and plant and explode off that outside foot (left foot if moving right and vice versa).
Though running backs are used out of the backfield more often, it's still not a strong suit for most. Tevin Coleman was used mostly on checkdowns while Cameron Artis-Payne has just 14 career receptions. Backs will be brought through receiver drills, releasing out of the backfield and downfield. Want to determine if they're natural catchers who can pluck the ball or if they're clunky who body catch and let the ball into their pads.
Fullback: There aren't many at the Combine, Alabama's Jalston Fowler is one of them, but they need to show something other than being big. Fowler is 252. They better show soft hands or some speed. Otherwise, there is no home from them in the NFL.
Wide receiver: We're running on air but I want to see fluidity in breaks. Does the receiver show the ability to run the whole route tree or is he limited? It's a great litmus test for the two Georgia Tech kids, Deandre Smelter and Darren Waller. Obviously, a limited tree in a triple option offense. Does the receiver maintain speed through his breaks or does he slow down as he hits the top of his steam? That's the question.
Again, these are drills that are run on air so it's easy to get a little lazy as the receiver. But I better not see that. Must treat these passes like it's the Super Bowl. Attack the ball, show a catch radius and pluck it away from their body. Don't let it into his pads. Receptions don't mean much if you're double-clutching and body catching the whole drill.
Additionally, I want to see these receivers track the ball while running nine (fly) routes. It's a guarantee some of these passes will be thrown off target – that's actually intentionally asked by the coaches to make the receivers find the ball. Can they adjust to a pass thrown to the wrong shoulder? Do they maintain speed or do they slow up as they look back? All important things you want to see. In a vacuum, just the receiver and the ball.
Tight end: Similar to the receivers. Want to see a player separate…literally and figuratively. Behind Maxx Williams, the class is a muddied mess. Someone put up a flashy 40 time or show explosion in the broad jump or vertical. Ten yard split to win off the line and a 40 time to show long speed down the seam.
Though the stance is obviously different, tight end is one position where you're often firing off the ball with your hand in the ground. There's a bit more value to it than say, running back or wide receiver.
Though it's a drill that coaches don't find relevant, the gauntlet has some merit. Shows a tight end hands and if he can catch passes cleanly down the line. Catch, toss the ball away, get your head around, and grab the next one. A player has to be quick-twitch in the gauntlet, capable of adjusting to passes at different eye levels down the line.
Offensive lineman: Clearly, no one cares about a 40 time. But the ten yard splits are important. Want to measure a lineman's explosion and burst, a critical trait every good lineman must have. Other agility drills like the short shuttle and three cone highlight that, too.
Bench press numbers are fun to look at but there's a lot of variables. A player with long arms is going to typically rep fewer times because they have to get the bar up higher. It's why Florida's Trenton Brown repped 225 only 20 times – he has whopping 36 inch arms. Conversely, a player with short arms should have better numbers.
The drills are really important for lineman. Pay close attention to the mirror and kickslide drill. In the former, the offensive lineman mirror in a straight line in a five yard space against another. It shows their ability to move laterally, maintain their base (not get too wide), while sinking their hips and having their hands ready to shoot.
The kickslide drill is another of my favorite. For the tackles, it is a relevant drill for Sundays – see if the tackle can explode off the line, cover ground with their initial steps, move on a 45 degree plane, while keeping their base. Exposes players that double over to seal the edge or ones that pop up too high.
Defensive lineman: The marquee event is ripping around the bags. Shows a defender's hip and ankle flexibility. Can they dip the edge or do they look stiff? Not nearly as useful without an opponent but you get a glance at it. For the big uglies, though, it isn't as useful.
Also like looking at their vertical and broad jump. Measures lower body strength and in turn, explosion. Want to see high numbers in each of those categories, especially for the ones considered to be quick-twitch.
Linebacker: It doesn't matter to me if you're a 3-4 edge guy, a 4-3 SAM, or a 3-4 ILB. You better be able to turn and drop or you're not playing in the NFL anymore. That's why this drill is vital for this group. Stay low when flipping you're hips, have a smooth, quick turn, and show off some natural hands.
Again, this all has to be done while playing fast. It's still a knock if you stay low but have to lose speed in the process. You're getting beat either way.
And if you're a conversion project, this is one of the first looks coaches and GMs have of you dropping. First step in the process but good first impressions are always a bonus. Those who are natural and those who are stiff, even if they haven't done it before, stick out. Expect Shane Ray to shine. Five tech Anthony Chickillo? Not so much.
Defensive backs: Speed is important here. 40 times start to matter. If a cornerback runs slow, people will try to drum up talk about being moved to safety. That's an overrated idea but still a talking point. The broad and vertical matter for explosion and I want to see agility in the shuttle and cone tests.
The weave or "W" drill is one of my favorite. Defensive backs start in their pedal and then explode out of it when directed by the coach. Take a 45 degree angle and then get back into your pedal at the bottom. Do that again and then catch the ball thrown at the end.
We're looking for corners with quick feet, who explode out of their break, all while staying low in their pedal.
It's simple but I love the final drill of the combine. The DBs are split up into two "teams," with a simple goal of turning, running downhill, and picking off passes. It's not difficult but there's a real competition that grows between the teams. You can feel the pressure. No one wants to drop a pass for their team. It's minor but a fun event to wrap up the week.