The Steelers have been soul searching in regards to the identity of their running game, which has largely been lifeless thus far on the season. They have been trying to overall get the run game going, but with a lack of blocking and some odd personnel decisions and play calls by Randy Ficthner, they just have not gotten it going. 
But as it seems with everything, there has to be a bit of an up to it. And the Steelers came out in Los Angeles and ran the ball with effectiveness and essentially ran the ball the majority of the game on their way to victory in Week 6. However, as big as the improvement in blocking was, the schematics of the running game were even more impressive, and thus, here is how this team got the running game going against the Chargers. 
The shift started once the Steelers really got it rolling about Devin Bush's interception, and once they reached the red zone, it only took one play for James Conner to punch it in for a touchdown from 12 yards out.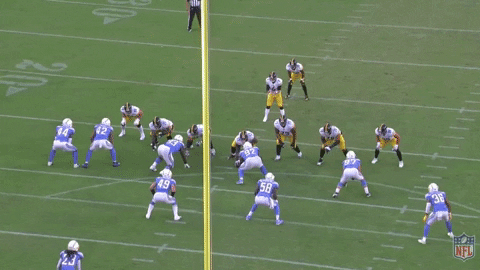 The Steelers make a little bit of an adjustment to their usual stretch play and instead switch it up and run it out of the pistol. Stretch plays are always long developing plays, as a lot of zone runs can be, but with the pistol, it allows the blocking a little extra time to set up, and it does wonders for the run. Vance McDonald and Alejandro Villanueva are able to wash all outside contain and Conner is able to hit the hole en route to a touchdown. It's always just the little things with schematics, but allowing that blocking to set up by going into pistol are things that good offensive coordinators do. Hats off to Fichtner here.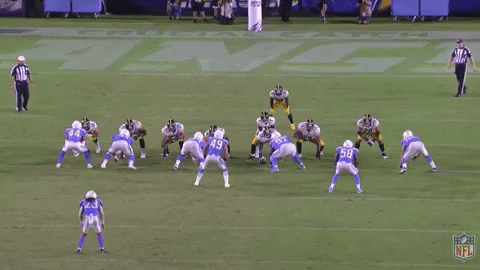 The Steelers go back to their traditional roots of gap and power running and bring out the duo, which is simply two double teams up front by the offensive line. They have gotten increasingly more success with duo as the weeks have gone on, but this is just pure domination by the offensive line and Benny Snell. The entire defense gets baited and washed down into the middle with the linemen as everyone reaches the second level. Snell presses the line to bait the linebackers down and then bursts through a massive hole with ease. A staple of the Steelers' running game this year, but this is the best it has been blocked all season long.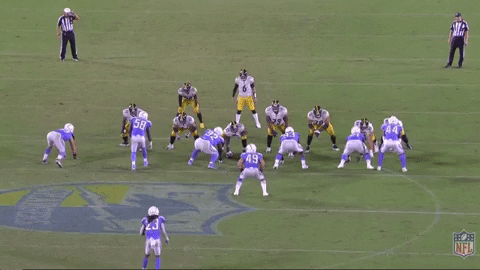 Now this is where the Steelers divert from their usual ways this season. They pounded outside zone incredibly hard this week and it worked extremely well. The Steelers get the entire defense minus two guys flowing towards the opposing boundary and it opens up a massive hole for Snell to hit and gain a good chunk of yardage on a first down. The Steelers have not run outside zone all that much, but when they have, the movement skills of the linemen have been able to trap second level defenders and crash down on them, thus opening holes. It has worked in minimal doses, and all night long against the Chargers.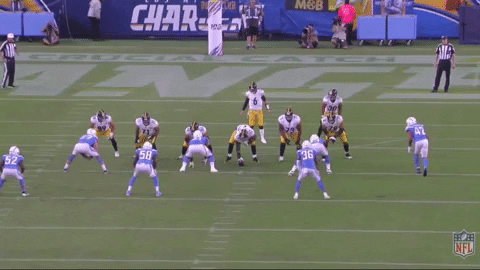 Outside zone, once again, but this time with a wrinkle of ghost motion from Randy Fitchtner. Johnny Holton is brought in motion. They call this 'ghost motion' simply because you give the outside contain defender a dilemma if this happens to be a reverse to Holton. Obviously it is not here, but it also causes the defense to have to shift over and free up the box of a defender in the box safety. With that in mind, it lightens the load on the outside flow of this, opens up a cut back lane, and that is exactly where Conner hits for a first down.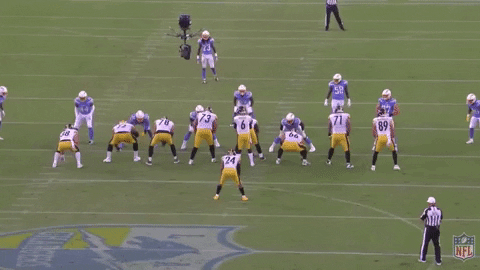 This is the last wrinkle that Randy Fichtner added that was centered around Nick Vannett. This is inside zone, but with a wham blocker in Vannett. Vannett doesn't end up whamming anyone here, but his motion allows Devlin Hodges to read this coverage, and if it a man coverage that he believes he can take advantage of, this is a play he can audible out of into play action and dump it into the flat for Vannett. This is a flexible look. But regardless, great blocking by Ramon Foster opens up this hole and allows Snell to run through for a solid gain. 
The Steelers had a middling run game, but when Fichtner goes off his usual, mundane script and designs a creative run game that causes havoc and misdirection, good things happen on the offensive side of the football. This is more of the stuff we need to see moving forward, especially with the open field movement skills these linemen have. But this is a great start.