This offseason, the Steelers added Steve Nelson to theoretically be the future CB2 across from Joe Haden as the Steelers tried to strengthen a notable position that has been a weakness for years at this point. Nelson's week one performance was incredibly encouraging and going up against hyped rookie WR DK Metcalf, Nelson would need to be good in order to keep Metcalf contained.
Not only was Nelson solid, he was arguably the best player on the defense against the Seahawks. He locked Metcalf down when he was on him for all of 1 catch for 16 yards. He was nothing short of great.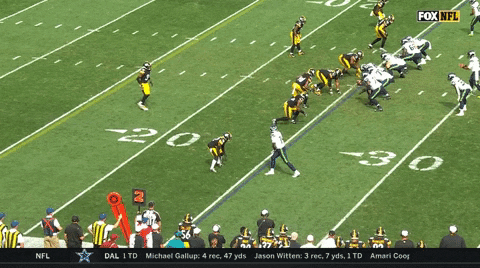 Off the line, we see Nelson do something that not a lot of Steelers corners have done over the years. While usually they mirror with their hips and work from there, this is not that at all. This is a step kick with a hop in the transition and it is often preferred by corners simply because it allows them to maintain leverage while still staying square. Nelson does a great job of having leverage on Metcalf and being ready at the catch point for this. Metcalf is undoubtedly a physical player, but Nelson proved to a feisty and fierce competitor at the catch point who played the ball extremely well, and this is one of those instances. He was dominant at the catch point.
The inside shade of this rep kinda dooms Nelson from the start. It was the one and only catch Nelson gave up on Metcalf simply because he could not turn around, get his head around, and defend the back shoulder throw. On top of that, this is quite a catch by Metcalf anyways. Nelson learnt from this lone rep how fast his transitions had to be to keep up with Metcalf, and his play the rest of the day from indicative of that. 
Again, there is the step kick into the hop transition. Nelson used it to transition effectively and get into position all day against Metcalf, who has legitimate 4.33 speed, hence why he is so an effective deep threat. Nelson starts to get more handsy as he transitions, however, and that is simply the leveraging for position at the catch point. Nelson never lets Metcalf get a full head of steam and goes step for step with him down the sideline. Just blanketing coverage due to Nelson's subtleties and strategies against Metcalf.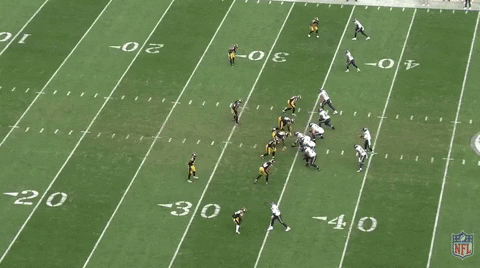 If Metcalf doesn't interfere with Nelson here there is a legitimate possibility that he could have had an interception. He controls Metcalf's route off the release by leveraging his route with physicality and simply bullying him to the catch point. 
Steve Nelson came to play Sunday, and with some of the doubts before the season, he is shutting all of those down emphatically right now. He just took the fight to a good deep threat and shut him down all day. Nelson's play needs to continue this trajectory, because so far he has been the best player in this secondary by far and has locked up anyone across from him.