New mini-series I'll work on throughout the offseason. How some of the new pieces, free agents and rookies, fit into the Pittsburgh Steelers' unit in 2019. Compare what they do well with what the scheme might demand. A little while ago, we looked at WR Donte Moncrief. Today, we're checking out first round pick Devin Bush.
This is a bit similar to our film room piece we wrote the day after they drafted him but I wanted to compare it to the issues the Steelers' linebackers had on tape last year. Shows the benefit of drafting him all the more.
Reading Keys
The Steelers' linebackers generally did a good job of reading and reacting last year. But there were still down moments. And when you don't have great athletes at linebacker, Vince Williams is average, Jon Bostic was below, and you don't read your keys, it's awfully tough to make up that ground.
Watch Bostic here. Super late in getting downhill, opening up his hips like he's going to turn and drop even after the running back takes the handoff. Don't know what he was seeing there to think pass, maybe something in his film study. Either way, he's late downhill and can't close on the runner, allowing a sizable gain.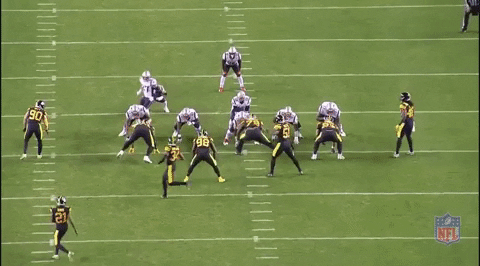 Let's look at Bush. Simple play but he's being gap sound. Isn't focused on any of the window dressing or options that wouldn't be his responsibility. RB flows away, the option, he doesn't leave his gap. Fills it with authority, drives through, and finishes for basically no gain. As I'm sure you know, but just in case you forgot, Bush is #10 in all these clips.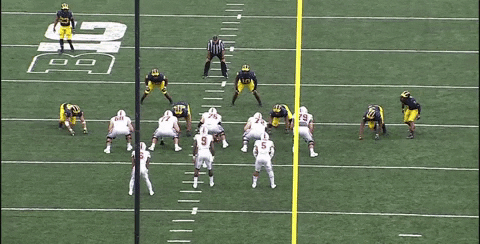 Closing On Ball
Two elements on the run game we'll look at here. Closing on the ball while playing in space and playing the ball on the perimeter. Here, these can be interior runs with big runways created by the blocking scheme. Like this one versus Oakland. Williams keys the back, maybe loses him for a second as he pops out off the hip of the right tackle, and simply isn't athletic enough to close on the ball and make the play. Goes for a nice gain.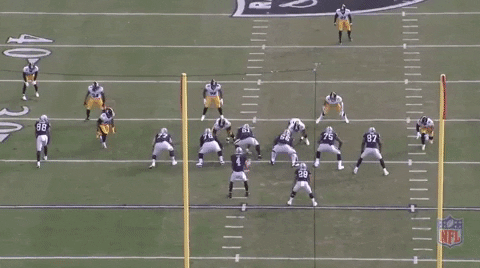 Same thing here. Williams is able to tack the back, maintain his gap, but when the back runs away and you gotta chase, he doesn't have the foot speed to close in time. With the angle, he eventually tracks him down with help from the safety, but it's a big run.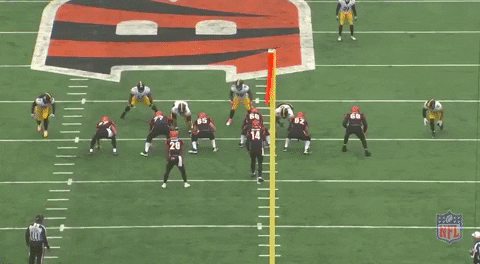 To be honest, it was a little tough to find an ideal example for Bush. But this one does it well. In space on this gap scheme. Bush works over the top, keys the back, and makes the play as the back – LJ Scott – looks to cut upfield. Short gain.
Attacking Ball On Perimeter
Same principle with the ball intentionally run to the perimeter. Williams has to hold his gap and defeat the block, I get that, but when it comes time to chase and make the play in space, he has trouble getting to the back. These are all strong runs by the offense that might be prevented with a top tier athlete who can cover sideline-to-sideline with the best of them.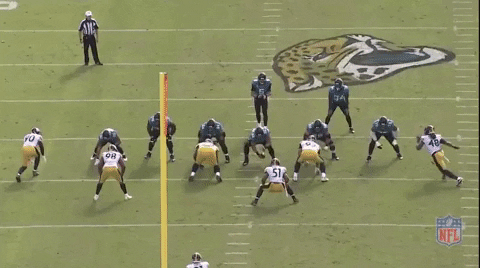 Ditto with Bostic here. Scrapes over the top to take Alex Collins on this read option. Eventually makes the tackle, thanks to Joe Haden slowing the play up, but it's an eight yard gain to turn 2nd and 10 into 3rd and 2. The athleticism just isn't quite there in these clips and when both your ILBs struggle in these areas, your run defense pays (though the Steelers overall numbers were still good).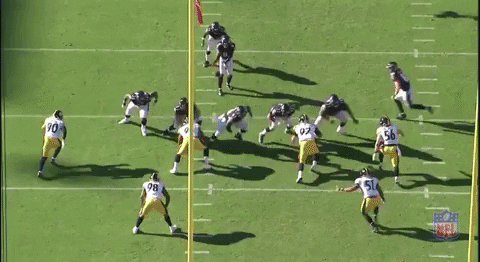 How does Bush solve it? Speed to the edge. 4.43 is going to look really nice tracking these backs in space down. Last year against Nebraska. Option play, flip to the RB to the boundary. Bush, even after initially taking a few steps down, changes directions and is full speed on the edge, taking Devine Ozigbo down for only a minimal pickup. That's what this defense needs and is getting with him.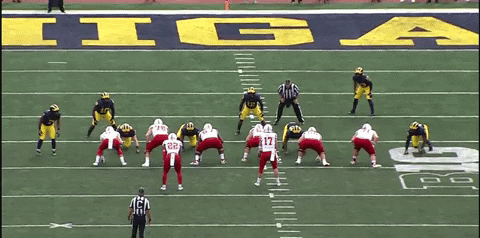 Another look at the same idea courtesy of NFL Network's Ben Fennell. And it's against Saquon Barkley, making it all the more impressive.
How about one where he's gotta sift through the trash? Work through the right guard, defeat the block, take the angle, accelerate to the ball, and finishes with violence.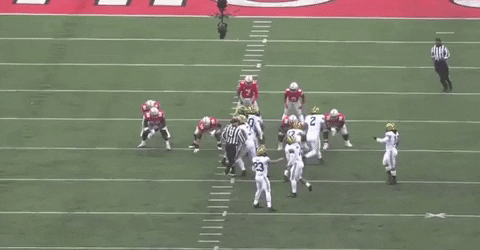 Coverage/Deep Middle
No secret the Steelers were vulnerable in the deep middle of the field last season. Bostic, to his credit, did make a couple plays down the seam and Vince Williams is a "do your job" type coverage player but there wasn't much splash. And here, Joe Flacco throws it over Bostic's head for a 21 yard completion to TE Hayden Hurst.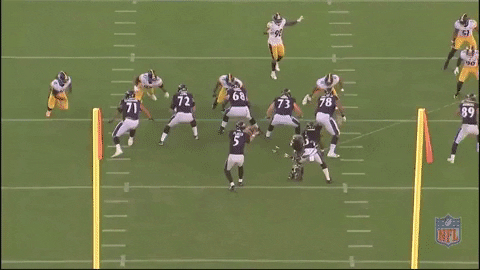 Not the same exact scenario here but you're seeing Bush patrol deep middle in zone coverage. Get depth, read the eyes of the quarterback, and finish at the top with the interception. I promise these weren't plays this defense was really capable of making last year. That's why they signed Mark Barron and made an aggressive move for Bush.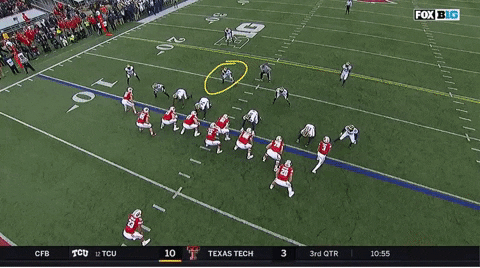 Defending The Out
More looks at him in coverage. Here, Williams is matched up on Joe Mixon. Outleveraged on the snap and doesn't have the juice to open his hips, explode when the back makes his cut on the out route and close on the ball. Makes the tackle, doesn't allow any YAC, but a completion and positive play for the Bengals' offense.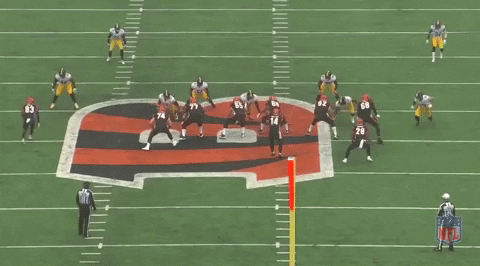 How about Bush? Facing a tight end but very similar situation. Defending an out, Bush off ball, initially out-leveraged and has to rally. Reads the hip, drives on the out cut, and breaks the throw up. Impressive close and finish.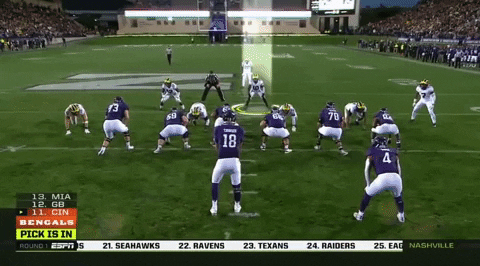 Avoiding The Pick
Showed this one in our series on Williams' one step to take. Difficult play, I get it, but Williams tries to run under the pick set by the receiver on this curl/wheel. Gets caught in the wash, a step behind, and Christian McCaffrey scores.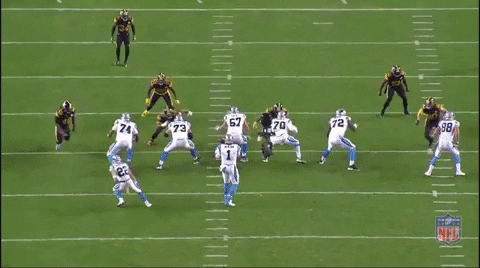 Similar play here from Bush. Works over top by potential picks, the tight end and wide receiver, and meets the back as soon as he makes the catch. No YAC and it's 3rd and long. Football IQ, range, and physicality to finish. That's the foundation you want in a linebacker. Steelers have IQ and physicality. Range is a different story.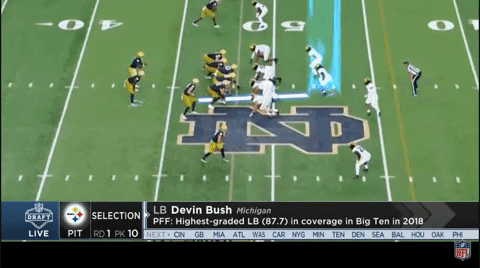 Final Thoughts
Hopefully that's a useful compare/contrast to what Bush is capable of bringing the Steelers' defense and what they lacked last season. We didn't even get into the blitzing component of what he offers. Bush certainly fits well, one of the many aspects of his game that attracted him to Mike Tomlin and company. Maybe we'll break that down later in the offseason.
Bush is going to add that dimension to the defense they've needed since losing Ryan Shazier. His athleticism will simply allow him to make plays you're not going to get from those on the roster last year.