Series we're bringing back to Steelers Depot that we began last year. A snapshot of the Pittsburgh Steelers 2018 season, a look at the singular best and worst play from each player on the roster. If I wanted to sum up a players season in 30 seconds, these are the plays I would look at.
Let's look at the first defensive player of this year, Terrell Edmunds.
Best Play: Blowing Up Screen Vs Chargers
Edmunds, unlike a lot of rookies, played his best ball closer to the end of the season. The Chargers game was a good one. He notched his first career sack and later, beautifully blew up this screen for Austin Ekeler. Process, fight through the trash, and finish the play with authority. It's a level of physicality the Steelers need to see from him consistently heading into 2019.
It's a play that needs to be put on a loop in his film study. A reminder of the impact hitter he's capable of being. One he didn't always quite show last season. But on this day, he played well, and a whole lot better than teammate Sean Davis.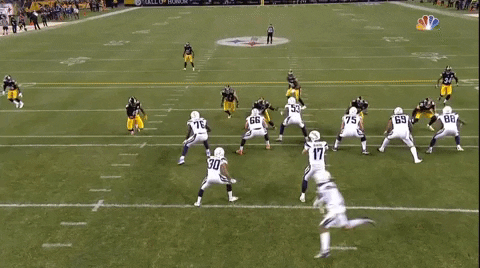 Worst Play: Missed Tackle On Maxx Williams
Really, you can throw the entire Week 4 Ravens' game on here. We broke it down later in the week. It was Edmunds' worst game. The damage had already been done on this play, Baltimore sneakily getting Maxx Williams to the flat to convert on this 3rd and 1. But it ended with added insult, Williams running through Edmunds with little resistance on his way to pick up a couple more yards.
Edmunds was drafted, in part, to be able to take on tight ends in coverage and after the catch. Here, he looks much smaller and weaker than he really is. But again, he showed progress throughout the season. Considering he played far more snaps than the team anticipated, there's reason for optimism heading into his all-important sophomore season. But he must prove he's capable of making that jump.