Welcome to the NFL, rookie. Terrell Edmunds got quite a wakeup call on the primetime stage Sunday night. His first taste of Steelers vs Ravens, clearly, didn't go well. While perspective is important, heck, Troy Polamalu struggled his whole rookie year, we're looking at what went wrong this weekend.
We're going to break this down into two areas. Coverage and tackling, both unfortunate sore spots for Edmunds.
Coverage
The one you remember the best is the 71 yard completion John Brown caught against him. To be fair, it's a tough spot for any safety, much less a rookie, much less one without much experience patrolling center field like he is here.
Joe Flacco and Brown do a great job of setting Edmunds up off playaction and max protection. Flacco moves Edmunds to his left while Brown stems to the outside, getting the rookie to open up his hips towards the sideline.
Brown then crosses his face and runs a post to the middle of the field and gets a couple steps on the rookie. Normally not able to run routes to the MOF against single high but they manipulate Edmunds well.
Edmunds is a little clunky to flip his hips and turn and run. Here, a speed turn would be best used to get and stay in-phase. Instead of flipping inside, flip to the outside and work back to the hip of the receiver.
Here's some examples of what a speed turn looks like.
Something not many rookies have in their toolbelt but something to add. That way, he can carry his momentum instead of having to stop and flip back around.
Brown now has a couple steps on him and makes the catch without contest. Edmunds' only option here is to get him on the ground to prevent the touchdown and he's able to shove him out of bounds. Steelers end up forcing and recovering a fumble along the goal line, so good on Edmunds for fighting and giving the defense a chance to turn it around but still a negative play.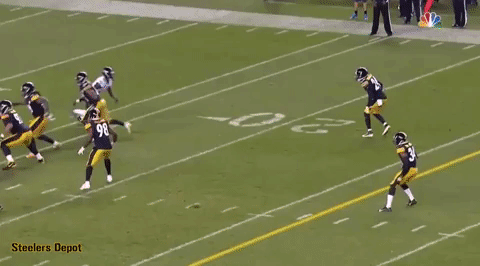 Later in the game, Edmunds again at free safety. Sean Davis played in the box and near the LOS more this game than any of the others this year. Here, he simply gets his eyes locked in the backfield on Flacco and loses sight of the only vertical threat, Brown again.
It leaves Joe Haden without any help over the top but he's able to run with it and make a great play, showing off tremendous ball skills and breaking the throw up. But there's gotta be help there from Edmunds. Instead, he's hopelessly trailing.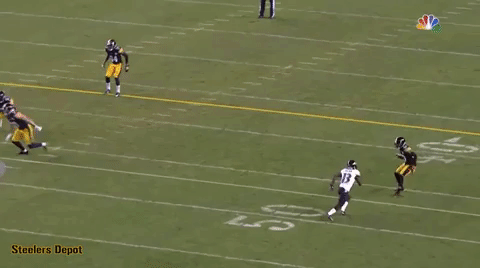 This final one didn't produce a negative result. And maybe this is just Heinz Field being a little beat up. But here he is, rotating down on #89, TE Mark Andrews. Tries to turn to flip his hips and splat, falls to the ground. Ball goes elsewhere, still converted, but one of those moments that won't look great in the weekly film room. Watch him on the right side at the yellow, first down marker.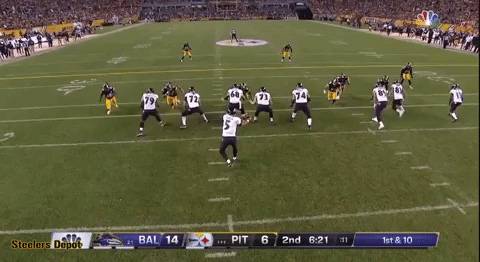 Tackling
Tackling wasn't a fun adventure for him either. Here he is trying to wrap up Maxx Williams, who runs right through him and picks up an extra five yards after contact.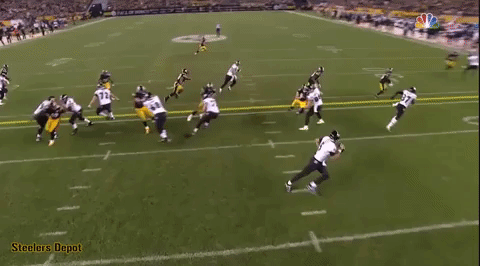 And same thing here in the run game. Buck Allen absolutely running him over before Jon Bostic drags him down.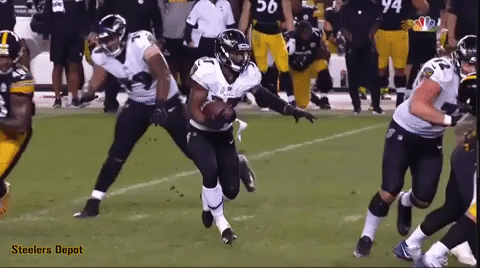 At this point, the entire defense was gassed. Worn down by the Ravens physical attack, all the subbing they did, and most importantly, just being on the field so much in the second half. Offense never gave them a breather. But these plays just sum up what a rough performance he and the entire defense had, even if they survived situationally, mainly in the red zone.