With the 2019 NFL Draft in the books, we're wrapping things up by offering player profiles on all the UDFAs signed by the Pittsburgh Steelers. The franchise's history is strong with diamonds in the rough though in recent years, the classes have been weak. Hopefully this crop changes that trend.
#97 Chris Nelson/NT Texas – 6'0/7 298
The Good
– Big, sturdy frame, looks bigger than listed, with thick body and large lower half
– Decent arm length for his height (32 inches)
– Strength at the point of attack, difficult to move off his spot by base/drive blocks
– Flows well against zone schemes, works hard to secure and maintain his run fill
– Played in an odd front and "pro" defense, regularly asked to stunt/twist/contain
– Rarely but did drop into coverage
– Average first step but tested well metrically (32 inch vertical)
– Good motor and effort, will chase the ball laterally
– Regarded as a leader in the locker room
– Plus starting experience
The Bad
– Doesn't always play to his strength and size
– Base tends to narrow, making him vulnerable to getting blown out of his gap by double-teams and base blocks
– Lacks hand use and can't disengage as pass rusher or in the run game
– One-move pass rusher who stalls out pretty quickly
– Tends to drop his eyes off the ball
– Below average athlete despite his motor who tested terribly at his workout
– One-dimensional run stuffer
– Average production and struggled to get after the QB
Bio
– 29 career starts for the Longhorns
– Career stats: 109 tackles (15.5 TFL), 3.5 sacks, 1 FF
– 2018: 39 tackles (5.5 TFL) 0 sacks
– Named team captain in 2018
– Pro Day: 5.56 40, 7.93 three cone, 23 reps on the bench
– Listed 315 pounds on team bio
Tape Breakdown
Nelson is your classic "hog mollie' in the middle. Know he's listed at 298 pounds at his Pro Day and maybe he dropped weight but at Texas last year, he definitely was well over three bills. Look at that frame. Dude to his left, #90 Charles Omenihu, weighed in at 280 pounds. No way Nelson is less than 20 pounds heavier.
Strong at the point of attack, centers have a tough time moving him one-on-one.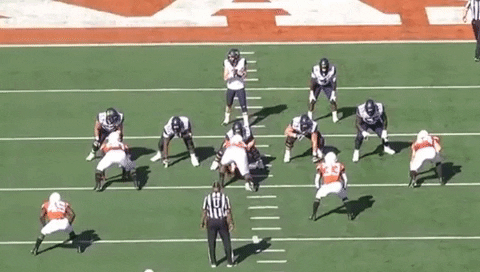 But while he's strong, Nelson really struggles to handle double-teams and combo blocks. It's tough to do, I get that, but he has to show a stronger and better base to maintain his gap. Couple looks at it.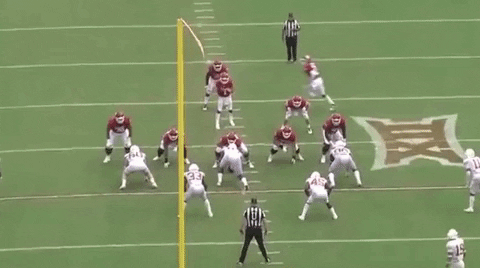 Look how far he gets out of his rush lane vs WVU. Three man rush, I know, but wow, way to give the QB a lane down the middle.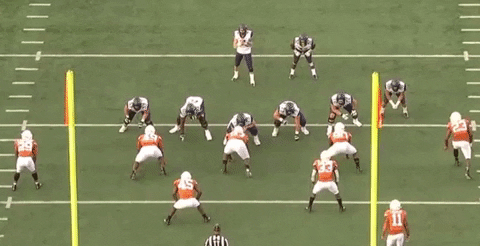 One issue that may cause this is a narrowing of his base. That'll rob you of some power.
He should slide in as third string nose tackle for training camp. He'll plug the run, chase the ball, and should show up in a couple on-on-one sessions when he's able to bull rush and use all his strength against a smaller center like, JC Hassenauer. But at best, he's looking to make the practice squad Year One.
Chance To Make The Team: 15%