Sure, Diontae Johnson was a surprise pick. It was perceived to be – by myself included – to be a reach. Maybe that's not true, Darryl Drake will surely disagree with that assessment, but that's irrelevant now, isn't it? Johnson was the pick. So let's learn about what the Pittsburgh Steelers are getting with him.
While he is a versatile player, and that's a key point of discussion perhaps for another time, the Steelers are searching for someone to be that X receiver, the spot Antonio Brown held down for so many years. That's where our focus comes into play today. Can Johnson succeed in that role?
Yes. Yes he can.
He has three traits in his game that'll let him work in that all-important spot: route running, body control, and big play ability.
Route Running/Separation
Why It Matters: Because it's the position where you see the most press man coverage. Have to release and win off the line with the ability to create room at the top of the route.
Diontae Johnson's Tape: Johnson is a strong route runner who glides through his route, understanding the nuance of his route from release, stem, and creating space at the break point.
Watch him at the top of the screen here against Eastern Michigan in 2018. Corner is rolled up at the line of scrimmage, Johnson the X receiver to the backside of the formation. He gets up on the corners toes off the line, getting him to open his hips the wrong way. Johnson crosses his face and by two yards into the route, he's won. It's easy from there with the safety buzzing down and biting on the playfake. Johnson makes the catch for a good gain.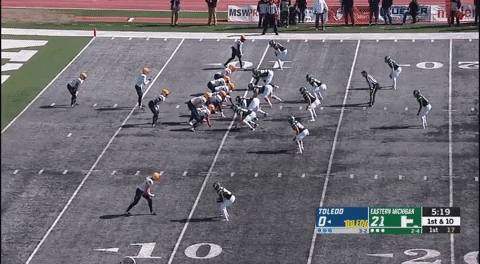 Let's look at him from the All-22. Bottom of the screen. CB bail coverage on the snap. Johnson sells with an outside stem like he's going to run vertical. Breaks down at 12 yards to run the comeback, creating space against the corner. Detail-oriented working back to the football and making a hands catch along the sideline. Great rep.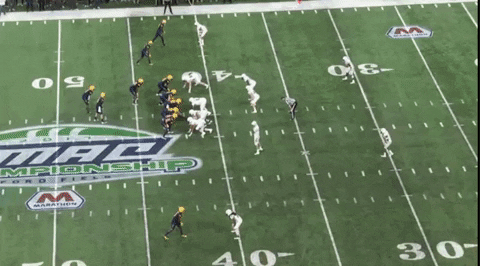 Body Control
Why It Matters: Facing man coverage so much, or even in zone with a safety/linebacker working as the overhang defender, most catches will be contested. And quarterbacks will sometimes have to throw you open. That means catching the ball from all angles. Down low, up high, behind, you get the idea. If you can't do that, your catch radius is too limited to justify the high volume of targets you'll see.
Diontate Johnson's Tape: While he doesn't have a large catch radius, hurt by short arms (30 3/4 inches) and small hands (9 inches), he is able to contort his body and adjust to balls thrown outside his frame. He tracks the ball well and though occasionally shows lapses in concentration, especially in zone coverage underneath where he's anxious to identify defenders and work upfield, it's an area he does well in.
Let's look at the tape. 2017 MAC Championship against Akron (Toledo won before getting blown out in their bowl game vs App State). I like the release here but the corner shows a slight speed turn to remain in-phase. Johnson is covered underneath so his QB has to throw him open, lobbing it over the corner's head. Johnson finds the ball, times his jumps, and creates the triangle with his hands to cradle the ball and finish the play without having to go to the ground. Great body control start to finish.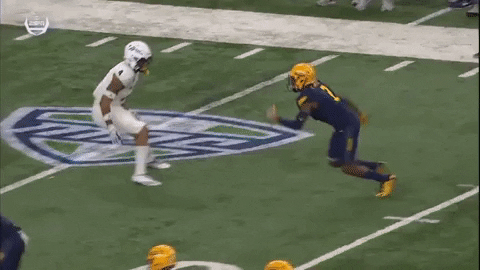 Similar later on in the game. Here is Johnson working out of the slot. Burst off the line to beat the jam from the nickel corner. Ball thrown to the sideline, quarterback throwing him open vs man coverage – like we talked about at the beginning. Johnson is able to flip his body around, all while tracking the ball and making the play for his second touchdown of the game.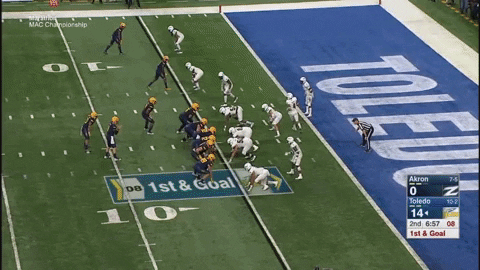 Big Play Ability
Why It Matters: Because the X receiver sees one-on-one coverage, he's always one missed tackle away from an explosive gain or touchdown. Possession receivers need not apply here. Make enough big plays and teams will be forced to bracket the X, opening up the field for the rest of the receivers.
Diontae Johnson's Tape: Littered with big plays. Capable of taking over games (three touchdowns vs Ball State: 88 yard receiving, 67 yard receiving, 87 yard punt). Plays a little faster than his timed speed (4.53) but with quickness and burst. Comfortable getting the ball quick and making plays in space or acting as a vertical target.
Just going to show one play here though I could add in ten more without breaking a sweat. Looking at that Ball State game I referenced above. Throw high over his head. Johnson tracks it, bats it with one hand, then comes down with the ball. Defender falls down and Johnson is in the clear for an 88 yard gain. Great play.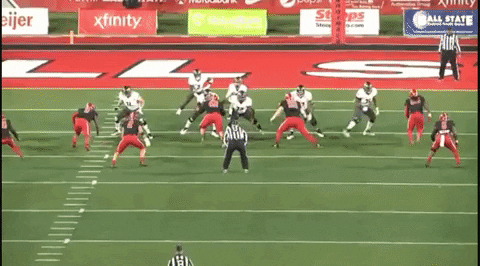 Weaknesses
I or someone else will delve into it in a future article. I do worry about his strength. Size is an issue but what made AB – a similar build – so great was his play strength. He was difficult to tackle one-on-one. Johnson, from what I've seen so far, goes down too easily and doesn't currently have that strength. He can get rerouted on routes with an outside stem or locked up at the LOS against corners who are bigger and competent in press man. But that's stuff we'll save for later.
Conclusion
Johnson may have been that surprise pick but I can see why he was the selection. The best receiver is an open one and he's more than capable of doing that.