It's a good thing Keith Butler was playing at home. Or else Mike Tomlin should've made him walk his way back. But he sure as heck deserves to walk to Oakland. The issues he showed early in the season reared their ugly head again Sunday night. Players simply failing to execute is one thing. Not being put in position to succeed is another. The latter happened far too often, in many key moments, and against their best player.
Simply put. Butler made no attempt to cover the Chargers greatest weapon, wide receiver Keenan Allen. Allen dominated last night, finishing with ten receptions for 148 yards and a score. That's bad enough but how he got so open is the truly frustrating part, the one where Butler deserves so much of the blame.
Again and again, Butler felt like it was a good idea to roll a linebacker to Allen, a woeful mismatch the Philip Rivers gleefully exploited.
It started from the first play of the game. Los Angeles lines up in a Twin WR set and the Steelers – like they most often respond – don't travel the corner to the other side. Instead, they walk the playside OLB off ball, aligned outside shade on the receiver.
The Chargers are basically running a Sail concept, something we talked about in our scouting report, a three level route combination consisting of a vertical/clearout, a corner, and a flat. Travis Benjamin stems vertical, getting Joe Haden to turn and run, leaving Bud Dupree on an island to cover Allen on the corner. He has no chance and it's an easy, 14 yard gain.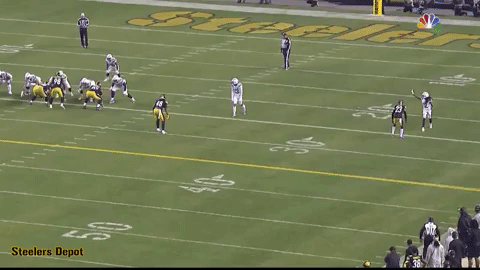 Two plays later. The very next pass. Empty set for LA. Allen is lined up as the #3 receiver (furthest to the inside) at the top. He's covered by…L.J. Fort. And listen, Fort is a good athlete, the best off-ball LB the Steelers have on the roster, but he's still at a severe disadvantage.
Allen beats him off the line with a short angle route, cutting to the inside, and storming off upfield for an 18 yard completion.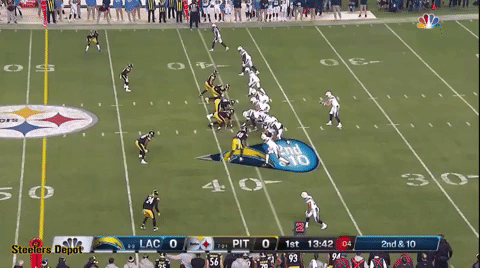 There was a third completion to Allen on this drive, one that would've gone for a first down had he not slipped, that I'm not even posting because if I have to look at this nonsense anymore, I will throw my computer out the window and move to Siberia.
There were also times where Allen just wasn't covered, not even as an individual breakdown. Like here, in their two minute drill. Allen with a free release, runs past the sticks, and picks up the first down.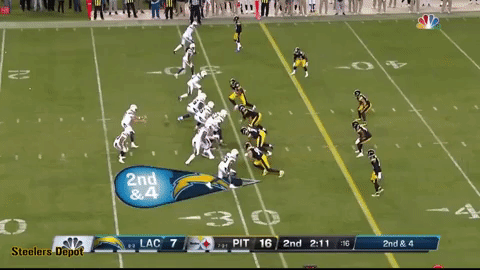 But the worst example I can offer came on the game's most critical play. 3rd and 4, 1:12 left, ball on the Steelers 34. Get a stop and you can hold the Chargers to a long field goal attempt and even if they make it, put together one final drive. Butler's gotta come up with his best playcall, right?
Wrong.
Another empty set from LA. Jon Bostic – for some ungodly reason – is in the game instead of  Fort, who took the previous snap.
Why would any DC make sure a terrible decision? Truly, I don't have a clue. The Steelers stayed in their base defense despite the Chargers running out 11 personnel with three receivers, and decided to swap Fort for Bostic. You can see the three receivers here: #13, #16, and #81.
On 3rd and 4, this is a down where you would at least play nickel and normally, check into your dime defense. With Allen again aligned in the slot as #3, the Steelers having no answer, and Bostic gets matched up on him.
Allen is running a quick out, Bostic aligned inside, and he has no chance to make an impact on the throw. A 12 yard gain, first down, and manageable field goal attempt.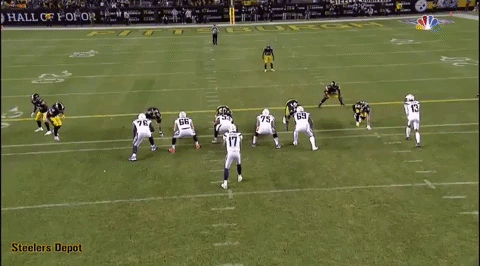 If it's even below average coverage on this play, forcing Rivers to hold onto the ball at all, Javon Hargrave's great pressure is getting home. A shame his efforts were wasted by a dreadful playcall.
Sadly, we've seen this story play out before. We've watched Butler line up T.J. Watt on WR Sammy Watkins on consecutive plays back in Week Two. He got away with it then. Not this time. The Chargers made him pay.
Good coordinators, good coaches, put their players in position to succeed. Matchups they can win. And if it still doesn't work, then it's most often on the player, not his coach. These linebackers, however, had no chance. To take on any receiver, much less one of Allen's caliber. This defense might not be terrible but it lacks the talent to overcome coaching and the coaching to overcome the lack of talent.
It's tough to deal with a guy like Allen, and traveling Haden into the slot isn't feasible all the time, but Butler needed to have a better plan. Less zone coverage, more sub-package, literally ANYTHING other than what he did.
To do otherwise is a disservice to his players. When the game counts, it's sure tough to trust Keith Butler. That's as damning of a comment as you can make for a coach.