We've talked plenty about the Pittsburgh Steelers' secondary this year. There's Joe Haden, more often this year tasked to shadow the opposition's top receiver (he did a little of that yesterday). Mike Hilton is a rockstar and continues his steady play versus the run and pass. Terrell Edmunds is under the spotlight during his rookie season and the right cornerback spot leaves you watching with both eyes closed.
The one man we don't really talk about is Sean Davis. But teammates credit him in a big way for the job he's doing, the trust they have in him to keep a lid on things and make the plays he has to. After Sunday's win, Hilton spoke about Davis' play.
"He's a guy we trust back there," he told reporters via the team website. "If a run breaks into open field, he's able to get him down. He's roaming sideline to sideline. He's a guy that we know has our back if something breaks. We trust him."
Last year, Davis had his woes as a tackler, though perhaps that's partly to blame on playing strong safety and the opportunity to make/miss more tackles. According to our charting, Davis missed 23 of them in 2017. This year, he's on pace to miss just 16. Over the last month, his tackling has seemed to improve even more, making up for when others miss while breaking down, playing with good technique, but also showing physicality to make the stop in the open field.
Like last week against the Cleveland Browns. Running back Nick Chubb busts this run into the third level. But Davis is able to make the ankle tackle. Still a strong run of 20 yards but Davis didn't let it get any worse.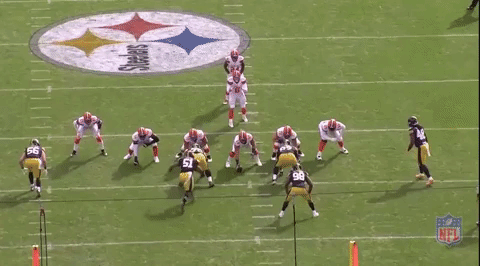 He's made several stops like these in 2018 too. A forceful, technically sound tackle in the open field, immediately standing up Julio Jones after others missed.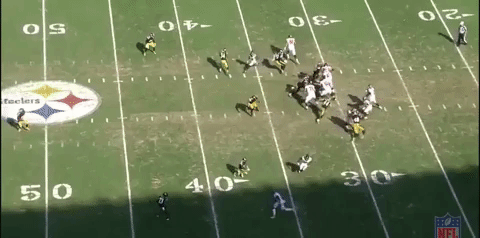 Davis seemed to take Joe Flacco's comments that the Steelers' defense wasn't tough enough personally. He was one of many to use that as fuel this time around and when he spoke to reporters, let the world know about it.
Sean Davis on Flacco, regarding comments made after first game: "He better be in the ice tub now."

— Joe Starkey (@JoeStarkey1) November 5, 2018
He's even getting it done on special teams. He's been the right wing on the punt coverage unit for years now, even after becoming a starter, and made a key special teams tackle, tracking Cyrus Jones down across the field with under a minute to go.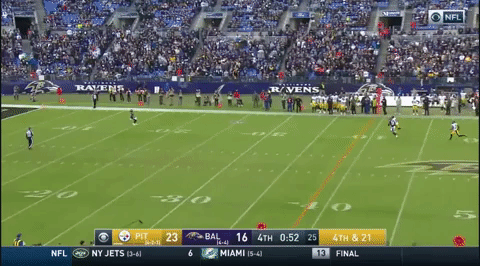 Although Davis – and frankly, this entire secondary – isn't creating much splash, they are at least showing themselves to be reliable. Keeping the ball in front of them, they've allowed just one 30 yard reception over the last three weeks, and wrapping up in the open field. It's not the end goal but they're in a better place from where they all started.