As we will do every Saturday to get you ready for the week's game, our X Factor of the week. Sometimes it's a player, unit, concept, or scheme. What will make or break the Pittsburgh Steelers for Sunday's matchup against the Jacksonville Jaguars.
X Factor: JuJu Smith-Schuster
I know we highlighted JuJu Smith-Schuster a couple weeks ago and generally, I like to mix these names up. But he's going to be a critical piece against the Jags. For multiple reasons. Antonio Brown will face two tough corners in Jalen Ramsey and A.J. Bouye. Matchups he can win, and he'll be targeted plenty, especially after toasting Bouye in last year's playoff loss. But still, it'll be tough.
What about Vance McDonald? It'll be great for him to get involved but Jacksonville has two of the game's elite linebackers in Telvin Smith and Myles Jack. Getting him free is going to take some work.
The run game? Hopefully it can be effective. But it was stifled in both matchups last year and the Jags still have a stingy, 12th ranked rush defense. It'll probably be better this time around, James Conner's downhill running style works better than Le'Veon Bell's, but it's unlikely to have the success it had from the past month.
With James Washington still invisible and Ryan Switzer only a quarter-time player, that leaves Smith-Schuster as the man of the hour. And his matchup is a plus one. He'll draw nickel corner D.J. Hayden, a good player but not of the Ramsey/Bouye caliber.
As we wrote in our defensive scouting report, they're vulnerable to over routes when they're playing Cover 3. It's one way to beat that zone coverage; flood it with a vertical option to carry the corner and have another route enter that deep third.
It's a concept the Steelers very fall rely upon, like this 21 yard grab versus the Kansas City Chiefs back in Week 2.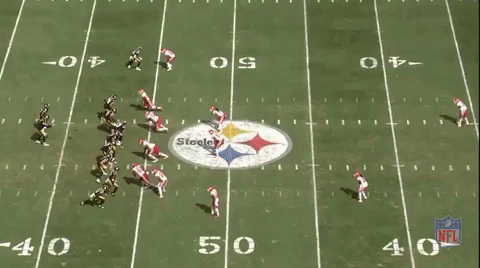 If I'm Randy Fichtner, that's how I'm looking to push the ball downfield. Flood their zone coverage through Smith-Schuster over the middle.
He still leads Antonio Brown by 70 yards, a stat I'm sure no one expected when the year began. Only last week did AB pass him up in receptions. I think this goes back to being "JuJu's week" with the potential for him to have an eight catch, 100 yard, one score type of day.