As we have been for several years now, we'll break down the Pittsburgh Steelers' opponent each week, telling you what to expect from a scheme and individual standpoint. Like last year, Dan Vasko and I will cover the opposing team's defense. I will focus on scheme, Dan on the players.
Today, we're looking at the Jacksonville Jaguars' defense.
Alex's Scheme Report
Jaguars Run Defense
The defense isn't playing at the elite level it was in 2017 but don't sleep on it. Still a really impressive group top to bottom. They have allowed more than 20 points in five straight games and 24+ in four of the past five. Their run defense drifts between slightly above to slightly below average. They're 12th in YPC allowed, average in 10+ yards allowed, and 20th in runs of 20+, allowing eight of them.
The Jags did deal away Dante Fowler Jr. to the Rams but still have a strong front four. The veteran Calais Campbell as the LDE, Yannick Ngakoue opposite. Malik Jackson lines up inside as the three tech and Abry Jones and Marcell Dareus rotate at nose tackle. Rookie Taven Bryan and second year player Dawuane Smoot provide depth at defensive end, seeing more time with Fowler out of the picture.
Linebacker contains two names you know, one you might not. Myles Jack and Telvin Smith are still here, two of the top off-ball linebackers in the league. Not only are they great players, they're every-down, every-situation guys. Jack is one of three linebackers to play every single snap this season (Kiko Alonso, Jordan Hicks are the others) while Smith is one of six to play 99% of the time. Rookie linebacker Leon Jacobs has been inserted into the starting lineup and plays SAM linebacker, with Jack taking on the MIKE role.
It's a fast-flow, aggressive front seven. The Steelers had a ton of trouble getting the ball on the edge last year. If I'm Randy Fichtner, I'd run a man blocking scheme and keeping it between the tackles. If you're going to get the ball outside, gotta run it weakside with the Jags in nickel, getting their LBs to shift away, with some window dressing to slow Jack and Smith down.
But running inside is where the Colts had mild success last week.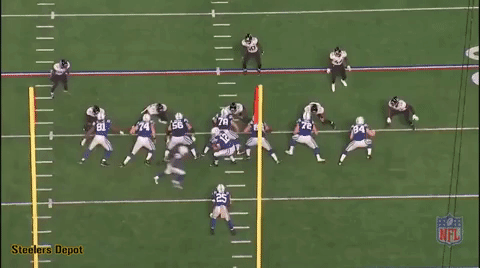 Even running power will be tough. Difficult to seal their DL when they're aligned in a gap and shooting through. Do a great job of disrupting behind the LOS.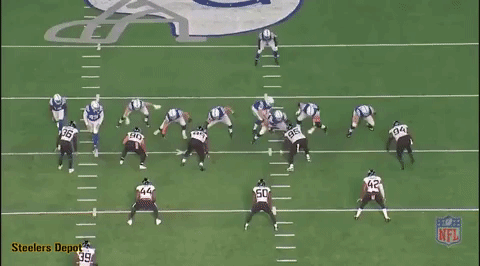 Two more defensive stats. 10th in PPG (22.1) and below average, 17th, on third down, at just 39.7%. Both numbers surprising compared to where they were at in 2017, 2nd and 4th respectively.
Jaguars Pass Defense
Group getting healthier at the right time. A.J. Bouye should return to his LCB spot after missing the last couple games. Jalen Ramsey is opposite. D.J. Hayden should slide into the nickel. Tashaun Gipson and Barry Church are the duo at safety, free and strong respectively. Church spends a lot of time in the box.
Statistically, the pass defense still looks impressive. They're 4th in opposing completion percentage, tied 5th in YPA, and given up the third fewest passing touchdowns. The completions of 20 and 40+ yards allowed rank in the top five too.
So what's the problem? Two fold but they go hand-in-hand. Lot of pressure is creating a lack of turnovers. Their 19 sacks is a crazy low number and 27th in the league. A year ago, they finished 2nd with 55 of them. So they've picked off just five passes, only three from the secondary and no one on this team with more than one. It's tanked their turnover ratio, dropping from a +10 last year to -11 this season, one of the worst marks in the NFL. It's no wonder why they're 3-6.
Their red zone defense has also taken a drip, dropping from 5th place in 2017 to 14th (56%) this go around.
Jacksonville checks to Cover 1 versus empty with some quarters sprinkled in.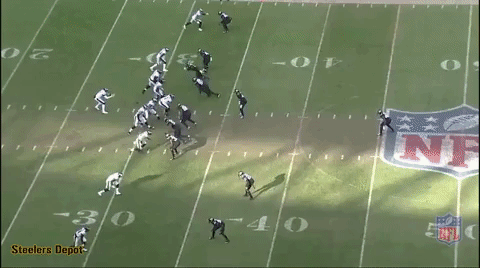 And play more zone coverage against 2×2 looks. In those situations, I'd run a bunch of over routes – a staple concept in the Steelers' playbook – and flood that zone coverage. They've done a poor job to "Robot the dig," having an underneath zone player carry that route across the field. A pair of 30+ yard gains from the last two games.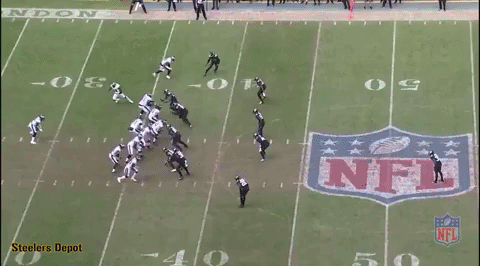 Myles Jack likes to blitz against empty sets and his athleticism makes him tough for an offensive line to deal with. Be wary of that. Looking back on the sack numbers, 13 of their 19 have come from the defensive line. Campbell and Ngakoue tied for the team lead with five. Two of them come from defensive backs.
Dan's Individual Report
Defensive Line
Defensive ends Yannick Ngakoue & Calais Campbell. Abry Jones & Marcell Dareus rotate at nose. And defensive tackle Malik Jackson rounds out the line.
It's hard to single out one unit on this defense, but the front four make a strong case for being the most dominant. They are all VERY big and with their versatility along the line they create matchup problems for opposing lines.
After a 14.5 sack campaign in 2017 resulting in a defensive player of the year candidacy, Campbell's hype has cooled, but he's still a vital piece to both the pass rush and run-defense. And he's dangerously close to being on pace for another double-digit sack season, which would be his second straight year accomplishing the feat, and just his second in his career. He's one of the bigger defensive ends in the league at 6'8" 300 lbs. Very tough to move, and with his deceptive speed it's difficult for linemen to size up his pass rush. Let's visit an example from his 2-sack outing against Tennessee earlier this season.
The Jags have three down linemen, with Campbell (#93) lined up outside the left tackle. He's going to fire inside attacking the "A" gap between the center and the guard. He engages the center head-on, placing both hands on the shoulder pads with his right hand on the left shoulder of the center. The positioning here in important because it's going to allow Campbell to pull off the swim move shown below.
Campbell uses his right hand to push the center inside using a swim with his left arm over the top. And you can see based on where the center is positioned how Campbell set himself up nicely. From there it's too late for the Marcus Mariota to leave the pocket unscathed and Campbell brings him down for the second time that afternoon.
Jackson's presence hasn't shown up on the stat sheet like it may have last year (8 sacks in 2017). But he's still applying consistent pressure on the quarterback, and while he's not racking up the sack totals, he creates a lot of problems on that interior, especially in the run game. Dareus gets the start with Jones rotating in at the nose. They are one of the better nose duos in the league. Both complement each other well. Dareus provides a greater threat in the run game whereas Jones can showcase some great pass rushing skills.
Linebackers
Probably the fastest group of linebackers in the game and I don't even think it's that close. Myles Jack has taken over as the mike linebacker. Telvin Smith is the will, and Leon Jacobs is the sam.  All three exhibit incredible speed for the linebacker position, and thus are all threats sideline to sideline. They possess a lot of the same characteristics: Long, agile, quick. The list goes on. Jack has grown quite a bit over his first couple seasons and has become the field general of the defense. Smith is constantly making game-changing plays, and Jacobs is making his mark particularly in coverage here in his rookie season.
Back to the Titans game as we focus on Telvin Smith. I haven't seen quite as glaring a display of Smith's athleticism than in his sack of Blaine Gabbert in week 3.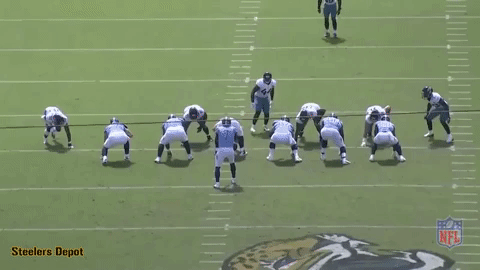 Smith flies in off the edge un-touched, and with his speed he gets to the quarterback in no time, forcing Gabbert to pump and try and escape the pocket. Smith not only makes a great adjustment by leaping to block the throw, he's able to continue tracking Gabbert, who initially steps up into the pocket before escaping, and gets an arm around his leg completing the sack. It's fair to say guys like Big Ben and Cam Newton may have been able to avoid the takedown, but it would've at the very least created disruption. Very impressive by Smith and goes to show he can make up for a lot of things, and improvise when needed.
Defensive Backs
Outside corners Jalen Ramsey & A.J. Bouye. D.J. Hayden is the nickel. Barry Church is the strong safety, and Tashaun Gipson is the free safety.
Church and Gipson are solid at covering tight ends, and are physical safeties that make plays all over the field. And the corners can make impacts in the run game as well. But they have a nice blend of shut down corners on the outside, speedy slot corners, and run-support safeties. But we all know who the top dog of that secondary is: Jalen Ramsey.
Ramsey is not only great at reading the quarterback, but within the Jaguars defensive scheme, he's able to disguise his coverage and close on the ball. That's what makes his most dangerous in this league, and most quarterbacks don't realize where he's going until it's too late. He's only grabbed one pick so far this season, but it was certainly a good one. Check this out versus the Eagles a few weeks back.
Carson Wentz is going to be looking for his tight end down the seam. The Jaguars are in Cover 2, with Ramsey assigned to cover the deep half. But it doesn't appear that way from the start as Ramsey is lined up on the receiver near the line of scrimmage. Upon the snap he retreats towards the end zone to cover the deep half all while keeping an eye on Wentz. Ramsey notices the seam and takes a precise angle to the ball.
Once the ball is released there's at least ten yards between Ramsey and receiver, but because of his position and the angle he takes it's a perfect read to jump the route and come up with the interception. Wentz actually has a receiver open down the left sideline, but because Ramsey has left the back end "seemingly open" it's too obvious of an opportunity for the quarterback to not take advantage of. Problem for Wentz is, his tight end was never truly open with Ramsey in pursuit the whole way.
His physical gifts are one thing, but his football IQ and play recognition are what sets him apart from some of the best corners in the league.