The sting from Sunday's loss at Mile High Stadium in Denver to the Denver Broncos 24-17 won't fade anytime soon for the Pittsburgh Steelers, but we have to continue to look at this game and try to analyze it.
Like most games, Sunday's loss came down to a few plays swung the game in favor of the Broncos. As I do every week, I'll take a crack at trying to pinpoint the top five plays that decided the game.
Play 5 — 4th & 10 at DEN 30 (9:36 – 1st) C.Boswell 48 yard field goal is BLOCKED (J.Simmons), Center-K.Canaday, Holder-J.Berry
In a sign of things to come, the Steelers marched 47 yards in 10 plays for what looked to be the game's opening points after forcing a three-and-out by Denver to open the game. Instead, the Steelers' special teams unit broke down as Justin Simmons leaped over the middle of the line to block Chris Boswell's 48-yard field goal attempt, keeping the Steelers off the board following a strong opening drive.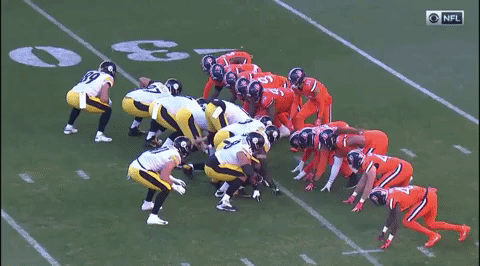 Play 4 — 2nd & 16 at DEN 46 (15:00 – 3rd) (Shotgun) B.Roethlisberger pass short middle to J.Conner to DEN 23 for 23 yards (B.Roby). FUMBLES (B.Roby), RECOVERED by DEN-D.Stewart at DEN 21. D.Stewart to DEN 21 for no gain (J.Conner)
The Steelers ran this play to perfection, getting a hat on every defender in the picture, giving James Conner a ton of room to run on this screen left. After the catch, Conner weaved his way for 23 yards, but at the end of the play he tried to leap over Bradley Roby, resulting in a massive fumble that Darian Stewart recovered at the Denver 21 yard line, keeping the Steelers off the board deep in Denver's end.
At the time, Pittsburgh was tied with Denver 17-17 after a Ben Roethlisberger interception and an Emmanuel Sanders touchdown let the Broncos back in the game.
Conner's fumble led directly to a Denver touchdown 11 plays and 79 yards later as Phillip Lindsay cashed in from 2 yards out, giving the Broncos the decisive score in the 24-17 win.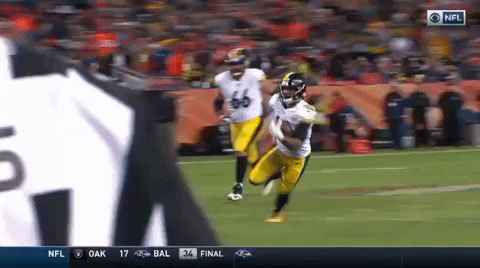 Play 3 — 3rd & Goal at DEN 2 (1:07 – 4th) (Shotgun) B.Roethlisberger pass short middle intended for A.Brown INTERCEPTED by S.Harris at DEN 0. Touchback
This was a disaster right from the start. Following two poor play calls from the 2 yard line set up a 3rd and Goal for the Steelers down a touchdown and time winding down, the Steelers went with an ill-advised RPO that was blown up right away, forcing Roethlisberger to get rid of the ball…right into the waiting arms of defensive tackle Shelby Harris in the end zone.
Even if Harris doesn't pick this ball off, Roby is running underneath Antonio Brown's crossing route for what would have been a likely interception in the end zone, ending the Steelers' chances. This play gave me flashbacks to Roethlisberger's interception in the end zone last season at home against the New England Patriots late in the game that sealed the win for the Pats.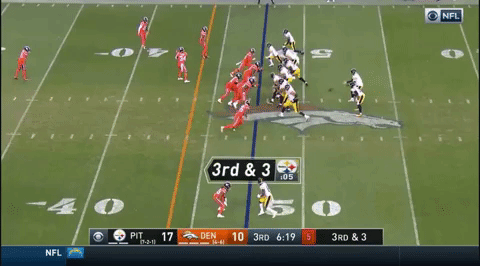 Play 2 — 1st & 10 at PIT 3 (10:32 – 3rd) JuJu Smith-Schuster Pass From Ben Roethlisberger for 97 Yrds C.Boswell extra point is GOOD, Center-K.Canaday, Holder-J.Berry
Coming out of the half tied at 10-10 after a spectacular fake field goal touchdown pass from Boswell to Alejandro Villanueva, the Steelers tried to hit JuJu Smith-Schuster on a go route down the right sideline from near midfield. The pass from Roethlisberger was overthrown, leaving an opportunity on the field.
However, the Steelers came right back to that well on the second drive of the half, resulting in a thrilling 97-yard catch-and-run by Smith-Schuster that was capped off by a monstrous block from Brown on Chris Harris Jr., springing Smith-Schuster for the final 30-odd yards for the score.
This touchdown made it 17-10 Steelers and appeared to be backbreaking for the Broncos at home. We know how that turned out.
9
7

Y
A
R
D
S

T
O

T
H
E

H
O
U
S
E
‼️ pic.twitter.com/bFQ8ZFV5ix

— Pittsburgh Steelers (@steelers) November 25, 2018
Play 1 — 2nd & 8 at PIT 41 (4:40 – 3rd) (Shotgun) B.Roethlisberger pass incomplete deep right to J.Washington
Unfortunately, James Washington will be having nightmares about his one for quite awhile.
Again, the Steelers took a deep shot down the right sideline on a depleted Broncos secondary. Washington found himself wide open underneath a well-thrown ball. Instead of staying in stride to run underneath the ball for a likely touchdown, Washington inexplicably laid out for the ball, resulting in the ball bouncing out of his hands as he hit the ground, taking a likely touchdown off the board for the Steelers, let alone a huge splash play to put the Steelers in scoring position.
Following the massive drop, the Steelers punted in a tie game. If Washington catches that and scores it becomes 24-17 Steelers late in the third quarter.
We don't know if Conner fumbles later in the game, or if Lindsay scores the game-winning touchdown, but it's a huge what-if from Sunday's loss if Washington comes down with that ball.
No idea why James left his feet here. DAMN #Steelers pic.twitter.com/QmXWlX4ikB

— Steelers Depot (@Steelersdepot) November 25, 2018