Going back through Sunday's game between the Pittsburgh Steelers and Atlanta Falcons at Heinz Field shows just how great the Steelers played in all facets of the game.
Offensively, the Steelers had balance, as James Conner had a monster day. That opened up the passing game for Ben Roethlisberger, and the Steelers rolled all game long up and down the field. Defensively, the Steelers came to play, putting their collective foot down to shut down a high-powered Atlanta attack. Same for special teams, which was terrific all game long, sans a Chris Boswell missed extra point.
Most importantly though, the Steelers tackled very, very well on Sunday afternoon, turning in a season best in missed tackles. Just one player finished with more than one missed tackle.
Let's take a look.
Missed tackles vs. Falcons — 7
Terrell Edmunds – 2 (one on special teams)
LJ Fort – 1
Sean Davis – 1
Jon Bostic – 1
Tyler Matakevich – 1
Anthony Chickillo – 1
Total missed tackles through 4 weeks — 57 (11.4 misses per game)
Joe Haden – 7
Mike Hilton — 6 (one on special teams)
Vince Williams – 6
Sean Davis — 6
Terrell Edmunds – 6 (two on special teams)
TJ Watt – 5
Stephon Tuitt — 3
Artie Burns — 3
Cam Sutton — 2
Bud Dupree – 2 (one on sack attempt)
Jon Bostic – 2
Anthony Chickillo – 2
Cam Heyward – 1
Tyson Alualu – 1
Roosevelt Nix — 1 (special teams)
Coty Sensabaugh – 1
Tyler Matakevich – 1
Nat Berhe – 1
LJ Fort – 1
Terrell Edmunds had a terrific game Sunday against the Falcons. The two misses won't change that line of thinking for me. He was all over the place, flying sideline to sideline to the football. Most importantly, in nearly all of his tackle attempts he came in under control, focusing on getting the stop rather than going for the big hit. That was nice to see.
Filling in for Vince Williams, Tyler Matakevich and LJ Fort had really strong days in the tackling department recording just two combined misses on 14 total attempts. Not bad for backups who've received very little playing time in the regular season.
Let's take a look at some of the top misses from Sunday's game.
This is a controversial one, but one that I'm going to defend myself on. Once Mohamed Sanu makes this catch, there's just four total yards separating him on both sides from Sean Davis and Jon Bostic. That's a play that needs to be made by one of the defenders.
Hypothetically you could give Bostic half a missed tackle here since he bought the run fake to his left before spinning back around to try and get into the play. He attempts to get his hands on Sanu as the Falcons receiver runs by, resulting in a miss.
Davis takes a horrendous angle on the ball and doesn't even attempt to throw his body at Sanu bursting up the field. For a guy that prides himself on physicality, this is one play where he needs to sell out. He knows he's beat once he comes up the field, so he needs to do whatever it takes to at least get a hat on Sanu to try and slow him down.
Like I said, these are two controversial misses right off the bat, but two I feel strongly about even though Sanu wasn't touched until the end by Joe Haden. Not all misses are the same, and not all misses are created equally.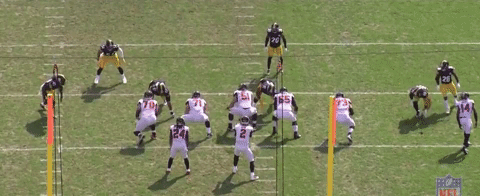 This is a simple dump off from Matt Ryan to Austin Hooper short left off the snap. It looks like LJ Fort has curl/flat responsibilities here, and he gets over to Hooper quickly. Unfortunately, he comes in out of control and doesn't keep in line with Hooper, allowing the athletic tight end to sidestep Fort's angle of attack, resulting in a flailing miss.
At the end of this play, Fort appears to roll his ankle jumping over a fellow teammate. He's slow to get up at the end of the play, which could be where he injured the ankle that is bothering him this week in practice.
That's it. There are just two GIFs this week. Like I said, the first one is – I'm sure – going to be controversial to readers. If you feel like those aren't misses, please let me know why I'm an idiot in the comment section below. I'm all ears to hear you out.
Now, how about the offense forcing misses?
Sunday was a +7 day for the Steelers in that department, which happens to be their best mark of the season.
Forced misses vs. Falcons – 14
James Conner – 12
Antonio Brown – 2
Forced misses through 5 weeks — 63 (12.6 forced misses per game)
James Conner — 33
Antonio Brown — 11
Ryan Switzer — 7
Vance McDonald – 6
Ben Roethlisberger — 3
JuJu Smith-Schuster — 1
James Washington — 1
Stevan Ridley — 1
James Conner forced 12 missed tackles on Sunday, equaling the same career-high for forced missed by Le'Veon Bell. Bell reached 12 forced misses just once in 66 career games. Conner did it in just his fifth start.
Too often, Conner gets slapped with the label that he's too tight and doesn't have much elusiveness to his game. That couldn't be further from the truth. He can shake you in the open field, and he can run you over. Those both count for misses.

He's on a tremendous pace right now, and he owns 52 percent of the forced misses by the Steelers this season. It'll be interesting to see how Randy Fichtner handles Bell's return to the lineup from a play-calling perspective, but Conner deserves a lot of run moving forward. He's playing very well.