As we have been for several years now, we'll break down the Pittsburgh Steelers' opponent each week, telling you what to expect from a scheme and individual standpoint. Like last year, Dan Vasko and I will cover the opposing team's defense. I will focus on scheme, Dan on the players.
Today, we're getting our first look at the Cincinnati Bengals.
Alex's Scheme Report
Bengals Run Defense
The run defense has been average to a little below. They rank 23rd in the league in yards per carry allowed at 4.5. To the second and third levels credit, they have two talented starting safeties and corners willing to tackle, they aren't allowing many explosive runs to inflate that number. Just 14 that went for ten or more, an average figure, and only two that went for 20+, one of the best figures in the NFL (Pittsburgh, for comparison, has allowed four of the latter).
Like always, there's a deep defensive line in their 4-3 front. Eight of their DL have played at least 90 snaps on the season, letting guys rotate, starters staying fresh, and giving the opposing offensive line more matchups to deal with and more players to study.
The starting DL should look like left to right: Carlos Dunlap-Geno Atkins (3T)-Andrew Billings (1T)-and Michael Johnson. Jordan Willis and Carl Lawson rotate in at end, Lawson especially subbing as a third down specialist, reminding me a little of Cameron Wake. Rookie Sam Hubbard can play inside/out and even a little of off-ball linebacker.
On the interior, there's Ryan Glasgow and Josh Topu, a young, hulking nose tackle, so there's a capable rotation going on there. Atkins, of course, is one of the best interior linemen in the league, probably only second to Aaron Donald, and even at age 30, is having one of his strongest years ever.
Like Mike Tomlin referenced, one new thing the Bengals are doing is moving some of those starters around. In the past, Michael Johnson played on the right side, Carlos Dunlap on the left. That was it, no one switched. Now, under new DC Teryl Austin, it's a little different. These guys will move around. Here's Johnson on the left side.
And you see Willis play both sides. Ditto with Lawson. That's a new element this line has to gameplan for they haven't had to do as much in the past.
At linebacker, familiar faces also return. Vontaze Burfict returned last week from his suspension, just as annual a sight as the sun setting or Eli Manning angering Giants' fans. Preston Brown is the MIKE and Nick Vigil the WILL. Brown and Burfict opened things up as the nickel LBs but Vigil ended up leading them all in snaps against Miami. Rey doesn't seem to be the big part of the defense as he was last year.
One interesting wrinkle I saw against the Atlanta Falcons. Early in the game, 3rd and 1. Bengals used a 4-4-3, four defensive linemen and four linebackers with only three in the secondary against Atlanta's 22 (2 RB, 2 TE, 1 WR) personnel. Used two safeties and a corner on the lone wideout. #57 Vincent Rey checked in as the extra linebacker. Falcons ran the ball land still picked up the first down with a six yard pickup.
It's hard to quantify it, I don't have the time to chart everything, but it also feels like they're playing with less two high looks, especially on early downs. In the past, they've been (in)famous for keeping seven in the box and getting gashed against the run, not coming out of that shell. Feels different now. Safety Shawn Williams is most often the man in the box.
Here's maybe the worst aspect of the Bengals' defense, run or pass. They're 31st in third down defense, allowing a first down more than half (52.7%) of the time. The only team worse are the Falcons, who the Steelers lit up and went 9-12 against in last week's win. Advantage: Pittsburgh.
Bengals Pass Defense
The pass defense is the stronger of the two units. They rank in the top ten in yards per attempt (7.0) and like the run defense, are about middle of the pack in explosive passes allowed (15 of 20+). There's plenty of talent and pedigree with this bunch.
Dre Kirkpatrick (1st rounder) at left corner with Williams Jackson (1st round) at right. Darqueze Dennard (1st round pick) in the slot. Jessie Bates is their second round pick from this past year, the Bengals liked him so much they dumped vet George Iloka while Shawn Williams is an underrated safety and even he was a third rounder. So no Day Three picks in the secondary and they're all home-grown. They might be the only team who can claim that.
The pass rush has mostly come from their defensive line, which is really no surprise. 12 of the 13 they've had this year have come from the front four, led by Atkins' six. The only exception here is the safety Williams, who has one.
Coverage is fairly diverse, pretty standard in today's NFL. Against 2×2 looks, you're most likely to get a single high look, whether that's Cover 3 or Cover 1 Robber. Three examples below.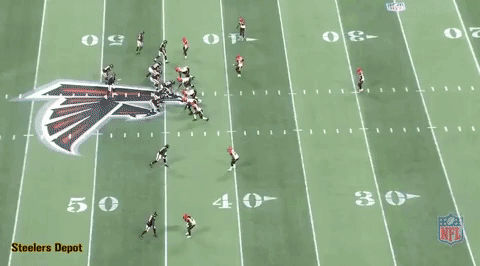 They've dialed up some blitz packages from the secondary, which isn't anything really new. Be alert for them on 3rd down. That's when the Bengals bring the heat and almost always want to mug the A gaps with their ILBs. They'll often drop out of it but it sure looks like chaos.
One common approach for teams is not to designate an ILB to rush. Instead, the rusher away from where the center turns is the one who goes. So if center turns right, the LB to his left blitzes and vice versa. That way, you're always "right" as a defense. Seen below.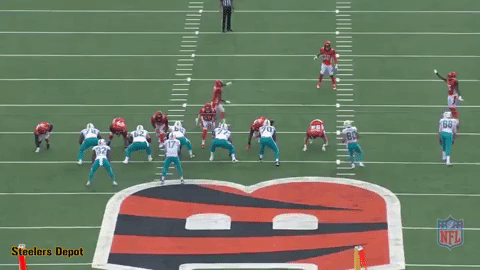 One last note about the Bengals' special teams. Their punt block team? Not so good. Kevin Huber has had at least one blocked punt three of the last four years and they've already had one blocked this year against the New Orleans Saints, a clean rush with the upback totally frozen. Steelers could get another one.
Dan's Individual Report
Defensive Line
LDE Carlos Dunlap, nose tackle Andrew Billings, defensive tackle Geno Atkins, and RDE Michael Johnson.  Carl Lawson and Jordan Willis will rotate in as well.
Billings is really coming into his own now in his third season. He's got a mean bull rush and when one-on-one he's very difficult to contain. Extremely aggressive and has quick burst for a man of his size (6'1" 311lbs). He can disengage and run down the backs sideline to sideline which is rare from a true nose. Uses low pad level often. Still can struggle to disengage from time to time, but does his job quite well at maintaining gaps.
Johnson does almost everything well. For starters, he has great size for an end (6'7" 266lbs). Incredible length makes it hard to get hands on him and he has the speed to get around those blocks quickly. Vital asset in both passing and running downs. Easily gets an arm on the running back, and can take away lanes in coverage as well. Can struggle to create leverage with his height, and uses his speed to sometimes abandon his gap. Overall, though, this line has a great combination of speed and power and Johnson adds a whole new element to their effectiveness.
Onto Carlos Dunlap. Dunlap is very effective at the point of attack with very strong arms and powerful legs to gain a push in the backfield. Check out this play versus Miami last week.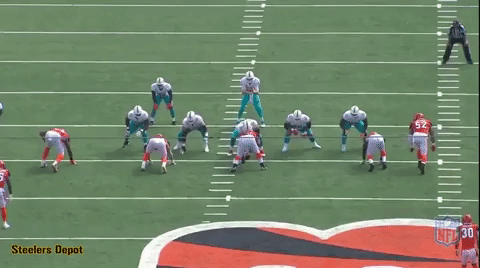 Dunlap rushes outside the right tackle forcing him to open his hips and chop the feet. Dunlap catches the tackle in mid-stride getting him off balance and disengages in time to get a hand in Ryan Tannehill's face as he throws. The pressure he creates forces an errant throw, but nearly results in a sack. But take a look at the tackle's feet/legs as Dunlap fires inside.
The lineman is almost sent airborne with Dunlap attacking high pad level and using his legs to collapse the pocket. He's a powerful edge rusher and extremely physical. He's a tough end to contend with.
Atkins is great in pretty much every area, but what he's most effective at in my view is his ability to disengage quickly and also display gap discipline. He can bait offensive lineman into the exact position he's looking for. Take this play versus Atlanta a couple weeks ago.
Atkins (#97) is lined up in a 3-technique just on the outside shoulder of the guard. The line stretches right, and Atkins follows along providing a gap for the running back which should open up an opportunity for the linebackers to close. But instead, Geno makes the play himself. Notice in the second picture how he establishes leverage. The offensive lineman is leaning heavily into Atkins while Atkins uses his strong base and upper body strength to hold the position for just a moment. His responsibility is the C-gap.
The over-aggressiveness by the lineman provides an opportunity for Atkins to shed the block entirely using his inside hand to send the guard almost falling to the ground because of his top-heavy lean.  Meanwhile Atkins fills the gap and brings down the running back for a short gain. He has such a great base that it takes incredibly disciplined linemen to position and maintain a block.
Linebackers
Preston Brown is the Mike, Nick Vigil the Sam, and Vontaze Burfict the Will.
Brown is your typical middle linebacker. Strong tackler, powerful at taking on blocks, communicates well. Very good play recognition skills and can hit the gaps quickly. Rarely caught out of position. Limited in coverage, however, and can be mismatched on tight ends.
Burfict, well, we all know Burfict. Plays with high motor, very intense linebacker, but can be caught out of position in certain situations. Phenomenal in the run game, both inside and outside gaps. Has an uncanny ability to read blocks and makes it very hard on linemen. Hard to get both hands on this guy. We rarely discuss emotion when scouting players' abilities on the field, but you can't ignore that aspect with Burfict. His emotions can get the best of him at times, causing him to be out of place or produce penalties. He's on the most talented at the position, but he can be his own worst enemy as well.
Vigil has solid instincts at the position as well, and is a great tackler. Where he becomes less effective is out in space or when matched up with some of the speedier tight ends. But in zone, he's pretty effective and does a good job of reacting. This linebacker unit is much more suited to stopping the run. And with the defensive line being a powerful unit themselves, it's hard to run between the tackles against these guys. That being said, there are opportunities in the passing game.
Defensive Backs
LCB Dre Kirkpatrick, RCB William Jackson, strong safety Shawn Williams, and free safety Jessie Bates.
Darqueze Dennard enters in nickel packages.
Williams is an intimidating force in this secondary with his physicality and willingness to attack the run. He's a great in-the-box safety and a very strong tackler. Not the biggest playmaker on the team, but still a vital piece to this defense.
Bates is a very talented rookie who could develop into one of the better safeties in this league. Very instinctive and shows above-average football IQ for a young player. Very good at reading the quarterback and is prone to making some splash plays, as Mike Tomlin would put it. Tends to over-pursue in the run-game, but that could be fixed in time. He is a solid tackler, though, when he gets to the football.
Dennard is a very good slot corner, with a great press and quick hips. He has the speed to run with some of the faster receivers in the league, and really he's an all-around solid football player. They utilize him more like a hybrid safety as well, blitzing him often from the slot.
Kirkpatrick is a very athletic corner that excels in zone, but has the skills to transition in man coverage. He's another lengthy corner in this group at 6'2". But despite his length, he's very fluid in his speed turn. He's the veteran leader of this group of corners and has produced consistently for quite some time.
On to the man the Bengals drafted just before the Steelers could in 2016, William Jackson. While Jackson has the physical attribute of an ideal outside corner (6'0", 31 ¾" arm length), it's his quick play diagnosis that makes him stand out.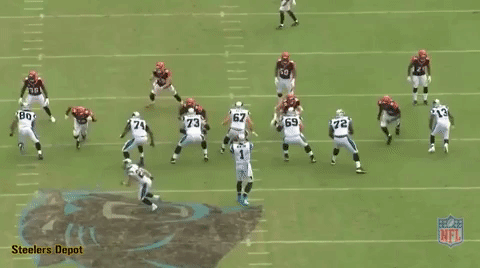 Jackson's responsibility is #11 on the outside. But just before the snap Christian McCaffery motions to the left side of the formation and flares out the flat. McCaffery is linebacker Nick Vigil's guy on the play, but with the quickness of McCaffery, Vigil finds himself a little behind the running back.
But Jackson's pursuit to the flat is almost instantaneous as he keys in on the route and showcases impressive closing speed to bring down the running back behind the line of scrimmage. In addition to his play recognition, Jackson has superb ball skills and uses his outside hand well to defend passes while keeping his outside hand free for the tackle.