It's no secret or surprise the Pittsburgh Steelers' run game revolves around its power scheme. That's been true for almost all of the 21st century. It didn't matter who made up the offensive line or who was in the backfield. In effectiveness, sure, there was a difference, but the philosophy remained the same.
At the start of the year, we wrote about how effective Pittsburgh's power run game was against the Browns in their first matchup Week One. The Steelers stuck to the same script Sunday afternoon with similar, better even, results.
In total, they ran Power or Dart 12 times for 116 yards (9.7 YPC) and two touchdowns. That's domination in every sense of the word. We'll look at a couple of those plays.
Here's one of their earliest runs. Simple power scheme with the backside RG, David DeCastro. Like we've talked about before, down blocks to the frontside, mainly from Alejandro Villanueva while DeCastro kicks out first color and Jesse James climbs to the SAM linebacker, #51 Jamie Collins.
Conner runs off his inside hip for a 10 yard gain.
Look at the whole play. Nice job by Ryan Switzer for working inside on the safety and throwing a key block, too. Receivers very active in the run game Sunday, even Antonio Brown, which is a rare sight to see.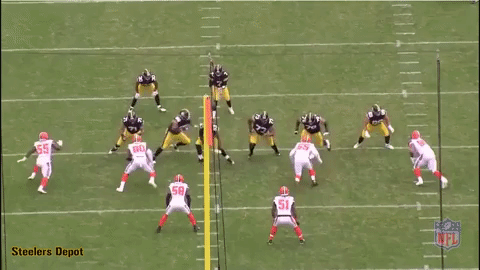 Here they are running dart, which happened twice against the Browns. Instead of the backside guard pulling, it's the backside tackle, in this case Matt Feiler. But the idea remains the same. Down blocks on the frontside, kickout the first color, and Conner is off the inside hip.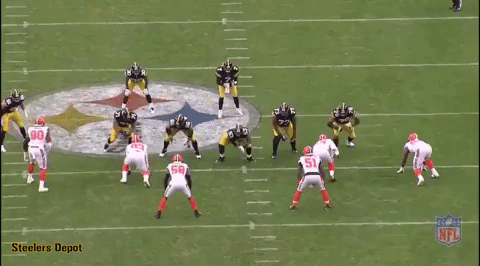 They used Power on their final carry of the afternoon. Same idea as before. James and Villanueva seal down, DeCastro wraps around, and Conner is off his inside hip. Collins scrapes over the top but after getting run on snap after snap in the second half (Power averaged 11.8 YPC in the second half) just looks gassed and doesn't do more than graze Conner, as he runs past.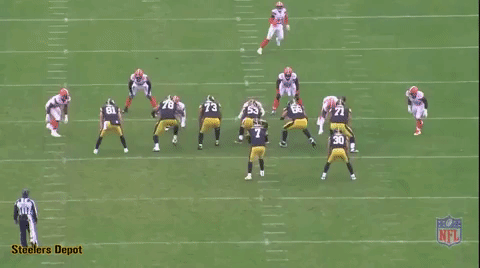 One last play I want to look at. This was the first time they ran power, a four yard gain in the first quarter, but it has one wrinkle to it. The LDE sees power coming and tries to mess with the blocking scheme by "wrong arming" and trying to win inside Ramon Foster. Foster, as he's done before this year, adjusts to it well by logging the defender, sealing him inside, and so Conner runs off his outside hip instead.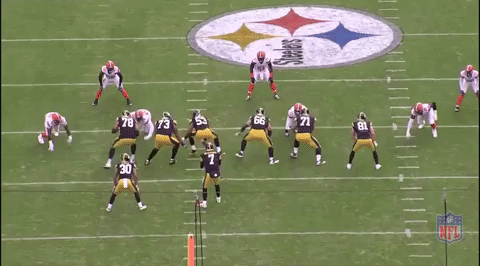 It's a core run concept the Steelers have perfected. You know it's good when the opponent can tell it's coming but still are unable to stop it. They'll lean on it the rest of the way whether it's Conner or Le'Veon Bell in the backfield.