As we have been for several years now, we'll break down the Pittsburgh Steelers' opponent each week, telling you what to expect from a scheme and individual standpoint. Like last year, Dan Vasko and I will cover the opposing team's defense. I will focus on scheme, Dan on the players.
Today, we're checking out Sunday's opponent, one you know well, the Baltimore Ravens.
Alex's Scheme Report
Ravens Run Defense
It's a solid group, as you'd come to expect. Especially that NT Michael Pierce is expected to play after practicing in full Thursday afternoon. Those two make up the bulk, literally – both over 335 pounds – of the defensive line. Pierce is the true nose tackle while Williams has seen more time as the 3 tech, aligned between guard and tackle.
But there's good depth here too in Chris Wormley and Brent Urban. Dan will speak more to the individual strengths of this unit but I think the Ravens' defensive line does a better job block shedding than nearly any other unit in football. They're molded from the old-school mentality of still doing a lot of two-gapping with their big uglies up front.
Check #97. Pierce, below shed the guard and make the tackle.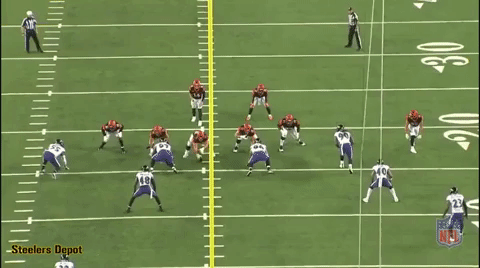 Statistically, the run defense is just average, allowing 4.2 YPC, squarely in the middle of the league and it's even worse on 1st and 2nd down (5.11, 26th). But again, Pierce has missed some time and that's hurt them. They'll be stronger this week.
At linebacker, there are some new and old faces. Terrell Suggs and Matthew Judon at OLB. Za'Darius Smith, Tim Williams, and Tyus Bowser fill in behind. All of those players will move around so don't expect the Steelers' tackles to get the same matchup each time.
Sounds like C.J. Mosley will suit up this week after suffering a bone bruise. He should replace Albert McClellan and start opposite Kenny Young, who reminds me of a young Ryan Shazier. His instincts, aggressiveness, ability to make plays in the backfield. Fun player to watch…when he doesn't play the Steelers, at least. He's #40 – keep an eye out on him.
Ravens' Passing Defense
The pass defense has been strong. Baltimore leads the league in YPA allowed, a stingy 5.1. Even minus Jimmy Smith, a successful group.
Pass rush has been solid too. Six players have at least .5 a sack, nine in total as a defense with Suggs, naturally, the team leader with 2.5.
Brandon Carr should start at LCB, Marion Humphrey at RCB, Tavon Young in the slot (who has played LCB in the past). Tony Jefferson and Eric Weddle make up a strong tandem at safety. As they have done in the past, Baltimore has plenty of sub-packages and personnel packages. #41 Anthony Levine is their regular dime defender, running a 1-4-6. Against Denver last week, they busted out a 1-3-7 with #36, Chuck Clark, entering the game as an extra defensive back.
Plenty of single high, Cover 1/Cover 3 from this defense. One thing Baltimore does well, and something I wish Pittsburgh would emulate, is their ability to disguise coverages. Rotating safeties late to go from a two high shell to single high and vice versa.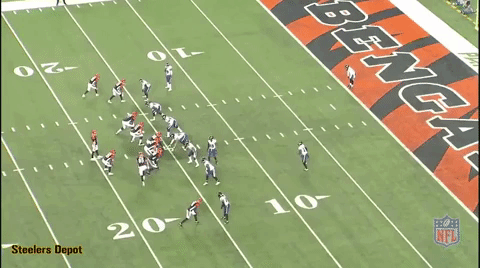 Blitz-wise, they're a typical Ravens' team. Tons of it and from all areas of the field. Headache to deal with and I'm really happy David DeCastro and Marcus Gilbert are expected to play this weekend. Hard to even peg when and where they do things but the pressure is consistent on 3rd down as they get into their extreme packages and often only have one person, the NT, with their hand on the ground.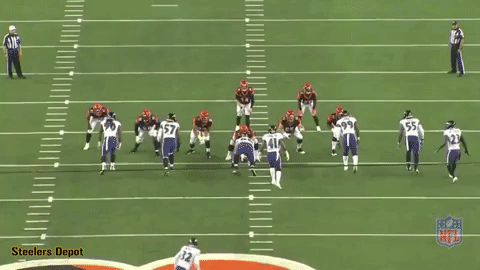 Dan's Individual Report
Defensive Line
Several injuries across the lineup have forced the Ravens to utilize their depth throughout pretty much every unit so far this season. DT Michael Pierce was limited this week and the team is hopeful that he can play. This would be a big help for that line. The outlook for DE Willie Henry, however, is not as optimistic. At the time of this writing he hasn't participated in a practice this week due to an abdomen injury, so he may very well be unable to go Sunday night. Expect to see some Chris Wormley more often if those guys are both out. Patrick Ricard and Zach Sieler logged some meaningful snaps last week as well, so there will be a lot of pieces subbed in Sunday night.
DT Brandon Williams and LDE/DT Brent Urban round out the starters for the defensive line. They'll be out there the most of this group. They move guys around quite a bit along the LOS, but Williams and Urban will be the ones that step in as the nose.
I see Williams as one of the bigger threats along this line. At 6'1" 335lbs and quick, he's a tough matchup for any offensive lineman.
Williams (#98) here is lined up in the 3-technique and the right guard is going to chip before entering the second level, leaving Williams one-on-one with the right tackle.
Take note here that Williams gives up zero ground. Not an inch. He holds his place, making it difficult for the pulling right guard to get into place, which effectively slows down the entire flow of the play. Williams is patient to hold the block until LeSean McCoy approaches the gap, and then gives one solid push freeing up his outside hand while turning his left arm inside to wrap up McCoy for a one-yard gain.
This defensive line is very big and very hard to move.
Linebackers
MLB C.J. Mosley has been limited as he's dealing with a knee injury and very well might not be suiting up on Sunday. He's being considered day-to-day, but this would obviously be a big blow to the Ravens if he's not in the lineup against the Steelers. Look for a combination of Albert McClellan and Tim Williams to fill that void. Tyus Bowser will sub in at times as well, but he's more of a SAM linebacker.
Matthew Judon is the sam.  Patrick Onwuasor and Kenny Young will rotate in as the will. And, of course, the man not unknown to the Steelers, Terrell Suggs, has also not participated, making way for Za'darius Smith to be the primary edge rusher.
We've talked about Judon in the past, and for good reason. He's, in my opinion, one of the more underrated linebackers in the NFL. He's a fantastic rusher, great with his hands at the point of attack going high-pad-level and has the power to move lineman with his body lean and sheer strength.
That being said, their rookie Kenny Young has impressed with the snaps he's been given. He's not the best at attacking blockers, but he's a very good specialist with the speed to exploit the gap.
Young (#40) is going to get some help from the defensive line on this one as Suggs and Wormley crash in on the play forcing the offensive line to play tighter upon the snap, and Williams plugging the A gap. You can see the right guard gets caught between Wormley and Suggs, providing Young with a free lane to the B gap.
Young needs to be quick here before the right guard gets hand on him, and he takes a perfect angle inside meeting Royce Freeman head-on to bring him down for a loss. Young has great lateral movement, and also excels in pass coverage. But on plays such as these, the offensive line needs to be quick to the second level particularly on misdirection. Young's been impressive so far, and he should see plenty of time on Sunday.
Defensive Backs
More injuries here as well. LCB Brandon Carr played every snap against the Broncos, but has not yet practiced. They are listing it as a new injury, but things are pretty unclear as to the diagnosis. It seems, though, that he's being held out as a precaution and should be available even if it's not yet clear. They really need him to be a go as they are thin at DB already, and now Anthony Averett is dealing with a hamstring. Opposite Carr is Marlon Humphrey, and Tavon Young will come in during nickel packages.
Free safety Eric Weddle will take over as the leader of the defense with Mosley likely being out. Tony Jefferson is the strong safety.
Carr is a physical corner with quick hips, but sometimes too quick. He can be susceptible to certain corner routes as he uses his anticipation to bite inside, plus he sometimes turns his eyes to the quarterback too soon, making way for a receiver to beat him over the top. But he's still very much an effective playmaker and opportunistic. Humphrey is much more of a shutdown corner for the Ravens. He's versatile as his skillset allows for success in zone and man-to-man. Quick feet, but can be sloppy there at times. Hard to block as a receiver given his quick reactions and physicality.
The big one to mention here is Eric Weddle. The veteran still has a lot to offer a defensive backfield, and his football IQ separates him from many at the position.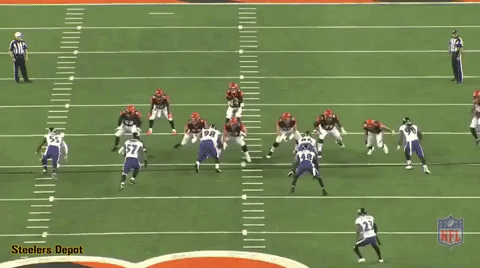 Take this play against the Bengals a couple weeks ago. Weddle is roaming the middle part of the field sitting back in zone. With A.J. Green in motion, the Bengals can recognize zone setting Green up nicely on his drag route. Notice that once Andy Dalton releases the ball Weddle is about five yards from Green, but he's already in pursuit to the receiver. Once Green catches the ball (granted it wasn't a great throw and if it was lower he would have a better chance at securing the ball) Weddle is now within a yard of the receiver.
His quick reaction on the play allows him to make a play using his left hand to come down hard on Green's left arm, which causes an incomplete pass against one of the best in the business. Weddle is rarely fooled, so it takes precise execution to limit his effectiveness.