The last time the Pittsburgh Steelers drafted a player below the FCS level in the first two rounds was in 2004. They did it back-to-back that year. Ben Roethlisberger came first, as good an outcome as any to compel the team to do it again. Then there was Ricardo Colclough, as good an outcome to not take those small-school guys again. And that early, so far, Kevin Colbert hasn't.
While Colclough was an objective bust, he never even officially started a game, he did pick off one pass in his career. Exactly one.
It came Week One of 2005, a deceptively optimistic sign of how his sophomore season would begin. A similar story to most of the others we have and will write about. He checked in at the end of a blowout victory, up 34-7 on the Tennessee Titans. Quarterback Steve McNair gave way to Billy Volek near the end. The Titans seemed content sitting on the ball, running it the first three plays of the late-game drive. But Travis Henry busted off a 22 yard run that got them near midfield so head coach Jeff Fisher called a timeout and told Volek to take a crack at it downfield.
He did.
And Colclough was there to get in the way.
Volek threw a skinny post to his left, attempting to look off the safety, and aiming to hit WR Drew Bennett. But the throw was horrendous, way too late, far too behind, and Colclough jumped at the chance. He picked it off cleanly and ran it back 14 yards, his first – and as it turns out, only – career interception.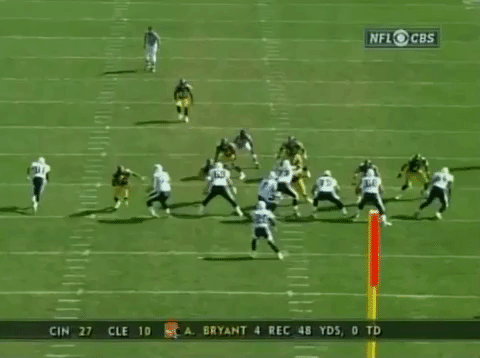 Noah Herron wrapped things up with the only three carries of his Steelers' career, narrowly missing eligibility for this list, and the Steelers sealed up the W.
By the end of the year, Colclough was on the outside looking in, barely even registered on the scale in 2006, and he achieved infamy for a disastrous punt return that cost the Steelers a win that year, something we may expand on another time if yinz are feeling particularly sadistic.
His Steelers career was done after then though his professional career would slowly churn for several more. He went to Cleveland, then got a $4 million contract with the Carolina Panthers for inexplicable reasons. That was followed by time with Kansas City, the UFL, CFL, and probably all other leagues that end in "FL."
His last stop wasn't all that long ago, released by the Toronto Argonauts in 2014.