For Malik Golden, the word "one" carries some extra meaning.
He had one chance to kill his Pro Day.
One injury got him cut one month into his NFL career.
One hour to catch a flight to Pittsburgh.
And this time a year ago, he had nearly just one dollar in his bank account.
But that's all in the past now. Fast-forward to today and entering the 2018 training camp, Golden is one of its top sleepers.
Thank the Florida weather for jump starting Golden's football career. He grew up in Hartford, Connecticut, with soccer as his first love. Football was secondary but with his 7th grade team taking a trip to the Pop Warner National Championship in the Sunshine State, Golden committed to the gridiron.
"As a 7th grader, I kinda just selfishly was like, 'I'm going to play football to do that,'" Golden tells me in an interview last week. "And I ended up doing that and we went to the national championship in Arizona and won. And I've been playing football ever since."
Like so many others in the NFL, Golden was a Swiss Army Knife, the best player on his high school team, lining up wherever the coaches needed him. Running back, quarterback, linebacker, corner, heck, I think he did everything but be the mascot.
For college teams, that meant different evaluations. Some schools looked at him as a runner, others a defensive back. He decided on Penn State, Joe Paterno's final recruiting class, and even they didn't quite know what they wanted to do with him.
"I originally came in as a wide receiver but Joe Paterno and his staff wanted me to play corner. Bill O'Brien came and asked me to play receiver. Then I switched to safety. Some schools wanted me to play running back, corner, or safety."
Turmoil at the school didn't help matters. Penn State became the last place recruits wanted to go too. Coaches too. Golden wound up playing for three different defensive coordinators and four position coaches in five years. That, coupled with a shoulder injury, limited him to just four starts heading into his senior season.
A clean bill of health and just as importantly, a great coach, helped get his college career back on track.
"It was Tim Banks," Golden says of the coach who impacted him the most during his time at Happy Valley. "The first day he got there, he told me, 'I'm the captain of this ship. We're going to go as far as you take us.' He's got a lot of trust in me. That's the best thing that happened to me."
Golden started all 13 games, recording 75 tackles, and the program turned around, beating Wisconsin to win the Big Ten Championship.
That ended his college career but not his football dreams. A strong Pro Day workout helped grab the attention of scouts, a 4.5 40, 35 inch vert, and 10'5″ in the broad jump.
Despite not hearing his name called during the draft, several teams wanted to pick him up as an undrafted free agent. He landed on San Francisco, talking things over with his agent and concluding it was the best opportunity based on their depth chart.
The NFL, unfortunately, can be as cruel as it is rewarding. Barely more than a month after signing with the 49ers, they showed him the door. Nothing personal, just a numbers game. They needed an offensive linemen for spring workouts. He was the odd man out.
For the first time since he was a kid, Golden was out of football. At that point, doubting if he would ever get another chance.
"I definitely thought my NFL career was over. I never knew what to expect. I'd never been cut before. It was humbling. You realize how much you love football."
Money was a concern too. He had two degrees from Penn State but with all the focus on football, his bank account was about to run dry. Golden had $12 to his name, he's being literal when he tells me that, the day the Steelers brought him in. Had his phone not rang that day, he says, his NFL career was going to have to be put on hold.
But the Steelers called. Frankly, a call that came out of nowhere for either side. On the eve of their report date for training camp, veteran safety Daimion Stafford, signed weeks earlier, opted to retire. That opened up a roster spot and Golden's name was at the top of their list.
Still, that meant getting to training camp. Fast. Pittsburgh needed him on the next flight out, leaving Golden with one hour to pack his things. And once he got to Latrobe, he was in the difficult spot of being a rookie in a brand new place, with a brand new playbook, coaches, and teammates, in his first ever training camp.
"It was tough, being a new guy. I didn't know anybody. I definitely had doubts the first couple weeks."
Thankfully, he was a quick study, and producing during games raised his confidence.
"The first game I did really well against the Giants. Then I started to get more comfortable with the guys with the coaching staff, started being myself more. Second week, I had a big play on special teams and from there, it gradually got better and easier. Things started to slow down."
Golden had a solid training camp, crediting Justin Hunter and Xavier Grimble, two of the toughest players he said he had to cover, for making him a better player.
His best chance for playing time came in the preseason finale against the Carolina Panthers. Most players expected to make the roster take the whole game off, making it generally dedicated to those at the bottom of the roster. For Golden, one play came with the highest of highs followed by the lowest of lows.
On the third play of the second half, he  undercut an out route thrown by QB Joe Webb, easily nabbing the pass. It should've been a walk-in pick six but as he took his first steps the other way, his leg gave up, and he was forced to hobble out of bounds.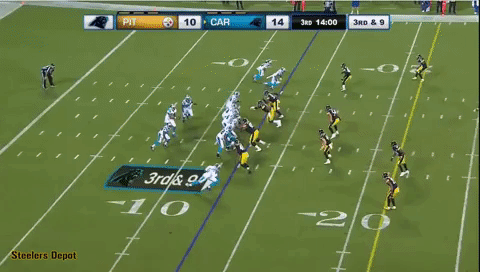 Golden suffered a torn tendon in his groin. But as he tells it, it didn't happen on that play. Instead, he felt the tear making a tackle right before halftime. Knowing this was his last chance to leave an impression, he willed his way back out there. At least, as long as his body would let him.
"I told myself I had to do something to make a play or leave something on the field. I went out there and tried. It was three plays into the second half, I knew I couldn't go much longer. And then I got the pick and at that moment I went, 'I can't go anymore. My leg feels awful.'"
Only a trainer and a couple veterans knew what was going on.
"I talked to a trainer and a few of the older guys. I told them I'd go out there and see what I got. They knew the position I was in so they understood."
That injury ended his season and dashed hopes of making the roster. Golden said the team told him it "would've been interesting" had he been healthy and let him know to stay ready, releasing him with an injury settlement two weeks into September. Pittsburgh followed through on their word, bringing him back on a futures deal after their season ended.
Just as it's true for marquee names like Joe Haden or Vance McDonald, Golden's head can stop spinning this time around. He's gone through the spring with the team, been through a camp, and knows what to anticipate on his second trip to St. Vincent.
Expect two things from the Steelers secondary this summer. More man coverage and much improved communication, he says.
For leadership, he points to Haden and Morgan Burnett. Golden pulls up a seat next to Haden in meetings and picks his brain whenever he can, especially after Mike Mitchell's departure, whom Golden credits for helping him along as a rookie. This time, Burnett's filling that role.
"This year, I got real close with Morgan Burnett. He's been a big help as far as telling me what he says, what I should do better, being the leader of the secondary."
That'll create cohesion and ultimately, cleaner communication, an issue that plagued the back end in 2017. An area the unit worked hard on during OTAs.
"Non-stop talking. Pre-snap, post-snap, during the snap. Talking, communicating, making sure everyone is on the same page."
I'm sure even Golden would recognize it'll be tough to make the 53 man roster out of the gate. The Steelers revamped nearly the entire safety group. From last year, only Sean Davis, Jordan Dangerfield, and Golden return. Drafting Terrell Edmunds and Marcus Allen, along with bringing in Burnett and Nat Berhe, did him no favors. But it makes for a compelling and deep safety group. Golden has an excellent shot to stick on the practice squad and when there's an injury, an inevitably in this league, can expect a call to the 53 man roster.
"Make as many plays as possible," he says of his camp goal. "Take it from there, that's always the motto I've had for myself."