We now know Alejandro Villanueva as the Pittsburgh Steelers starting left tackle. But when he first came to the team, still learning the position, still very much a backup, the team planned to get him involved in other ways. Villanueva joined Sirius Radio with Alex Marvez and Bill Polian to talk about his NFL journey. The generally reserved Villanueva offered up this nugget of info, recalling how close he came to catching his first touchdown pass in 2015.
"Not a lot of people know this but I actually lined up at receiver a couple times against the Rams when we played them three, four years ago," he told the show. "The trick play was coming against the Arizona Cardinals. But unfortunately, that was the game where the starting left tackle went down."
Go back to Week Three that year and yup, there's Villanueva split out to the top of your screen. A fact that weirdly wasn't even mentioned by the broadcast team.
On this play, Villanueva was a decoy, running a slant but Ben Roethlisberger throwing incomplete to Le'Veon Bell at the bottom.
Pittsburgh shelved the idea until apparently Week 6 against Arizona, the game he refers to, when Villanueva was expected to be used in goal line situations again. But as he says, that's the game Kelvin Beachum tore his ACL, pushing Villanueva into his first offensive line action.
"Ben Roethlisberger came up to me and told me I was going to catch my first touchdown pass that day. So it was in the books."
Later that year, the team also tried to throw a fake field goal to him but, uh, this is what happened.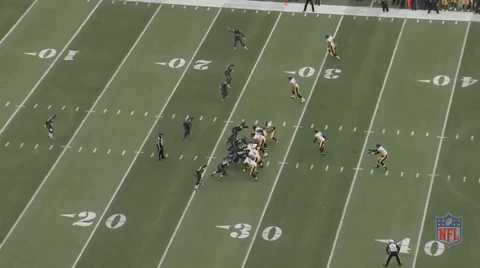 It would've been amazing to see Villanueva haul in his first touchdown pass. But considering he's become a solid starting left tackle for the Steelers, and earned a hefty contract extension because of it, it's safe to say everything worked out.