The Pittsburgh Steelers used their dime personnel (2 DL, 3 LBs, 6 DBs) 61 times in last year's regular season with another 17 instances coming in the playoffs. Almost all of this work came after Week 13. Used mostly in 3rd and long or obvious passing situations, Lawrence Timmons was pulled off the field in favor of Robert Golden.
Now that Golden is the odds-on favorite to start, Davis' most logical path to Year One playing time will likely come in dime packages. What are some of the roles Davis will be asked to fulfill? Let's look at the tape with three examples.
1. Man-to-man on the Y 
This play comes in the Wild Card win over the Cincinnati Bengals. Golden follows Tyler Eifert across the formation (not shown in the GIF). It's a mirrored concept to each side from Cincinnati, switch verticals to each side. Golden is forced to defend the horizontal and vertical elements of Eifert's route, down the left sideline. Golden defends it well, staying in-phase the entire way and the result is ultimately a checkdown in the right flat.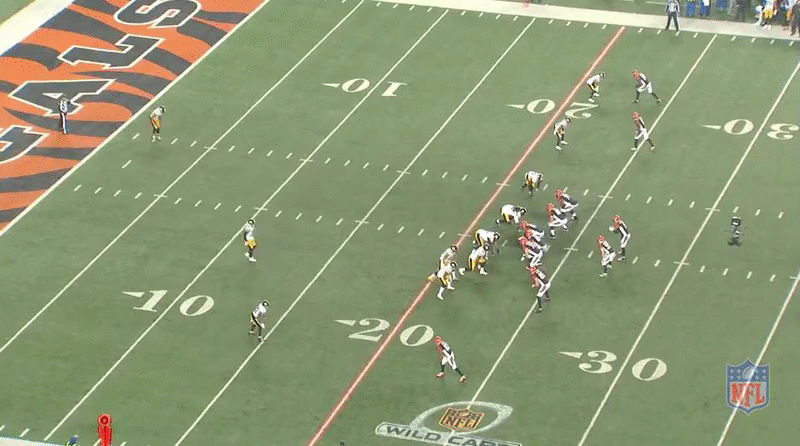 It's no secret that every defense faces the extreme challenge of defending hyper-athletic tight ends. Here's a list of ones Pittsburgh will see in 2016: Jordan Reed (WSH), Tyler Eifert (CIN – twice), Travis Kelce (KC), Jordan Cameron (MIA), Rob Gronkowski/Martellus Bennett (NE), Gary Barnidge (CLE – twice), and Charles Clay (BUF).
That accounts for nine of the team's 16 games, or if you remember your 1st grade math, over half the time. Not having someone with the size and speed to match up is a severe disadvantage and easily exploitable by offensive coordinators. Just as it was in 2015's opener when the New England Patriots used the same goal line play to come away with two touchdowns to tight ends.
This could mean covering the tight end from a more in-line spot like we see here or a tight end detached completely from the formation, as we saw with Gronkowski's walk-in touchdown again, back in Week One.
1. Cover 2
Though likely in part due to Will Allen's struggles in coverage, or the simple fact Golden was better, we saw the dime safety get work over the top. Against the Denver Broncos in Week 15, the Steelers are running their Cover 2, a concept they've incorporated more under Mike Tomlin/Keith Butler than with Dick LeBeau.
The Broncos actually run a great concept against it. A smash route (hitch + corner), a classic Cover 2 beater with the idea of putting stress on the safety. Force him to close on the corner route without any support, the corner held by the underneath hitch.
You'll see Golden, at the top of your screen, initially out-leveraged by the eventual corner route of the #2 receiver. And that's where we normally see the safety lose, unable to close the space and get on top of the route in time.
But Golden recognizes the concept quickly and takes a perfect angle downhill, so much so he's able to step in front of the pass. Should've actually come away with an interception but the only thing Golden does wrong here is drop the football.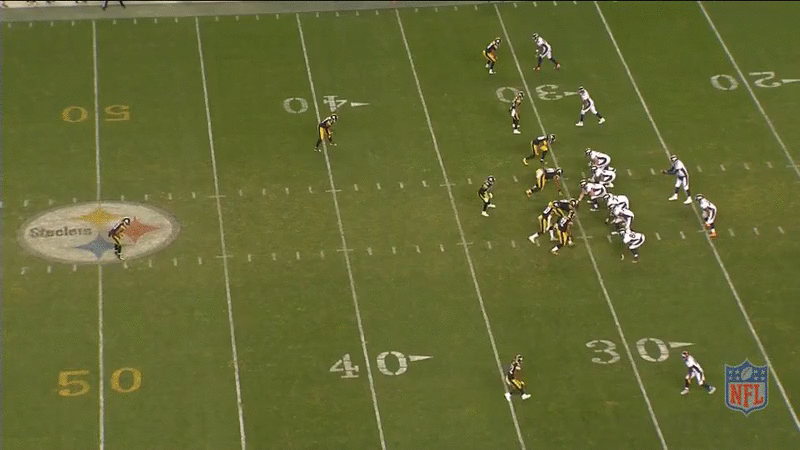 It's a prime example of route recognition and technique to drive downhill and close space as quickly as Golden did. Two elements that won't be immediate for a rookie, or at least not expected, but if Davis can progress in those areas, he'll become an asset to the dime defense. Not a hindrance.
3. Pattern Reading
Pattern reading. A concept we've written about a ton of times on here and most recently, discussing Artie Burns' and Palms coverage. It applies to the safeties, too. Let's stick with the Denver game and examine one simple example of pattern reading.
For simplicity's sake, think of this following cover as Cover 3. Three deep, four under, and a four man pressure. But there's a pattern read element here. Broncos open up in a 3×2 empty set. To the trips side, the Steelers are playing 3 over 3 with the slot/outsider corner and safety Mike Mitchell.
To the two receiver side, it's 3 over two with the linebacker, outside corner, and safety Robert Golden. Will Allen is basically playing "Robber" technique, reading the eyes/shoulders of Brock Osweiler and breaking on anything underneath.
To the top, as #1 and #2 go vertical, the slot corner, Brandon Boykin, can peel off, knowing he has help over the top to support both vertical concepts. That help, of course, comes from the outside corner and the safety Mitchell. It allows him to drive on #3 underneath, taking the checkdown option away.
It's the same idea at the bottom. Ross Cockrell is going to let #1 go vertically, knowing he has help over the top via Golden. It allows him to drive underneath on #2 releasing into the flat, taking the other checkdown away. Ryan Shazier's hook zone also helps take away the intermediate crossing route with Demaryious Thomas running a hitch. Golden closes from the top.
With nowhere for Osweiler to go with the football, he takes a sack and the Broncos are forced to punt.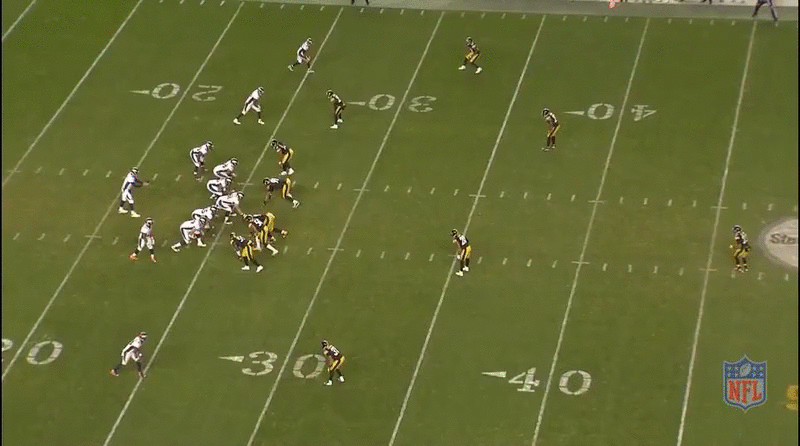 Davis could be on either side of this formation. Trips or the two-receiver group. He has to understand his responsibility, his read, and act accordingly because again, pattern reading's coverages vary depending on the routes run.
There are heaps of trust being placed on each player involved in the read. If one player screws up, the whole defense falls apart. These aren't incredibly complex reads but ones that have to be made every single time. Failure to do so creates a lack of trust and will keep Davis on the bench.
I wanted to include some examples of Davis needing to play the run or blitz but frankly, neither of those two things happened out of dime last season. Very few runs and the blitzes almost never came from a safety. Maybe that changes in 2016 but it's difficult to predict right now, given how it was used a year ago.
Still, you can get a glimpse of the variety of roles the dime defender has to play in Pittsburgh. He will be moved all over the field. Playing in the box or in the deep half. It may be a niche personnel grouping but the assignments are anything but narrowly focused.