A breakdown of our third Pittsburgh Steelers UDFA scouting report. A look at RB/FB Christian Powell.
Editor's Note: Powell was released today but this article was already completed and scheduled. Posting it anyway to see the player the team got rid of and the off chance he returns in training camp).
#46 – Christian Powell/RB Colorado: 6-0, 235 (college measurements)
The Good
– Keeps legs churning through contact
– Falls forward
– Comfortable being a third-down pass-blocking back
– Good vision to get to second level
– Smooth backfield footwork
– Decisive runner, commits
The Bad
– Lacks breakaway gear
– Needs to recognize advanced qualities of pass blocking – work inside-out, play to sideline
– Pad level too high, off-balance
– Poor ankles, unable to cut
– Uncomfortable runner in open space
– Limited to downhill/no-cut role
– Issues holding onto ball in piles
Bio
– Four-year starter and played in 45 games, although started a combined 6 games in last 2 seasons
– Carries and yardage diminished every season: 158-691 (2012), 147-562 (2013), 85-448 (2014), 71-339 (2015)
– Was No. 3 FB (per ESPN) out of Upland High School
– Special-teamer and FB ability
– Received CU's Sal Aunese Award in 2015 for most uncommon player in spring practice
– Totaled 2,040 yards on the ground in 4 years and led the team in rushing from Freshman to Junior seasons
– 5 100-yard games, but 3 in his true Freshman season
Tape Breakdown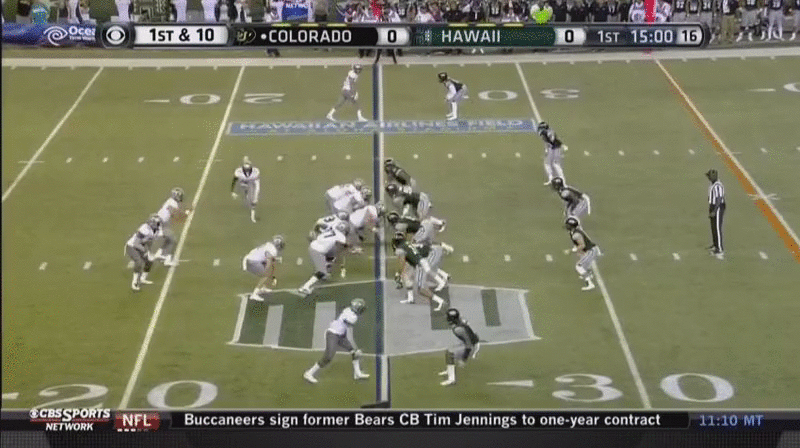 Often used in misdirection and counter runs at Colorado, Powell has good footwork in the backfield but was doomed by a consistently poor offensive line. As such, that footwork needed to come in early and often just to bail himself out of situations in the backfield where he was getting hit before the line of scrimmage. He's a churning north-south runner with very little cutting ability to his game.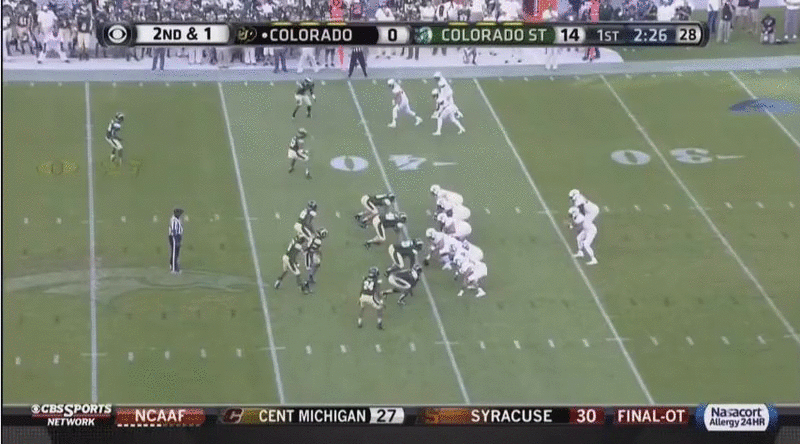 On a second and short, Powell is the ideal back. He has good speed to the line of scrimmage and the ability to bowl players over there. He's the ideal short-yardage back, limited after breaking free. Watch him put two hands on the ball and lower his pads through contact, despite typically running very high.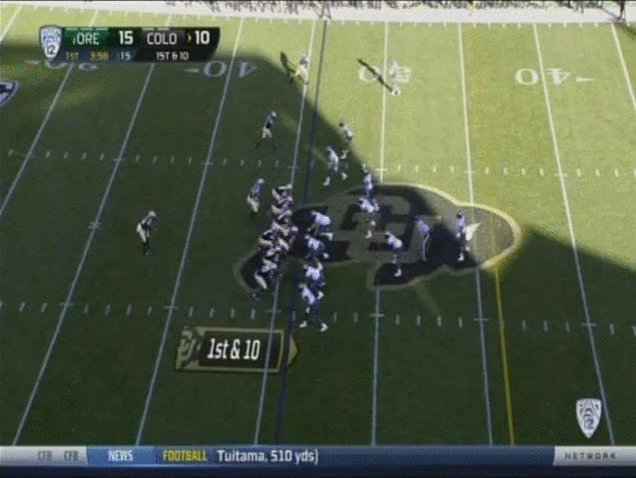 Powell has the footwork and downhill running ability to ensure defenders miss in the hole, but he's limited after the LOS. He lacks any kind of a second gear at the second level, but he keeps his legs churning through contact. A guy you love to meet in the open field, but shudder to find head-on.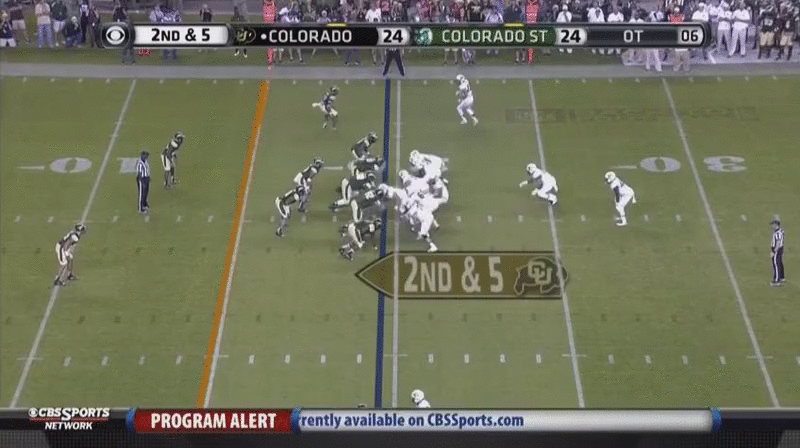 In the open field, this is about as elusive as Powell gets. Watch his patience and vision to wait for a hole, then the decisiveness to hit it. He's just so slow in getting there, and doesn't have any kind of breakaway speed or elusiveness in the open field. This is what you can expect to be the top output from Powell.
Summary
As a long (suffering) Colorado Buffaloes fan, I've seen a lot of Christian Powell over the years. He's a player who it seemed the coaches would discuss every year as a potential conversion to fullback, but always stuck at tailback. Although he's never been a big-play back, he's always played the role of "three yards and a cloud of dust."
As the years progressed, Powell was part of a three- or even four-man rotation in the Colorado backfield. However, he was the consistent runner. His career average yards per carry was 4.4, and that's pretty reflective of who he was as a player. Nothing flashy, nothing spectacular, just consistent. He was also mostly unable to create on his own, instead a player at the mercy of his offensive line's blocking. He did have a few seasons where he was the workhorse back, but for the most part he was just a role player in a committee, not talented enough to snag more carries based on his own abilities.
As a prospect, he's not dissimilar to a less-refined version of Andre Williams coming out of Boston College a few years ago. Downhill runner, no cutting ability, limited pass-catching repertoire. He's probably destined for a FB/short yardage/special team role at the next level.
Games Watched: Oregon (2013), Hawaii, Colorado State, USC
https://www.youtube.com/watch?v=F8I96BoN4YM&feature=youtu.be
https://www.youtube.com/watch?v=Um4xQwH6yo0