My breakdown of the Pittsburgh Steelers' seventh round pick, Tyler Matakevich.
#8 Tyler Matakevich/ILB Temple: 6'0 238
The Good
– Tough, physical, throwback kid
– High IQ, processes info quickly, reads keys and reacts without any wasted time
– Sound in his run fills, plays with proper technique, controls the running game by spilling/forcing runs to help, creates chaos and ruins offense's intentions
– Strong, reliable tackler, shows ability to close space quickly
– Big, impactful hitter especially when he's able to line up his target
– Opportunistic player who flies around to the football, creates own luck and takes advantage of his chances
– Works off blocks in the run game, plays with leverage and active hand use, rarely stuck
– Gets depth in zone drops, able to contest throws underneath
– Sideline-to-sideline effort, takes proper angles, sifts through trash and rarely off his feet
– Experience playing in the muck (middle) and detached, out in space
– Productivity and career accolades are in the one percent, as high of marks as you can ask for
– High character, leader
The Bad
– Just an average frame, short and length is only average, body looks pretty maxed out
– Marginal athlete, lacks foot speed to get to the perimeter and is often a step slow
– Can only be relied on to zone drop into hook zone/flat, won't be able to carry the seam or match up in man coverage downfield
– Skillset has chance to get exposed at NFL level, could struggle to find role on defense versus 3 WR sets
Bio
– Four year starter for the Owls
– Career: 481 tackles, 40 TFL, 18 PDs, 7 sacks, 7 INTs
– 2015: 126 tackles, 15 TFL, 5 INTs, 4.5 sacks, became Temple's first All-American since 1986
– Winner of Bronko Nagurski and Chuck Bednarik Awards, given to nation's best linebacker and defensive player
– Two-time team captain (2014, 2015)
– Wore #8, single digit jerseys handed out to the players deemed the toughest on the roster
– Played linebacker and running back in high school, two star prospect out of HS
– Also played on the baseball team, hit .372 as a junior
Tape Breakdown
Yes, this is very much a scouting report on a white linebacker. But I'll have the link to the games I watched below and you tell me if you see any different. I think there's a pretty strong consensus of the general type of player Matakevich is.
That is to say, this is one competitive dude. Undersized. Slow. Little-known prospect out of college with, as far as I can gather, Akron being the only other school to show significant interest. He latched onto the Temple, left his home state of Connecticut, and flat out dominated every week. Starter as a true freshman. 101 tackles by the end of it. And oh yeah, he didn't even get to Temple until the spring of 2012. That shows a guy who picked things up quickly, passed everyone else up, and still did work.
He's a bring-you-down-now kind of tackler. Strong hands and puts his whole body into it. Up by three, late in the game against Notre Dame with the Irish in the red zone, Matakevich mirrors the QB and then closes quickly, wrapping him up.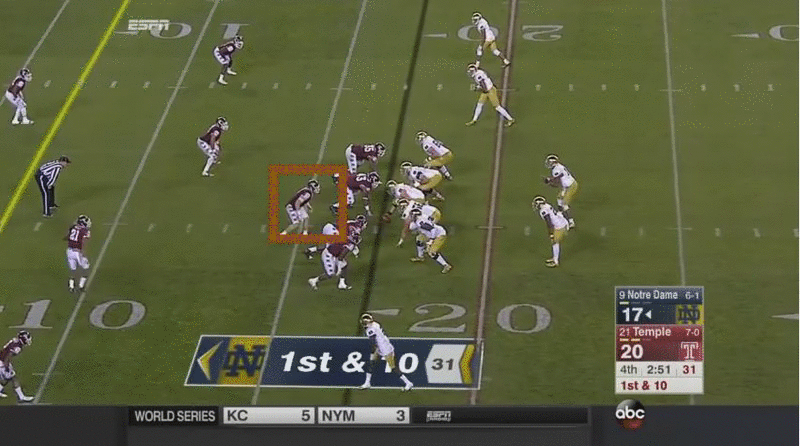 His vision and run fills are excellent. Works through the trash, hits his gap, and gets into the backfield, often finishing the play. Comes from the other side, scraping over the LG, against Penn State to get enough of the back's ankles to help bring him down.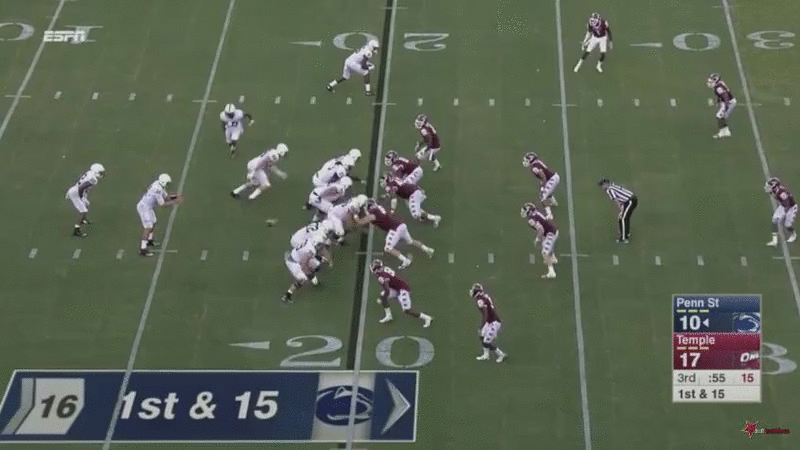 Watch the chaos he causes versus Cincinnati. Just barrels in downhill, blows past the tight end scrambling to crack him, runs through one of the linemen, and causes the house of cards to fall. This run is designed for the perimeter but the runner is forced to cut back, right into another Owls' defender.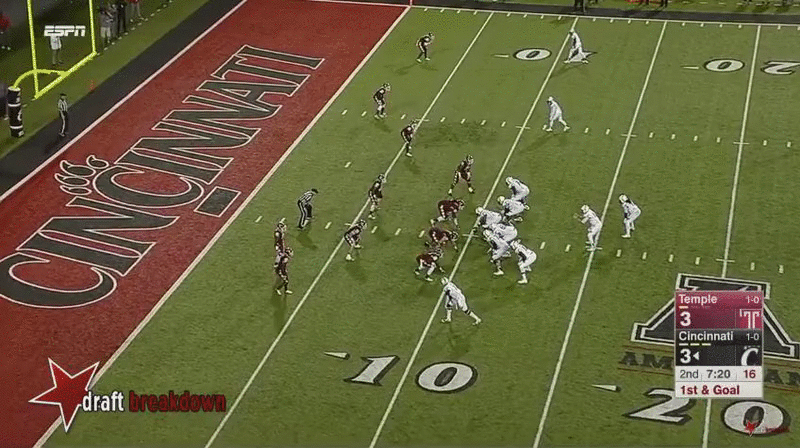 He'll also do it more subtly. Watch him as the MIKE linebacker. Read run, fill the A gap with his outside shoulder free, and able to make the tackle in the hole.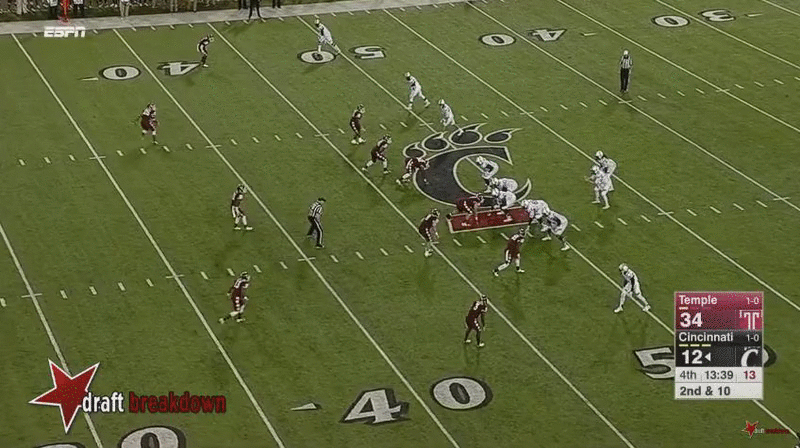 Like I wrote in my report, Matakevich's effort creates his own luck. At least two of his five interceptions came off tipped passes. Two of them came against Cincinnati, like this one, to clinch the win.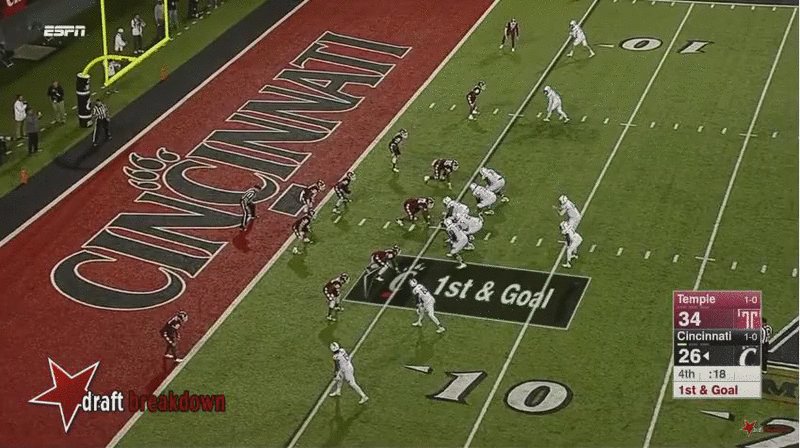 Simply put though, he is a very limited athlete. Lacks range and despite his recognition and angles, there were times where he simply couldn't get to the perimeter in time.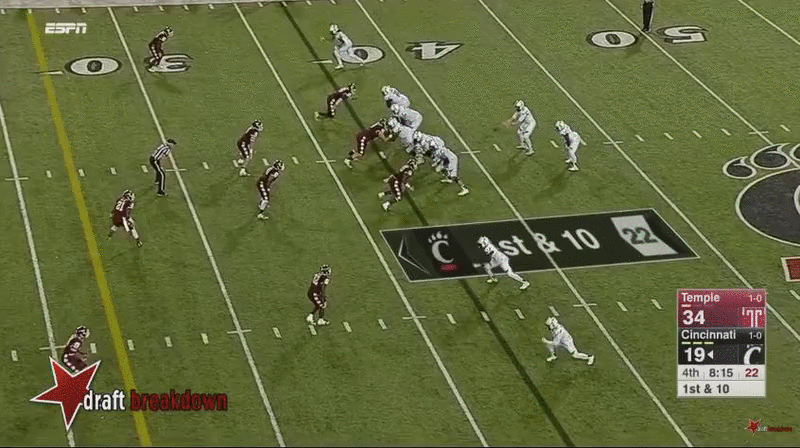 And though he usually does a nice job working off blocks, his lack of size is going to naturally work against him. I can see NFL guards bullying him around, just like this center Nick Martin – drafted over the weekend – does. Big 'ol pancake.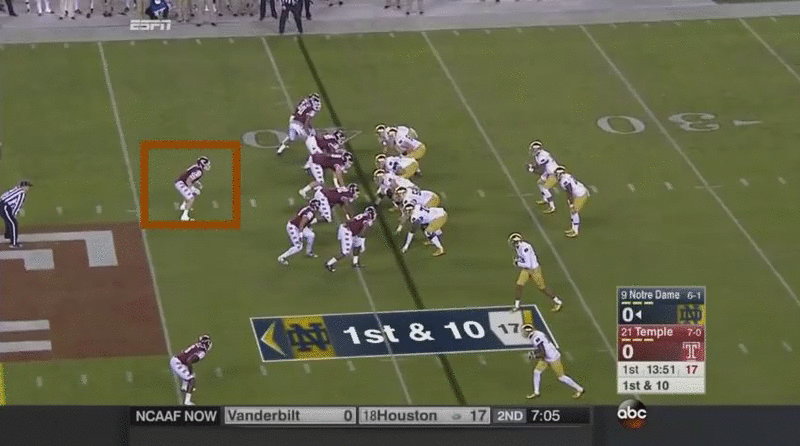 In a land of 11/10/01 personnel, the Steelers faced in 68% of the time in 2015, Matakevich runs the risk of being exposed. He isn't going to carry the Y down the seam. In coverage, he's going to have to drop into zone. Gets depth, rallies on the football downhill, but the lack of foot speed could make him a sitting duck on anything vertical.
So here's the dilemma. If we think about Matakevich as a starter, down the road, obviously, would you want him out there on passing downs? Or a guy like Sean Davis, who could play that dime/rover role Robert Golden did last year?
Give me Davis. Better athlete while still being able to defend the run with his physical style. In short, Matakevich's skillset limits his NFL potential.
However, as down as I have been on him throughout the pre-draft process, getting him in the 7th was awesome value. Someone on Depot said it best. I'd give credit to who it was but I honestly don't remember, but I immediately agreed with it. This dude is the exact opposite of Gerod Holliman. Competitive. Works hard. Makes the group around him better. Won't wilt away without a fight. That's what I want in my 7th round pick.
The linebacker room is getting awfully crowded. Without even counting the UDFAs, Jordan Zumwalt, and L.J. Fort, you have 11 linebackers fighting for ten – max – spots. Someone will be the odd man out: Travis Feeney, Anthony Chickillo, and Matakevich are the easy three to name. But I know Matakevich will be a rockin' special teamer with his effort and ability to tackle. That's how Roosevelt Nix made this team last year. That's how Matakevich can make it, and ultimately, how I view his NFL ceiling.
I don't know the end result but man, he'll be fun to watch.
Games Watched: vs Penn State, at Cincinnati, vs Notre Dame