We've shown you our series of mock draft simulations from Fanspeak.com. To start the week, we'll take it one step further and mock an entire offseason. Fanspeak has let people like me nerd out, offering a "Managing the Cap" simulator in conjunction with Overthecap.com, a site dedicated to salary cap figures.
This offseason simulator lets you manage a team, cut, re-sign, and restructure your own players, and sign free agents over a 10 day period.
Though independent from the offseason sim, I then did a brief mock draft to round out the offseason. At the end, we'll examine a projected, full, 53 man roster. I gave myself one shot at this. No do-overs because I couldn't sign somebody I wanted or ran out of cash.
The sim has its flaws, we'll talk about that as we delve into it, but it's still a fun exercise to show how difficult managing money and balancing a competitive roster can really be. It's like Monopoly. Except this simulator ends without someone tossing the board out the window and storming out of the house.
After selecting the Pittsburgh Steelers, the sim allows you to start by managing your own roster. Before any moves are made, I check out the cap space it says I have. It's at $18 million, noting I have zero dead money. That is obviously wrong, the first sign the simulator doesn't work perfectly.
Throughout the rest of this offseason, we'll tweak that number to account for the dead money using the data Dave Bryan has provided here. $9.4 million is the dead money.
We'll lop off 9.4 from the 18 million to give us a starting cap figure of 8.6 million. I didn't even realize until the end of my mock the league cap was set at $145 million. It'll probably come in around $143. But we'll roll with the higher figure.
My cuts are as follows: Troy Polamalu, Lance Moore, Cam Thomas, and Robert Golden. Debated whether or not to let Polamalu go but he's become a limited defender who can really only play effectively in the box. I decide it's time to give Shamarko Thomas his shot and with a tear in my eye, ask Polamalu to turn in his playbook.
Moore and Thomas are no brainers, saving me $3 million.
Golden is strictly a financial decision. It automatically tendered him at 1.5 million, so I cut him, and tell him I plan to sign him back cheaper on the market.
Wrestled with keeping or cutting Brett Keisel. In an earlier test run, I cut him. But here, I decide to keep. He's only going to cost 250K in dead money if I cut him out of camp. He played well last year before his injury and with the lack of five techniques set to be free agents and a poor draft class of them, it's smart for me to take him to Latrobe.
Plus, I really want to see what vehicle he shows up in this year.
Finally, I restructure Antonio Brown's contract. The simulator doesn't let me pick the numbers but I think it freed up about three million in space.

I'm told I have 30.9 million free in space, a number that would make Omar Khan faint with joy, but again, adjusted for the dead money, I wind up with 21.5 free. Still, not bad living.
Now, I haven't hit free agency yet. I need to choose my own players set to become free agents to sign.
I try to lure Darrius Heyward-Bey back to the Steelers. #5 WR who can block and speed is a major asset on special teams. He lived off a one year, 795K contract in 2014 with a minuscule bonus. I offer him a 1 year, 900K deal without anything guaranteed. He rejects it.
They're playing hardball with me already.
Telling the former first round bust (and reminding his agent of that), I up my offer – my final one – to one year, one million, with five percent guaranteed ($50,000). He wisely accepts. My first signing. It's going on the fridge, right next to my third grade report card. A proud day for Alex.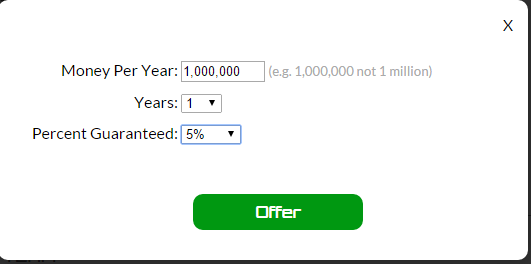 Matt Spaeth may be a sixth offensive lineman but that still has value. He immediately takes my offer of one year for 1.1 million, with a 110K bonus.
I try to play it cool but desperately want Arthur Moats back. The first signing that makes me sweat. He's someone you can trust to spot start and will automatically be my top backup OLB at both spots. If the free agent and draft don't work in my favor, I need someone I can count on.
Moats loved his year in Pittsburgh. The fans love him. He has to come back, right?
I offer two years, four million, including a 400K bonus. Does he accept?
I feel like Kevin Costner in Draft Day. Haven't even hit April's draft and I'm already taking this way too seriously.
Will Allen wants to come back and I know he isn't playing anywhere but with the Steelers. Still, Mike Tomlin makes sure I am fair with him. He's always been a fan.
Allen takes a one year, 1.1 million with a 110K bonus. Feel good he'll make the roster so the bonus doesn't mean much to me.
As an aside, I make it 1.1 million instead of a clean one million because his base salary must be 970K in 2015, per league minimums. A 100K bonus on a 1 million deal puts his base salary at 900K, below the limit. Though thinking about it after the fact, it's open to interpretation. The sim counts the "guaranteed" as part of the entire contract, than breaking it up into base salary and say, a signing bonus. So that's how the contracts should be interpreted the rest of the way.
Like I said, the nerdiness is real.
Greg Warren gets the same contract. He quickly accepts. I tell him to enjoy his cushy training camp paling around with Shaun Suisham and Drew Butler.
Back to Robert Golden. Instead of keeping him for his 1.5 million tender, I offer him the same 1.1 million deal I gave Spaeth and Warren. He takes it and I save myself 400K. Smart spending means smart saving.
I don't re-sign the following: Michael Palmer, Ike Taylor, James Harrison, Jason Worilds, and Clifton Geathers. Mike Tomlin tells me, as has been reported, the Steelers plan to move on from Deebo. So do I.
We have to change the locks to Heinz Field so Ike Taylor doesn't force his way back in.
After my re-signings, I have about 13.3 clear for free agency. I know I need an outside linebacker, cornerback, backup RB, and maybe another veteran safety.
FREE AGENCY DAY ONE
I am willing to look at any tier FA at any point but I obviously want to start with the big-names. Also, can't offer too many contracts at once. The simulator doesn't let you retract deals. So if you offer two big contracts to two players at the same position, and they both accept, you're stuck with them. One false move and I'm in serious trouble.
The pressure is building and I haven't even contacted a player's agent.
There's a couple players I identify right away as players I want to talk to. I've professed my interest for Cedric Peerman. Buried on the depth chart in Cincinnati, he proved to be a four-phase special teamer in 2014. I love special teamers and maximizing the value on my roster. More hats you can wear, the quicker you'll get a helmet. That's my life motto.
My life is incredibly dull.
He's not a big-name player but I can't help but offer him a contract on day one. Maybe the early swooning will convince him. I give him 2 years for 2.4 million and a cushy 240K bonus. It's Pittsburgh, the cost of living isn't high. $240,000 is solid.
I also give an initial, albeit lowball offer to Antone Smith, formerly of the Atlanta Falcons. He found the end zone a ton with limited work in 2014 before his season was cut short with a broken leg. I'm not really expected him to sign but I want to show the interest. He gets a one year, 900K offer with nothing guaranteed.
I think about offering Donald Brown a contract, a veteran who can work out of the backfield, but hold off. What if all three sign? Josh Harris is ripped. He'll beat me up.
I put out a feeler call to the agent of another former Falcon, Eric Weems, but don't offer. I can wait on him. Have to be careful I don't spend all my money at once.
Need to go after my lone, splash free agent signing. I look at what I value the most positionally on my roster. Former linebackers coach Keith Butler and I agree it's outside linebacker. Must improve our pass rush, citing wins over the Indianapolis Colts and Baltimore Ravens as wins where our pressure helped stall out good offenses.
There's a decent pool of OLBs to choose from, though I don't see Jabaal Sheard, but I offer Derrick Morgan a deal. The details: 3 years for 16.5 million with a 5.8 signing bonus. That bonus comes out to about 1.9 prorated over the three years.
Money is right for me. Manageable contract and I am willing to offer a little more if he rejects it. It'll be cheaper to cut in year two than it will be to keep him, which is always helpful. Roughly 5.5 versus 3.8 in dead money come that second year. Look at contracts through a worst-case scenario (see Allen, Cortez).
He spent 2014 in a 3-4 and put up decent numbers with six sacks. Played under a former Steelers' coach in Ray Horton so there's a slight tie-in of familiarity with the scheme.
I send in the offer and hope for good news.
Cornerback is a tricky position to look at and with Morgan a potential signee, I can't offer big money to anyone else yet until I know what Morgan wants to do.
Chris Owens isn't available this time, to my disappointment. Not much else out there on first glance.
I check out the defensive end groups instead. Isolate four players; Kendall Langford, Ahtyba Rubin, Alex Carringotn, Fili Moala, and Sione Fua. All different tiers of player.
Langford was just cut by the Rams and his market value is tough to determine. But he is the best name on the list so I start with him. The other players will likely still be around in the coming days.
It's a shot in the dark but I offer the former Ram three years for nine million and a 2.25 million signing bonus. Hey, I'd rather offer a little under than a little over. It's the Steelers' way.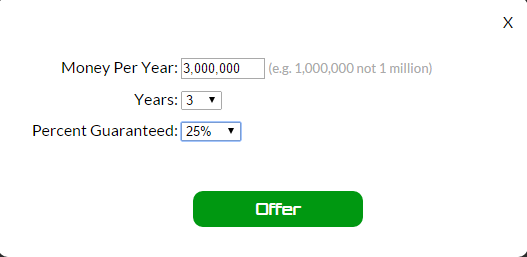 I'm feeling the free agent vapors so I make one more Day One offer. In real life, the Eagles release tight end James Casey and I pounce on the chance to scoop him out. A good athlete out of Rice, even playing QB, he played more snaps on special teams than any other player at his positon in 2014. Again, love gobbling up those third-phases players. He was stuck behind Brent Celek and Zach Ertz. Even Ertz found it tough to get snaps.
For the Steelers, he can potentially be my #2 while giving me a lot of help on special teams. I throw down two years, 4 million, and a 400K bonus his way.
I'm targeting some other players but have to stop myself and see what my haul was. There are nine days to go, after all.
The results. Can I get a drumroll?

Derrick Morgan signs. I silently fist-pump to myself and then realize I am all alone in my apartment and should sometimes go outside.
With Morgan, this helps solve the glaring hole at OLB.
Casey accepts as well, giving me a viable #2 TE and core special teamer.
Peerman disappointingly declines. But we'll keep after him. As does Smith but that didn't surprise me in the least.
Langford understandably takes slightly more money, a three year 14.7 million deal with the Green Bay Packers. But I felt good for taking a shot in the dark and still offering what I consider to be fair money. And I didn't overpay. That's critical.
And now, the sim starts to get exposed. Somewhere, somehow, the code goofs. Alex Carrington signs a six year, 27.6 million deal with the Tennessee Titans. That's "planet Mars" realistic. Oh well.

For a quick update, a couple former Steelers inked contracts on Day One. Ike Taylor went to Dallas for three years and 7.8 million, LaMarr Woodley signed with the Chicago Bears on a one-year, 3.1 million deal, and Lance Moore heads back to a dome on a two-year, 1.3 million deal with the St. Louis Rams.
Around the league, Nick Fairley cashes in the most, inking a six year, 55.2 million deal with San Diego. Apparently he wants to go to a 3-4. Ok then.
For the Steelers, a Day One recap of our signings.
Derrick Morgan/OLB – 3 years, 16.5 million, 5.8 SB.
James Casey/TE – 2 years, 4 million, 400K SB.
We spend 5.8 million on Day One, leaving us with 7.5 million in cap space left. Can already start to feel the wallet pinch.
DAY TWO
Coming into Day Two, we still need a RB, a DL would be nice, CB, safety, and a swing OL if I can afford it.
Does the NFL offer coupons?
I storm into Mike Tomlin's office and tell him we need to keep going after Cedric Peerman. He responds with some clichés, uses the word "obviously" more times than I cared to count, but relents and agrees we could offer another deal.
Calling Peerman's agent, I slightly increase my offer from 2.4 million over two years to 2.6, and a 260K signing bonus. It's a small step but maybe enough to push him over the edge.
I thought about going after cornerback Buster Skrine but the money simply isn't there for me anymore. I could only low-ball him. In another sim, I signed him for 5 million per. I also ran out of money in that one. So…
I look for a low-tier corner. Nolan Carroll. I thumb through a file cabinet of old draft reports. We liked this kid coming out of Maryland. 5'11 and-a-half, who ran a 4.42 and jumped 37.5 inches at his Pro Day. A broken leg hurt his stock coming out.
Too pricey for the Philadelphia Eagles at nearly a three million base, Chip Kelly must have let him go.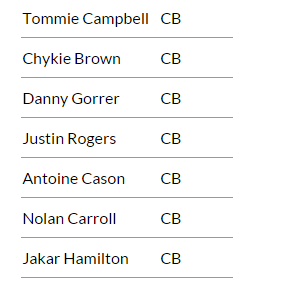 I dive in and make an offer. Two years, 2.2 million total, with a 110K bonus.
George Wilson is my spirit animal. A high-character, former WR who showed success at safety in Buffalo and then Tennessee in 2014, I've been targeting him for awhile. Our pro personnel guys agree, too. Good competition for Shamarko Thomas. Wilson isn't overtly better but will be a veteran who could start Week One if Thomas falls on his face.
I give the 33 year old a two years, 3 million deal, with a 300K bonus.
With Langford eliminated, I move down the line of my defensive lineman. Next up is Rubin. A shell of himself in 2010, he's missed a lot of time with injury the last two years. But that means I can get the former Brown on the cheap. We know him well.
I offer a two year, four million deal with 10% guaranteed. For all practical purposes, a 400K signing bonus. Seems reasonable to me.
At this point, I stop myself. Need to make sure I don't spend too much money. I proceed to sim through the rest of Day Two to see who signed.

The extra 200K is the ticket for Peerman. A low-key signing to most but to me, a quality one. Ditto with Wilson.
Another funky part of the sim, who either really love defensive lineman or think this is 2010. Rubin makes bank, snatching up a four year deal worth 24.8 million to the Titans.
I judged his value well. Ken Whisenhunt didn't. Go me.
Elsewhere, Jason Worilds decides to team up with Dick LeBeau. He accepts a monster six year/55.2 million deal. I get Derrick Morgan for 16.5. I win. High-fives ensue.

Seeing Brandon Graham's contract makes me feel good about what I offered Morgan. Graham takes four years, 23.2 million from Chicago. Right in line with what I gave.
An AFC North sidenote. Torrey Smith switches allegiances, jumping from Baltimore to Cincinnati on a mega 4 year, 39.6 million deal.
In all, I spend a meager 2.2 million on Day Two. 5.3 left.
DAY THREE
Still looking at CB and DL.
Like Peerman, I offer Carroll one more, slightly increased deal. Two years for 2.6 million and a 130K signing bonus. This is my last offer.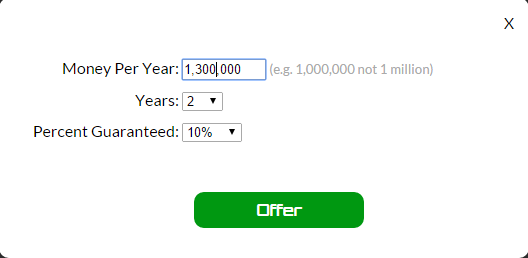 If he doesn't take it, I need to look at other options. Skrine is still available and I could low-ball him and hope the sim messes up but acting in good faith, I don't.
Instead, I set my sights on former Buccaneers and Redskin, EJ Biggers. Like his size/speed ratio. Toss out a small deal of one year, one million, with nothing guaranteed.
No one thought Brice McCain, rated as the worst corner in 2013, would have a decent year either.
I keep working down my list of DL. Onto Fili Moala, who missed the entire 2014 campaign with a torn ACL, his second of his career. Very low-tier selection who I hope can just serve as a plugger. Start my offer at one year for 870K.
I think about extending an offer to Mike Pollak, a capable swingman out of Cincy. But I hold off, convincing myself I can wait and see what money I have left towards the end.
This comes out of left field but I run across OT Ben Ijalana's name. Out of the league in 2014, I remember how I liked his size and athleticism out of FCS Villanova. Want to give him one last shot. Near convinced he'll scoop up my offer of one year for 760K, the veteran minimum. Nothing guaranteed. But for a guy with nothing to lose, who would pass it up?
Your Day Three results.

The sim hates me. Amazingly, Ijalana gets offered a one year, 1.7 million deal from Baltimore. What are the odds? I call up Ozzie Newsome and tell him to stop bugging my office. He had to have known.
Carroll, Biggers, and Moala all decline. I'm done with Carroll.
Around the league, Larry Foote apparently decides 3.5 million is enough to stave retirement off for one more year. Staying on the West Coast probably makes that decision easier, too.
Randall Cobb caves and lands a four year, 49.2 million deal with the New York Jets.
Showing how expensive corners are, Brandon Flowers signs with the Titans – who have been scooping up everyone – to a three year, 25.2 million contract.
DAY FOUR
Still have 5.3 million left.
I slightly up Biggers' deal to 1.2 million over one year. Still nothing guaranteed.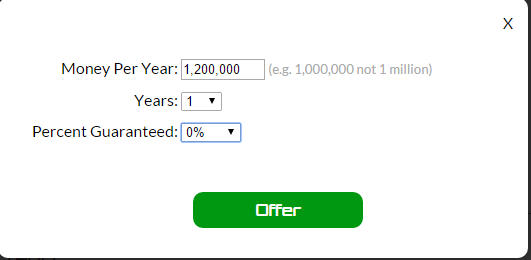 Same with Moala. Feel my offer of two years, 1.8 million with a 90K bonus for a generally unproductive, injury-prone player is fair.
Hitting up someone I contacted a few days ago, I revisit Eric Weems. Can be a #4 WR with major special teams value. He gets a two year, 2.4 million offer with a 240K bonus from the Steelers.
Finish with Day Four and look at my results.
Weems and Moala both declines, the latter starting to annoy me. Biggers accepts the extra 200K.
Mike Pollak takes far less than I thought, singing on the super-cheap, 900K over one year, with Houston. Nice get by them. I kick myself for pinching pennies and not at least making an offer. Mike Munchak will not be pleased.
Corners are still getting paid well. Why I'm wading in the weeds with backups. Darius Butler scores 17.2 million over four years with Washington. Just money I can't afford.
At the end of the day, I am left with 4.1, following Biggers' signing.
DAY FIVE
Bump Weems total deal to three million though his guaranteed money is now just 150K. That's called playing hardball.
The defensive end group is terrible and I wonder why I even entertained the thought of signing Sione Fua. Again, we go back to Moala. Up the ante to two year, two million, with 100K bonus. He probably doesn't even have his ACLs intact. He can't be looking for more. Can he?

I am going to scream. Moala declines. He must have the worst agent ever.
On the bright side, I am geeked about picking up Weems.
The sim must be broken. Whisenhunt is throwing out contracts left and right. Maurice Jones-Drew for 7.2 million over three years? Somebody stop that man!
BJ Raji comes in cheaply, linking up with Gus Bradley for 2.3 million on a one year, show me deal.
There's a little bit of money left, 2.9 to be exact, but the well is relatively dry.
DAY SIX
I'm done with Moala. He knows he isn't getting a better contract anywhere else. I still have Keisel and the draft. I'll focus on adding DL there.
Now to just tie up loose ends and coast the rest of FA.
Low-ball OLB Brooks Reed, just to see what happens. Moved to ILB in Houston but best served outside. Give him a 1.25 million deal for a season with a 125K bonus. He would end up declining.
I don't make any other offers.
Antone Smith signs for two years and three million with Atlanta. In-line with what Peerman made.
I decide to skip ahead to Day 10.
It's worth noting that at this point, there are still marquee free agents available. Ndamukong Suh has yet to be picked up. Odd.
Rob Housler signs a four year deal worth 5.6 million with the Ravens.
In the final day, I decide to be a jerk and give Suh a one year, one million offer. I hope he doesn't stomp on my head.

He predictably declines.
At this point, I don't even care how much he helps the team. I am determined to sign Fili Moala. It is my mission. Save the Bagel Bites for later, mom. I'm on a mission.
Two years. 2.4 million. 120,000 bonus. Sign on the dotted line, Moala.
I quit.
At the end of the simulator, I'm left with 2.9 million. Remember cap space could be freed up coming out of camp. If I cut someone like Biggers, I get my 1.2 million back. So there's a lot of play here which makes me feel comfortable. I'll definitely be able to sign in-season free agent contracts should I have to. No worries there.
And right out of camp, if I have roughly 4 million in space, I can definitely extend one of the following to a long-term extension: Cam Heyward, Kelvin Beachum, and David DeCastro. Heyward would probably be my first target but all three are worth it. Cortez Allen didn't sign his contract until September 6th so we could see a repeat of that.
Disappointed I didn't address the defensive line but I have the draft to put my focus there.
Your 2015 Pittsburgh Steelers final free agent signings.
In-house:
Arthur Moats: 2 years, 4 million, 400K bonus
Brice McCain: 2 years, 3.5 million, 350K bonus
Will Allen: 1 year, 1.1 million, 110K bonus
Robert Golden: 1 year, 1.1 million, 110K bonus
Matt Spaeth: 1 year, 1.1 million, 110K bonus
Greg Warren: 1 year, 1.1 million, 110K bonus
Darrius Heyward-Bey/WR: 1 year, 1 million, 50K bonus
Out-of-house:
Derrick Morgan/OLB: 3 years, 16.5 million, 5.8 bonus
James Casey/TE: 2 years, 4 million, 400K bonus
George Wilson/SS: 2 years, 3 million, 300K bonus
Cedric Peerman/RB: 2 years, 2.6 million, 260K bonus
Eric Weems/WR: 2 years, 2.4 million, 240K bonus
EJ Biggers/CB: 1 year, 1.2 million, 0K bonus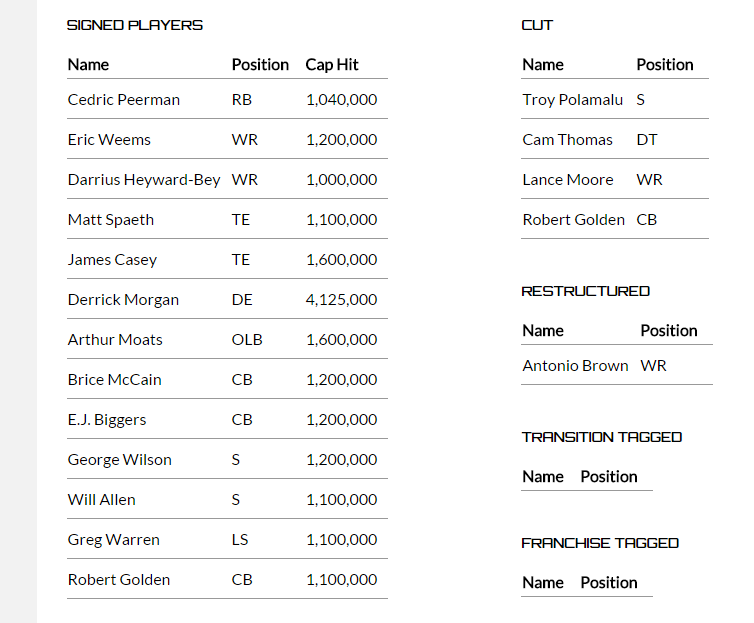 In a word: pragmatic. Not flashy with a lone "name" signing and a bunch of in-house work and low-key, cheap, young depth or savvy veterans, who can give me a lot of special teams help. I think this would make the real Kevin Colbert swoon.
Though it is independent, meaning for other teams, what happened in free agency is irrelevant, I wanted to complete the offseason with a draft and fill out the rest of my roster. It'll be brief and to be clear, is not an official mock, but a fun exercise give that we have a free agency list to go off of.
2015 NFL DRAFT
Entering Aprils' draft, I know I need a DL, CB, a true RB, another OLB, and hopefully a swing OL.
First Round: Bud Dupree/OLB Kentucky
Trae Waynes and surprisingly, PJ Williams are gone. Same with Marcus Peters. Jalen Collins and Kevin Johnson are the top corners and they're not worth 22 to me.
Narrowed my list down to four players: Vic Beasley, Maxx Williams, Landon Collins, and Dupree. Rule Beasley out because I don't know how well he will do versus the run.
Same with Williams. Don't want the chance of my first round pick being the #3 TE. Though he isn't a terrible selection. Makes Spaeth expendable and makes me stacked at TE.
It comes down to Landon Collins and Bud Dupree. Who do I have less faith in making the jump? Jarvis Jones or Shamarko Thomas? I know that even if Collins doesn't start, he'll be an impact special teamer on Day One. That's alluring.
But as any good draft discussion should lead to, I have to evaluate what position is more important schematically. We have a premier on pass rushers. To win, we have to get to the QB. Tomlin and I remind ourselves of how the pressure translates to victories.
And frankly, there just isn't a ton of faith in Jones. Anything you get from him is a bonus. Perhaps Moats and Dupree can rotate. He isn't out of the equation but will only be worked in when need-be or if Dupree really struggles picking up the playbook.
But it's close. Very close. Almost went Collins.
Second Round: Quinten Rollins/CB Miami (OH)
Soured on him a bit after the combine but still like him. Carnell Lake has shown the ability to get a lot out of his corners. McCain and Antwon Blake are examples of that. Good coach for the raw Rollins.
Third Round: Henry Anderson/DE Stanford
Finally grab my DL in a class that is weak at the position. Anderson has the size and first step that will suit him well as the Steelers one-gap more each year. Ideally, he is the #4 DL and learns from Heyward and Keisel in year one. But he is seasoned enough that he can play right away.
Anderson runs to the ball, passing the "John Mitchell" test.
Fourth Round: David Johnson/RB Northern Iowa
Happy about this one. Feeling good about the draft. True runner behind Bell who will probably start Week One. Dual threat, extremely competent out of the backfield. Explosive. Needs to lower his pad level but if memory serves, Le'Veon Bell had that issue, too. Can learn from him and of course running backs coach James Saxon.
Fifth Round: Craig Mager/CB Texas St
Jesse James went off the board about five picks ahead. Would have taken him in a heartbeat if he was there. Such is life.
Liked Mager at the Combine. Decent size who is low in his pedal and shows a quick turn. Ton of starting experience, too. Can never have too many corners.
Sixth Round: Zach Wagenmann/OLB Montana
Board isn't too appealing for me. Lost out on my swing guard, Shaq Mason. Disappointing. Wagenmann is BPA. Probably practice squad right away while he converts to playing OLB and the jump from FCS to the NFL but a worthwhile investment.
Seventh Round: Mark Glowiniski/OG West Virginia
Don't know a ton about him. Local kid. Big, tough, with tackle/guard versatility. Will try to be what Wesley Johnson was envisioned as before being poached.
The final draft order.
1st Round: Bud Dupree/OLB Kentucky
2nd Round: Quinten Rollins/CB Miami (OH)
3rd Round: Henry Anderson/DE Stanford
4th Round: David Johnson/RB Northern Iowa
5th Round: Craig Mager/CB Texas State
6th Round: Zach Wagenmann/OLB Montana
7th Round: Mark Glowiniski/OG West Virginia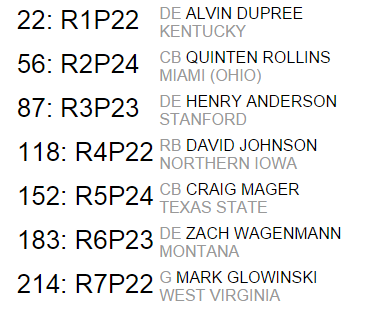 PROJECTED ROSTER
The pre-Latrobe 53. Educated guess of how it'd look.
QB: Ben Roethlisberger, Bruce Gradkowski, Landry Jones (3)
RB: Le'Veon Bell, Cedric Peerman, David Johnson, Dri Archer (4)
FB: Will Johnson (1)
TE: Heath Miller, James Casey, Matt Spaeth (3)
OT: Kelvin Beachum, Marcus Gilbert, Mike Adams (3)
OG: Ramon Foster, David DeCastro, Cody Wallace, Mark Glowiniski (4)
C: Maurkice Pouncey (1)
WR: Antonio Brown, Martavis Bryant, Markus Wheaton, Eric Weems, Darrius Heyward-Bey (5)
DE: Cam Heyward, Stephon Tuitt, Brett Keisel, Henry Anderson (4)
NT: Steve McLendon, Daniel McCullers (2)
OLB: Derrick Morgan, Arthur Moats, Bud Dupree, Jarvis Jones (4)
ILB: Lawrence Timmons, Ryan Shazier, Sean Spence, Vince Williams, Terence Garvin (5)
CB: William Gay, Cortez Allen, Quinten Rollins, Brice McCain, Antwon Blake, EJ Biggers (6)
S: Mike Mitchell, Shamarko Thomas, Will Allen, George Wilson, Robert Golden (5)
K: Shaun Suisham (1)
P: Drew Butler/UDFA (1)
LS: Greg Warren (1)
Two draft picks miss the 53. Wagenman and Mager. Not fun seeing another 5th round corner fail to crack the 53 but it's certainly possible he makes it. Could beat out Biggers though history says the street free agent will make the roster. At least there is one corner, Rollins, making it.
Could see some surprise cuts. Dri Archer is no lock. Maybe Jarvis Jones even gets the axe. Mike Adams is probably safe, but if I would have added a tackle, his job wouldn't be nearly as secure.
And you'll have your usual suspects fighting for roster spots. Chris Hubbard, Rob Blanchflower, Josh Harris.
This just shows how few roster spots are truly "open."
Overall, the roster isn't bad. Some shaking up that had to be done, as there always is, but the holes were plugged. Wish I could have added another swing offensive lineman but it's a relatively minor issue. Can go after it next year. Lineman are the most "plug 'n play" guys.
Wrote a novel so thanks for reading. Hope you enjoyed it and learned a little more about how easy it is to eat up cap space. Have to be careful and calculated.
If you're like to try your own and post the results below, follow these links:
Managing the Cap (offseason sim): http://fanspeak.com/mtc/
On the Clock (draft sim): http://fanspeak.com/ontheclock/