Notes on the defensive lineman and linebackers from Day Three of the 2015 NFL Scouting Combine.
Defensive Lineman
– Vic Beasley weighing in at 246 is a great, and a much needed sign for him. It's good weight too. No fat to him. Obviously explosive, jumping 41 inches and recording a 4.15 in the short shuttle and a 6.91 in the three cone, both position bests.
Didn't drop in college much but because of his innate athleticism, he looks fluid and relatively natural when asked to drop in drills.
However, the combine tells you nothing about if he's better against the run, his biggest issue.
– Florida's Leon Orr had one of the more bizarre, convoluted 40 yard dashes I can remember. He seemed insistent on putting his hand on the second black stripe instead of the first, which would give him a slightly slower time. Pittsburgh Steelers' scout Mark Gorsack tried to inform him he could move his hand up but Orr didn't seem very receptive. After a good two minute discussion, Orr got down in a regular three point stance and finally ran.
It was like he had never trained for the 40 before. Not a good look for a player kicked off his Florida team after pouting that he wasn't starting. He ran well but I'd stay far, far away from the Florida product.
– Joey Mbu is a guy I keep coming back to. Lacks five tech height but has five tech length at a whopping 35 inch arms. Monster lower half, shown below, and coached under the well-respected Kevin Sumlin during his freshman year at Houston. Will be putting the tape on him this week.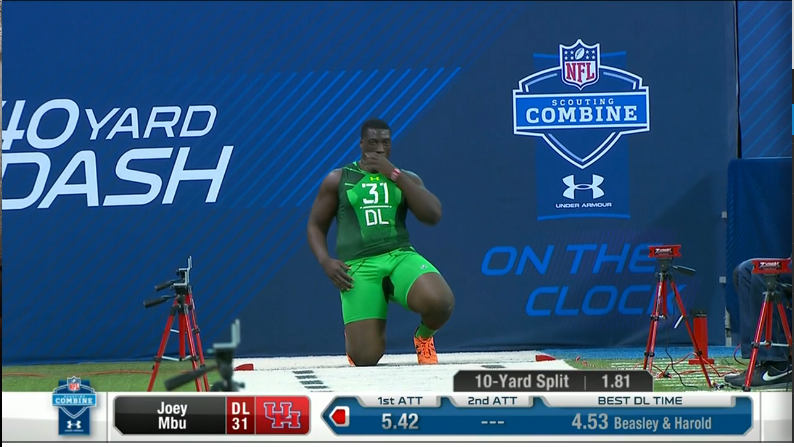 Didn't time well with an awful vertical but still isn't going to completely deter me. Want to get a long look at Mbu.
– Lucas Campbell profiled Northwestern State nose tackle Deon Simon the other day and he sure impressed at the combine. 6'4/3 321 who ran in the low 5.1's and touched a high 1.7 ten yard split in his first run. 35 reps of 225 despite relatively long 33 inch arms.
– Was interested by Montana defensive end Zach Wagenmann before Indianapolis and still just as much, if not more so, coming out of it.
Will be a conversion guy at 247 pounds and though he was understandably tall in his drops and had difficulty catching the football, he showed fluid hips and quick feet. His issues can be fixed with repetitions but the talent is there.
Didn't run a good 40 but showed his burst with rock solid splits of 1.67 both times through. 37.5 inch vertical is nice, too. 33 1/2 are wonderful for his 6'3/1 frame. Excellent late round value and someone's tape I'll be jumping into as soon as more of it comes up.
– Danny Shelton has a bigger butt than Kim Kardashian. That is all.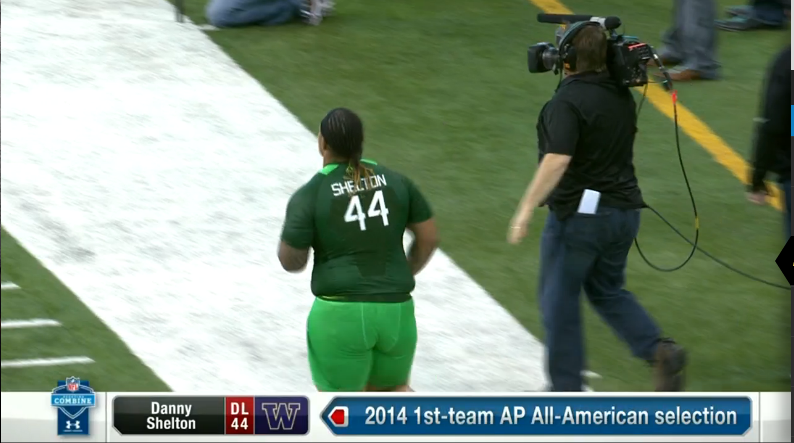 – Lynden Trail is still intriguing but he's too tall for his own good. 6'6/5 with long, 34+ inch arms but extremely tall in his pedal and must fill out his frame. Not sure where he fits best. The Norfolk State's product 40 times and vertical were paltry.
– Iowa's Louis Trinca-Pasat played out of control during drills, having trouble maintaining a straight line. Undersized three tech.
– Leonard Williams is incredibly lean at 302. And I mean that complimentary. Ideal skillset for a DL. 6'4/5 with 34 1/2 and 10 5/8 hands. 1.74 and 1.72 splits, excellent for his frame. Gets his arms fully extended and shows a violent punch. Most talented player in this year's draft and a top three pick. No question about it.
– I love me some Preston Smith but he doesn't look like a 3-4 OLB to me. Very tight hips. And in my report, I noted his struggles when trying to win with speed around the edge.
Best fit would come as an end in a 4-3 who can kick inside on third down and occasionally drop. Wouldn't put it out of the question to add weight as a 3-4 end and I think he's talented enough to win in any scheme. Length, quicks, and violent hands you look for in a pass rusher. Will collapse many pockets in 2015.
– Don't know much about Ryan Russell but I want to find out a little bit about him. 269 pounds and thought he was a smooth fluid player in his drops and turns. Only three sacks in 2014 so the production hasn't been there.
– North Dakota State's Kyle Emmanuel is another conversion prospect but moved well. Really liked his bend coming off the edge. Impressive short shuttle and three cone times make me want to hunt down some tape on him.
– Virginia's Eli Harold looked natural and fluid off the edge. Decent weight at 247 and like his 33 inch arms. Overall, timed well and will be yet another edge rusher in a class chalk full of good ones.
– Trey Flowers wasn't particularly explosive and drills and from reports I've heard, it matches up with the tape, but he possesses a good punch in his club off the edge.
– Nebraska's Ryan Gregory showed the explosion in Indy he had on tape but I'm awfully disappointed in him weighing in at 235 pounds. That's Aaron Maybin territory. Is going to be a 3-4 rush linebacker and must bulk up, continuing to fill out his frame.
As an aside, he noted that one of the strangest things he had to do in interviews was simple math for a solid five straight minutes.
– Henry Anderson was a player who I wrote was quicker than you'd expect in my scouting report. Showed that with a pretty remarkable short shuttle time for a player of his size (6'6/2 294). His 4.19 was four hundredths worse than Beasley's. His arm length was upgraded from the Senior Bowl to the combine, coming in at 33 1/2. Takes him from T-Rex to respectable.
– Couple of kids from Tennessee-Chattanooga who performed well. Most knew about Derrick Lott. Georgia transfer with long arms who flashes on tape. 4.99 official 40 at 314 pounds.
His counterpart, a projected OLB, Charles Davis Tull only participated in the vertical and broad jump but blew away everyone in each. 42.5 and 11'0" respectively. 18 TFL and 10.5 sacks in 2014.
Linebacker
– A bit disappointed Bud Dupree couldn't go through drills but we've seen him drop enough at Kentucky that he doesn't have to do it in Indy to get a read on him. In the testing portion, he was the animal we knew he would be. 6'4 269 who jumped 42 inches in the vertical and 11'6" are completely insane figures.
4.57/1.6 times in his first 40 only further that. Now the only question is if he'll last to pick 22.
– He's an off the line linebacker but Jordan Hicks ran well. More quick than fast, his splits both times through were impressive. 1.53 and 1.63. 38 in the vert and 10'4" in the broad.
– Similar story with UCLA's Eric Kendricks. Timed and jumped well.
– The story is TCU's Paul Dawson plays better on the tape than he times. It can't be much worse. Barely run under five seconds, jumped 28 inches in the vertical, and 9'1" in the broad.
136 tackles and 4 INTs in 2014 for the former Horned Frog.
– Mississippi State's Benardrick McKinney is one of the best off the line linebackers in the draft and his workout proved it. Good makeup at 6'4/1 with 33 inch arms and ran a 4.66 40. Jumped 40.5 inches in the vertical and 11'1" in the broad.
– Aaron Davis out of Colorado State is short, light, slow, and lacked explosion. Not a winning combination.