By Alex Kozora
Game notes from the Pittsburgh Steelers Week Four 27-24 loss to the Tampa Bay Buccaneers.
First Half
– Kick return unit. Front five: Shamarko Thomas, Robert Golden, Vince Williams, Terence Garvin, Antwon Blake. Michael Palmer and Matt Spaeth the next two. Stephon Tuitt and Will Johnson again form the wedge. LeGarrette Blount serves as the upback for the now healthy Dri Archer.
– First snap of the game for the Steelers' offense is a packaged play. Can run with the option to throw the swing to Will Johnson. Ben chooses the latter. Ran the same concept last week, except to Antonio Brown instead of Johnson.
Have it in the back of my mind the Steelers could show this look early Sunday but throw something deep instead of the swing. Show the same look enough times and you're eventually going to run a play based off of it.
– Have to give credit to Cam Thomas for making this play here even if he wasn't close to the tackle. Shoves the Bucs' right guard attempting to combo block and work to the next level, knocking him off base. The guard can't secure a strong block on Sean Spence who pushes him back and clogs the lane.
Steve McLendon also gets good penetration. Solo blocked by the center. Showing teams what the consequences are if they don't combination block him.
– First play of the second possession. Le'Veon Bell runs for no gain. Tough play for Antonio Brown but he needs to do a better job cracking the safety. Difficult because the safety doesn't rotate down pre-snap but I didn't like the effort here. As soon as he recognizes the need for the crackback, he should explode down the line and make the block. AB doesn't.
Remember our rules here. Stalk versus two high. Crack vs single high.
We'd rather have the CB become run support than the safety. Less likely to be willing to come up and make the tackle. Force the corner to get his nose dirty.
I do like the blocking scheme though. Motion Heath Miller between the center and right guard, asking him to block the backside DT. Allows David DeCastro to immediately get to the second level. Fold block between Cody Wallace and Maurkice Pouncey. Wallace down blocks the tackle while Pouncey pulls and works to the linebackers. Much wiser idea to ask Pouncey to play in space than Wallace.
Focusing on Pouncey in space, once he sets his hips to seal the linebacker, he's won. Battle over. Linebacker has no chance to fill the gap. Textbook.
– Probably a blessing Gerald McCoy tips this pass. There's no window for Ben Roethlisberger to thread it.
– Punt coverage. Antwon Blake/Shamarko Thomas the gunners. Robert Golden your upback. Others on the line: Michael Palmer, Vince Williams, Terence Garvin, Greg Warren, Will Johnson, Sean Spence, Will Allen.
– Why 25 yard punt returns happen. Gunners not able to get off their blocks and work downfield. Thomas nor Blake are close to the returner.
– William Gay gets lucky here. Punches with the wrong hand against Mike Evans, who blows through the gate and burns the corner downfield. Mike Glennon never sees it, probably in part to the playaction that caused the QB to have his back to the field. But if he sees it and makes an accurate throw, it's six.
– Cam Heyward thought he got enough of the field goal to cause it to miss. Puts his arms up in celebration.
It clanks in.
Awkward.
– Full House look. Gain of just two. Of course, hard to run against a nine man box.
– Playaction with the Steelers pulling Cody Wallace to entice the linebackers and get them to step up. They follow suit and it opens up the seam to Heath Miller. Wide open but he unfortunately drops it. Design is gorgeous though.
PIC!
– Cody Wallace can't absorb this punch and is unable to mirror. Beat and Roethlisberger pays the price, absorbing a big blow. He's going to get Big Ben killed out there.
– Same play. As Dave Bryan pointed out, Markus Wheaton has a crazy catch radius. He has a better shot of it but here's the Coaches' View of it. 31 yard gain.
– Justin Brown easily falls off his run block, forcing Marcus Gilbert to pick him up. Creates a free defender to fill this run.
– Kick coverage from left to right. Cortez Allen, Robert Golden, Shamarko Thomas, Terence Garvin, Vince Williams, Shaun Suisham, Will Allen, Will Johnson, Antwon Blake, Darrius Heyward-Bey, William Gay.
You'll notice with Sean Spence starting at ILB, he's been removed from kick coverage. Replaced at R1 by Will Allen.
– Flat foot read by Cortez Allen. Allows him to read the route of the receiver, aided by the cushion he has, and make a quicker break on the ball to help break it up.
– First punt return. Didn't double-vice the jammers. Brice McCain on one side, B.W. Webb to the other. The line was uh, interesting, though in part to the single vice. Comprised of: Antwon Blake, Will Allen, Robert Golden, Sean Spence, Shamarko Thomas, William Gay, Darrius Heyward-Bey, and Dri Archer. Because why not, play the rook.
– Second packaged play. Power concept. Another fold block, this time between Pouncey and DeCastro. Bell runs for 16.
– Bell with a nice job of reading the linebacker. Sees him float aside so he cuts back and gets upfield. David DeCastro also did a fantastic job of sealing Gerald McCoy.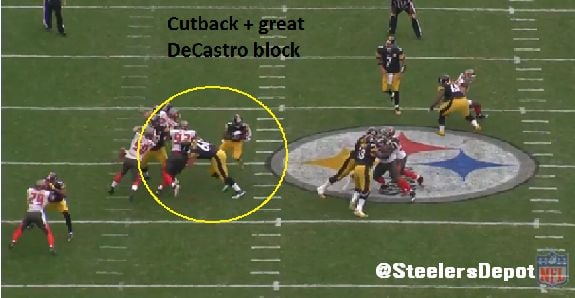 – Miscommunication by Tampa Bay's secondary on AB's 27 yard gain. Cornerback thinks he has someone to pass 84 off to but it's single high safety. No help arrives.
– Not a fan of throwing this mini-swing to Bell with the linebacker and SS in the way. Odds not good for success.
Results in a three yard loss.
– Brown's first touchdown. Steelers attack the backup safety filling in for the briefly injured Mark Barron. Recognizing the weakness and taking advantage of it.
– Following kick coverage. Great job by Blake. Gets off his block, throwing the defender into the ground. Squares up and cuts the runner.
– Sean Spence must make this tackle in the hole. Inexcusable.
Ends up going for a gain of nine when it should have gone for nothing.
– Arthur Moats held on the play but remember that Cam Heyward picks up the sack. Nasty swim over left guard Logan Mankins. Need to see more of that from 97.
– 3rd and 16, force the underneath throw, and it winds up incomplete. Pittsburgh gets off the field. Way you coach it.
– Huge alley opened up by the right side of the line. All hands on deck. Pouncey, DeCastro, Gilbert, and Miller. 11 yard pickup for LeGarrette Blount.
– Proof that I am capable of being nice to Cody Wallace. Nice job of picking up the shooting LB after chipping the tackle. Blount does a nice job of working his way through traffic and rumbles for seven.
– Antonio Brown is well covered on his second touchdown grab. But Ben sees the one-on-one and has enough trust in 84 to let him make a play. And make a play he did.
– James Harrison still shows the ability to bend, drawing a hold working against left tackle Anthony Collins.
Overall though, while I saw plenty of bend, I didn't see strength to work through the tackle or to be able to bull rush. Hopefully that gets better as Deebo gets back up to NFL shape We'll see…
– Just as we saw on the Roethlisberger sack/fumble on the first drive, the Steelers slide away from the ball on their screens vs a double "A" gap blitz.
– Back-to-back plays in the Steelers' two minute offense late in the half. Same play; option of a TE screen or to hit the RB on an out/angle. Angle to Bell on the first, second one is the screen to Miller.
– Great cut blocks by Kelvin Beachum and Maurkice Pouncey to help spring Miller.
– Sticking with Beachum, perfect hand placement working against Michael Johnson in pass protection. In the chest with arms extended. Stones the end.