Below are the offensive player play counts and participation chart for the Pittsburgh Steelers week 10 win over the Kandas City Chiefs.
Player Notes:
As I posted recently, the Steelers once again made it through another game with all five of their offensive lineman playing every snap. It is too bad that the same can\'t be said about quarterback Ben Roethlisberger.
With Antonio Brown out this past week with an ankle injury, the Steelers only had three wide receivers on the field for 32 plays in total. The absence of Brown led to the Steelers using fullback Will Johnson in this game a little more than usual in addition. On 20 snaps the Steelers had 2 or more tight ends on the field and the lone snap that Leonard Pope received in the game came on the touchdown pass to Mike Wallace as the Steelers used 13 personnel on the play with Wallace being the sole receiver.
Click on the image below to see the full PDF version of the participation chart.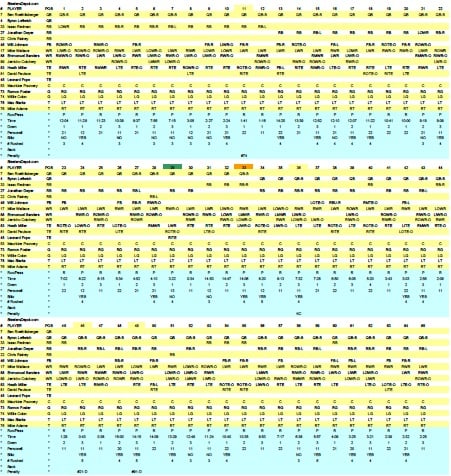 | | |
| --- | --- |
| 65 | Mike Wallace |
| 65 | Maurkice Pouncey |
| 65 | Ramon Foster |
| 65 | Willie Colon |
| 65 | Max Starks |
| 65 | Mike Adams |
| 62 | Heath Miller |
| 47 | Emmanuel Sanders |
| 41 | Jonathan Dwyer |
| 35 | Jerricho Cotchery |
| 33 | Ben Roethlisberger |
| 32 | Byron Leftwich |
| 30 | Will Johnson |
| 22 | Isaac Redman |
| 20 | David Paulson |
| 2 | Chris Rainey |
| 1 | Leonard Pope |