After Mike Tomlin decided to make the switch from Mason Rudolph to Devlin Hodges in the second half of the Bengals game, the question arose of just how good Hodges could be and if he could really lead the Steelers to a potential playoff spot as they were in the thick of race. It was a move that was all about who could help the team win right now, and thus far, Hodges has repaid the Steelers with two straight wins since taking over the starting quarterback job. Going into Arizona, Hodges may have played his best game yet, and the improvement he is starting to show is noticeable.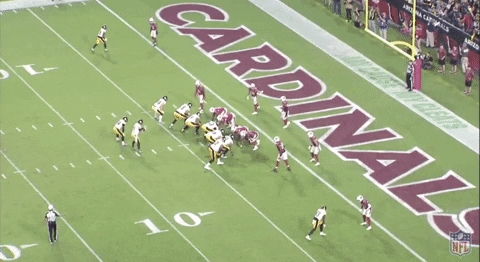 Over the course of the last two weeks, Hodges has made a few notable throws that you could categorize as "dimes" if you want to use that term. Last week, it was the deep ball to James Washington down the sideline that was a perfectly placed ball that only Washington could catch. Now, it is this "stool" route to Diontae Johnson. This ball is supposed to be thrown to the outside shoulder near to the pylon as long as the receiver effectively runs this route and flattens it out towards the pylon. Johnson runs a crisp route and takes a nice angle and Hodges puts it about as perfectly as he could have put it. This is precise ball placement and a great throw by Hodges to get this touchdown in the red zone.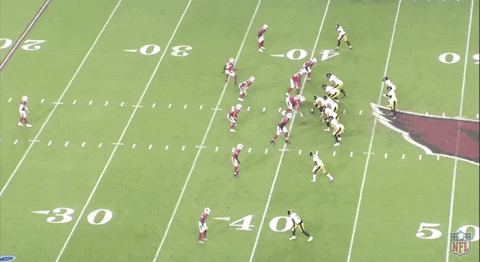 Another place that Hodges needed to improve on was pre-snap to post-snap recognition of coverages. He did miss his fair share of reads in his first two outings, but this right is quite a nice play. The Cardinals roll out of a Cover 1 look to a Cover 2 man look instead. Hodges, ever still and chill, is not fazed by the change in picture and still fires a perfect throw to Johnson. This is right in the honey hole with good timing out of the break and nice anticipation of where this ball had to go on this deep out. There are a lot of NFL characteristics in this play, and Hodges is starting to settle in with the speed of the game to a degree.
This is what sets Hodges apart from Mason Rudolph. It is the mobility and ability to make things happen when he gets outside of the pocket. Earlier, he was bailing on pockets too early and sliding into pressure. However, this is what happens when you step up in the pocket and keep your eyes downfield in order to extend the play. His first instinct is not to take off with this, but really to find that weak point outside of structure. And his rapport with Johnson was shown off all game, and this is just another example. A nice play to ice the game and he continues to show he is learning from his film study.