As we have been for several years now, we'll break down the Pittsburgh Steelers' opponent each week, telling you what to expect from a scheme and individual standpoint. Nick Farabaugh and I will cover the opposing team's offense. I will focus on scheme, Nick on the players.
Today, breaking down the New England Patriots' defense.
Alex's Scheme Report
Patriots Run Defense
Like I wrote for the offense, it's hard to gauge schematic things in Week One, especially with a New England team that's always evolving. They've always been a bit of a hybrid defense, able to deploy even and odd fronts but it feels like they have run more of a 3-4 scheme this year. Compare 2018 to what I saw in the preseason tune up versus Carolina.
By the way, that #8 you see is LB Jamie Collins, who returns to the team after a stint in Cleveland. He's now wearing #58.
But they still have no issue gap shooting and getting penetration. There's more than enough athleticism up front to make those types of plays.
Patriots Pass Defense
Watch out for them on 3rd down. That's when they get creative. Amoeba defenses, a 1-3-7 or 1-4-6, to maximize their linebackers and defensive backs and overall speed defensively. They'll take defensive ends and slide them to the interior. That's how newly acquired Michael Bennett notched this sack in the preseason, lined up as the 1 tech over center.
And I'm not sure any teams stunt and twist as much as the Pats do in obvious passing situations. Always getting a twist with a linemen and linebacker to try and confuse the o-line and create a gap. Couple examples.
Lot of man coverage here too. They work hard, benefiting from a secondary that's experienced and really unchanged from last year to this year, to hold and disguise their coverages as long as they can. Late rotation on 3rd down in these two clips.
One last coverage note. Still get their "Cone" coverage to take away shallow coverages in man coverage. So the CB doesn't trail the shallow, something the Steelers do a lot with JuJu, he'll pass him off to the safety, who has a better angle. Shown here.
Nick's Individual Report
Let's be honest — this Patriots defense is not overly impressive on paper. There are some very good players, but this team is not littered with top level talent like the Vikings, Eagles, or other top defenses, for example. However, this is a unit coached by Bill Belichick, and as a result, you can bet that this team is as technically sound and smart as any in the league. 
The unit lost top pass rusher Trey Flowers to the Lions in Free Agency but supplemented that by going out to trade for Michael Bennett from the Eagles. Bennett will bring you that power and intensity up front. He's a veteran who has made a name off of hand usage and speed-to-power conversion, and he's still a solid player even at this stage of his career. Pittsburgh native Chase Winovich should be rotating snaps with Deatrich Wise Jr, both of whom have the epitome of hot motors. They will bring it in pursuit and off the snap. Up front the defensive tackles are classic gap fillers and run stoppers. Both Lawrence Guy and Danny Shelton are big guys who fill up space and are tasked to reset the line of scrimmage. Still, this was arguably one of their weaknesses last year. The defensive line was solid, but they did get blown off the ball more often than Belichick was comfortable with I'm sure. Still, they have excellent gap discipline and play fundamental football.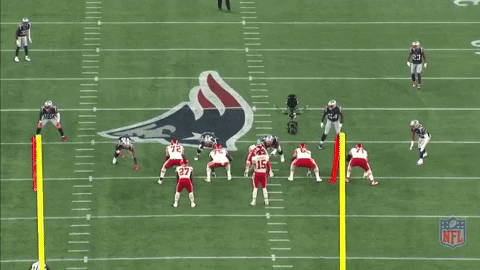 Take it for how Shelton and Guy play this run against the Chiefs. The classic outside zone blocking scheme and Shelton and Guy do a great job of staying low to control the line the whole time. Then, they simply stack, shed, and make the tackle. It was only a four-yard gain and it was because of their ability to set the line like that.
The linebackers of this scheme work as the glue. Because while they are not particularly athletic, such as Devin Bush, they are simply smart and read their keys. Elandon Roberts is the proverbial sidekick in the scheme to D'onta Hightower. Hightower and Roberts both are guys that know how to sift through the trash and crash down from the second-level in run defense. But in coverage, this is where they can be exploited to an extent. Both are great in zone, especially in zone discipline, but they are still unathletic LBs, and even Belichick can not always hide that.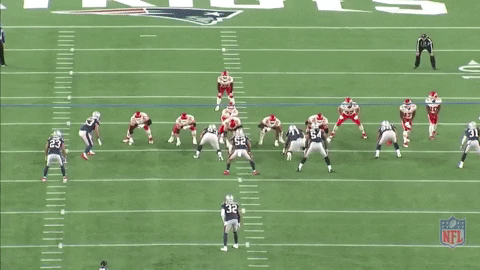 This is something that Hightower does all over his film. Reads through his keys, especially the guard, and sees the RB tailing out for a pass. Hightower presses the line down, but not to the point to where he gets caught up in the trash. His ability to fight through blocks down at the line like that are what makes him a valuable piece of this defense. But again, there are certainly attributes of his to exploit. Mainly that lack of a top end gear.
The last of their linebackers is Kyle Van Noy, who sometimes comes down onto the line to be an edge rusher but he also slides off-ball and sub in for one of Roberts or Hightower. Van Noy has been incredibly effective in this role and is just a really solid player the Steelers have to worry about. He's not an incredible athlete, but his hands and power as a pass rusher make him incredibly dangerous. As an ILB, he mirrors Hightower in a lot of ways, but has some underrated ball skills in coverage, especially at the catch point. Van Noy is one of the more underrated players in the NFL, period.
Hello everyone, meet Stephon Gilmore, the best player on this Patriots defense. Gilmore is, in my opinion, a top 5 cornerback in the game today because of some of the fantastic plays he makes. For example, Kansas City comes out of a 3×1 set with double crossers while the Patriots corners are in man. There is a zone set over the middle of the field, but the boundaries are essentially all on the corners. Gilmore off the break loses Sammy Watkins, but the incredible technique to trail back and get a pass breakup on this is really a great play by Gilmore to recover. He has great recovery speed and is a menace at the catch point. JuJu Smith-Schuster will have his hands full this week.
On the opposite side, Jason McCourty and JC Jackson will be a duo of corners to watch. McCourty is a veteran who admittedly has lost a step, but he is no less of a ballhawk than he ever was. McCourty is still exploitable, though, especially by speedier receivers with an expansive release set. Jackson, meanwhile, had incredible highs and seriously low lows, but the potential was always clear with him. He had a good game in Pittsburgh last year and really battled as well as he could. He's a feisty playmaker.
Jonathan Jones is the unsung hero by the outside media. He's a chess piece that they can slide inside to the slot, play overhang in the box if he has to, or even slide him outside. He has a serious nose for the ball. The trio of Duron Harmon, Pat Chung, and Devin McCourty have been the foundation of this secondary for years. Harmon always seems to get an interception against the Steelers and Chung is an absolute chess piece that mans up anyone the Patriots see as a threat over the middle or in the slot. He's a glue of this team. McCourty continues to be one of the better deep safeties in the NFL with his range and playmaking ability always on full display. 
The Patriots might not be an overly athletic team, but this is a team that is full of playmakers looking to create turnovers and technically sound players up front. And it works all the time for them. Randy Ficthner will have to call a good game to get the Steelers started quick and sustain it for the whole game.