Going into the first preseason game I was looking forward to seeing Ulysees GIlbert III's performance. On the two days I was at camp this year I saw, he was absolutely flying around the field and was around the ball every single play it seemed like. And even though he really only played against third-stringers this game, he had a phenomenal showing that I was expecting to see based off of his college tape and what I saw this Summer. 
In fact, in all phases Gilbert showed off just about every trait that got him drafted by the Steelers in the first place, starting with his fantastic range and fluid hips.
This is a simple screen WR screen, we see it all the time during the season, but Gilbert's range and ability to turn and fully accelerate is fantastic here. He ran a 4.51 at Akron's pro day and that speed and sideline-to-sideline range are shown off fully here. However, there is something to be said about how quickly he can flip his hips and accelerate right away. That is something I more so look for with running backs, but it does matter for linebackers as well when it pertains to range. This play just shows off all aspects of Gilbert's athleticism and proves he is a great athlete for the ILB position.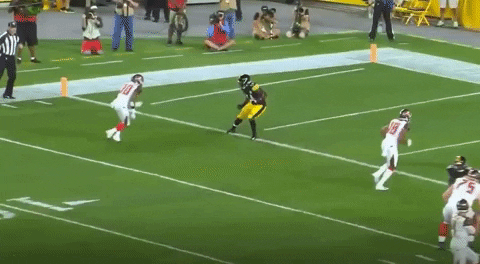 I was shocked to see that the Steelers would trust a LB to be all by his lonesome in a one-on-one situation as designed purely schematically. It allows them to mix and match their coverages a lot more and show more looks. Matt Eberflus in Indianapolis did this a few times with Darius Leonard last year, and it was a breath of fresh air in the Steelers defense to see how well he played this. His footwork here is what DB coaches call 'motor mirroring' since he has a wide base and simple steps back to keep leverage. He does a great job of staying square and reacting and mirroring immediately after the cut inside. Then, it is all about his explosiveness and speed to close in and make this pick. Gilbert was always good in coverage, and this is another example of that. Great mirroring and a great job to be isolated and still make the play.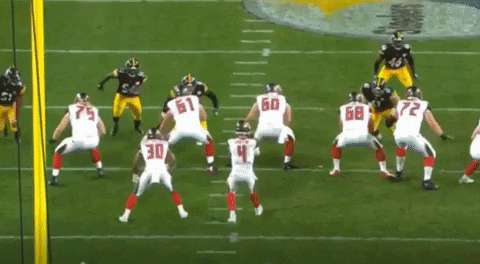 Then, to finish it off, he shows off his blitzing ability to just completely finish off this RB. The deke step to get the RB leaning off to his right and thus susceptible to a move is a great job by Gilbert. That deke allows him to essentially make the RB not be square to him, and as he crosses his face, he hits him with a sweet swim move. The RB leaned in and Gilbert's ability to bait him to do it is why he won this rep point blank. 
After a strong game against the Buccaneers, Gilbert III needs to see increased reps against second stringers and stiffer competition. It is the only way to see if he is truly something to mold and keep on the roster. The special teams ability to obvious, but if he can flash that he might be able to be a starting ILB at some point, the Steelers will have found a gem in the sixth round. It's time to see what he's made of.