The second preseason game for the Pittsburgh Steelers saw the duo of Bud Dupree and T.J. Watt put on an absolute spectacle. Watt after going up against standout RT Mitchell Schwartz, took it to him and more. It is another progression from his breakout second half last season. Despite missing a good chunk of training camp with a hamstring injury, Watt's performance on Saturday is one of the most encouraging things to come from the game. He was in the backfield all day.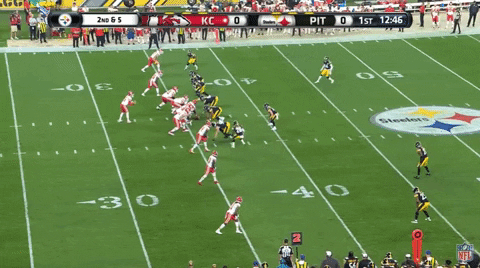 The second play is a designed slot corner blitz that the Steelers absolutely love to run at all times. Mike Hilton is a fantastic blitzer from the slot and it can create so mismatches for a guy like T.J. Watt if Hilton is picked up. Watt faces the guard here and plays with excellent pad level. The burst off the line and ability of Watt to get low and then drive allows him to push this guard back right into Patrick Mahomes. It gets Mahomes to move off his spot, and although he scrambles for a few yards, it is a really solid rep for Watt to show off great leverage and speed-to-power conversion. 
Watt wins at the point of attack all due to his hands. The burst he has allows him to cut this pass set that Schwartz takes short and he his double swipe, dip, and rip here is exactly how he can win these reps so easily. His hands have improved tenfold since he first came into this league. There is definitely holding here as Watt dips and bends. Watt has underrated bend and you can tell because of the ankle flexion that he shows. It's fantastic stuff and it allows him to run a tight arc and get Chad Henne here even with the hold.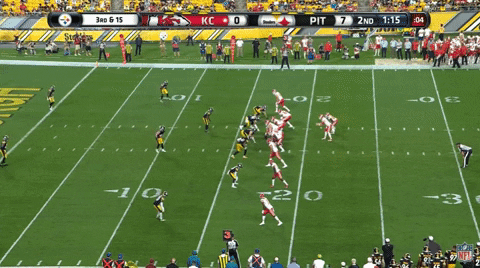 Watt's go to move is without a doubt a chop-rip that he can take advantage of with his burst. The double swipe he has is a close second on that radar, but this is a great chop to get the tackle's hands off of his chest and then a rip to gain leverage and start bending around the edge here. And just like last play, he shows the good bend to decrease the surface area that tackle can direct him with on his shoulder. He could do more in that area on this play to tighten that arc, but nonetheless, this is a win for him and he is around the QB.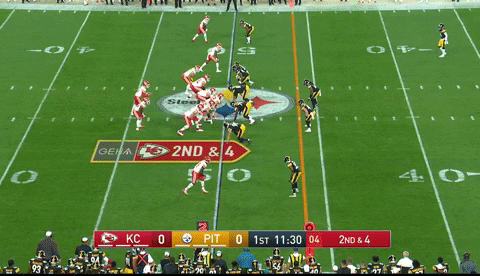 This is chop-rip again from Watt. He chops down the outside of Schwartz, dips, rips, and he is completely gone already. Schwartz leans forward and Watt's chop-rip combination absolutely is a great way to take advantage of overzealous lineman who lunge forward instead of being patient. Schwartz's off balance base allows Watt to discard him so easily through violent hand usage. After that, it is just running a tight arc and getting the pressure.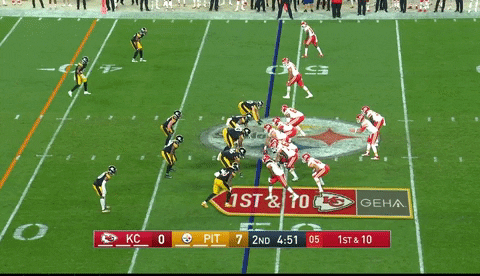 This is illustrative of Watt's dynamic first step. The pass set here is horrific since the tackle is trying to go on a 45-set. 45 sets are primarily supposed to be aggressive sets to combat speed rushers with impressive burst that Watt possesses. The issue is if you do not get to your spot, good luck beating that guy around the arc. The tackle's footwork is too slow and it can not mirror and match Watt's burst off the line. Watt then just bends around the edge and continues to decrease that surface area. Great job by Watt to take advantage of a bad pass set.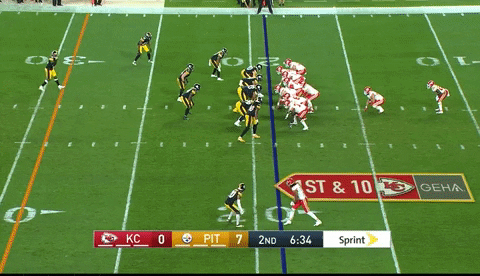 This is a great job by Watt to blow up this run play. A simple club-rip through the first blocker at the point of attack and then he plays low enough to where he can split the two blockers trying to get their hands on him. It's a good display of hand usage and sound run defense to get into the backfield and make this play.
T.J. Watt played longer than I expected tonight, but I'm not complaining about that, especially given the film that he provided tonight. He gave a pro bowl level tackle fits all night and was constantly in the face of the QBs when he was in. If this is any sign of what we are going to see from Watt this season, I would be heavily encouraged that it is possible that he has taken another step. Watt's path to stardom continues to look extremely bright.