Last year, the Steelers led the league in dropped interceptions. It was not even close. Every guy, from Joe Haden to Mike Hilton seemingly dropped would be interceptions. That was a large portion of what caused the turnover drought on the defensive side of the ball, and so, the Steelers went out this offseason with the goal of getting playmakers with serious ball skills. Steven Nelson and Justin Layne both fit that mold of defensive backs with great ball skills.
However, an underrated acquisition with eye-popping athleticism is none other than first-team FS Kameron Kelly. If you are wondering why he is getting a crack at first team free safety right now and just why this coaching staff is so high on him as a player who can make this roster, I think ball skills are largely the answer to that question. Kelly has fantastic ball production at each level that he has been at up to this point.
In his time starting at San Diego State, over the span of 40 games, he started at three different positions — slot cornerback, free safety, and boundary cornerback. That is a lot of movement for a guy who really just needs to settle in at a place and work on it with his natural tools. Still, his ball production is impressive. Over those 40 games, Kelly had 9 interceptions and 15 pass deflections. Now, if you are a Steelers fan who lived through the dropped interceptions of last year, I am sure that we would die to have that ball production. It shows that Kelly is always around the catch point and can make plays when he is there.
Now, during his time with the San Diego Fleet in the AAF, Kelly actually played wide receiver for a bit. That is how good his ball skills and hands actually were — the coaches trusted him to move to wide receiver. Regardless, he had to move back to cornerback due to injuries and in five games playing there at cornerback had 4 interceptions and 9 pass deflections.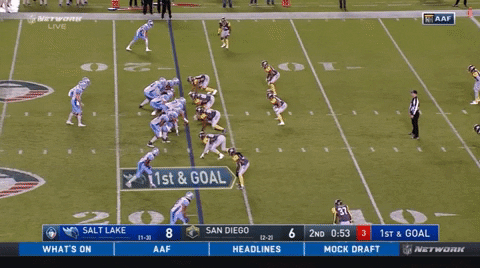 From everything on tape, Kelly has all the makings of great ball tracking and good ball skills. This is a different, unique instance in terms of his ball skills. Part of ball skills is being in the position to make a play, and the mirroring of this route by Kelly gives him that positioning. He essentially runs this comeback to the point where he can make this catch. And as you are diving, you want to catch this with your hands and roll off to the side so the ground hopefully does not have to bear the impact of that ball hitting up against your body. It's a good job by Kelly to do that as well.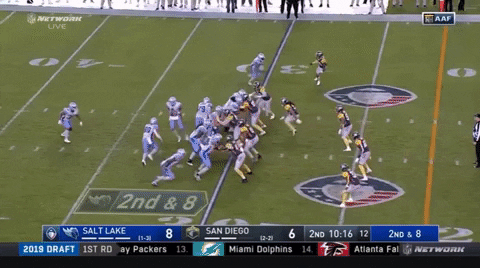 I can't say much for this other than this is a fantastic play for a defensive back on this football. Diving through this ball and again, turning off to his side to avoid that contact with the ground is good stuff. But the full extension might be even nicer. Kelly has 31 1/2 inch arms, and he uses all that length here to go out and catch this out of his frame with his thumbs together, tuck it into his body, and roll off to the side.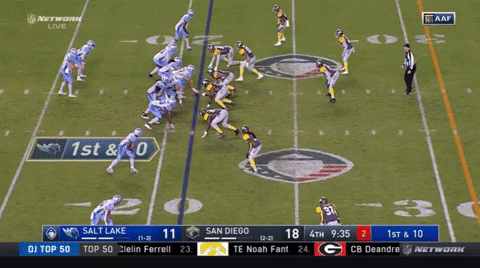 Similar deal here as well, but this is great closing speed by Kelly. The explosiveness he has is going to translate into range as a free safety. Kelly made three pretty impressive interceptions in one game, and this one is his best one honestly. The recognition, ability to go down and get this ball, and closing speed are traits that guys with elite ball skills have. Kelly's are that good.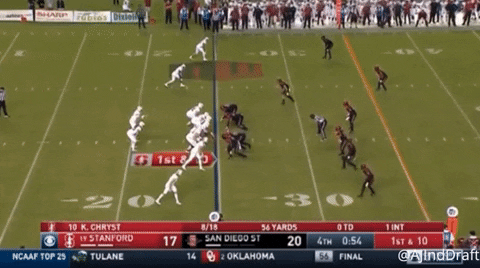 Back from his San Diego State days, Kelly made a number of plays in coverage, but this one is similar to what he might be making this year if he plays meaningful snaps back at free safety. The ability to go up, high point this ball, put those hands together to catch the front end of this ball, and then secure it quickly as a receiver was trying to impede the catch point is really great stuff. You can see why he was moved to receiver with plays like this one.
Kelly has seemingly been a standout at camp and has already netted a few pass breakups and an interception. That should not shock anyone who has watched the film and looked at this guy's ball production over the years. He produces turnovers, and his ball skills are maybe his best trait. If there is a path to this roster, ball skills are a great way to get onto it. I fully expect Kelly to make the 53-man roster because of these ball skills.