As we have done for several years to bide our time during the offseason, we're looking back on Pittsburgh Steelers you may have forgotten…or not remembered at all in the first place. Our "blast from the past" series, with a new, dumb name, highlighting players who have long hung up their cleats.
If you have a player you'd like to see profiled, leave it in the comments below.
Flozell Adams/OT (2010)
For now, trying to get a little more current with these names though hey, 2010 was nine years ago. A reminder that we're all very, very old and time stops for no one. But Adams feels appropriate for the purpose of this series thanks to his short stay in a Steelers' uniform. Most will remember his NFL career for the previous 12 seasons in Dallas, starting 178 games, most of which came at left tackle.
Those memories of his time as a Cowboy are…mixed. And I'm being generous with that assessment. There was his size. At 6'7 338 and wearing size 22 shoes, he earned the nickname "Flozell the Hotel." But like some businesses, he was accused of cutting corners. Some around the league thought of him as a dirty player, willing to leg whip defenders and take advantage of every moment to try to gain the edge. When the refs threw out a flag, it was often on him. In 2009, he picked up 13 of them. For comparison, no Steelers' linemen last year registered more than five.
Or how about the time, and I don't know if anything led up to it (Adams says nothing happened) Vikings' defensive end Duane Clemons nut-punched Adams on Monday Night Football. The league fined Clemons $7500.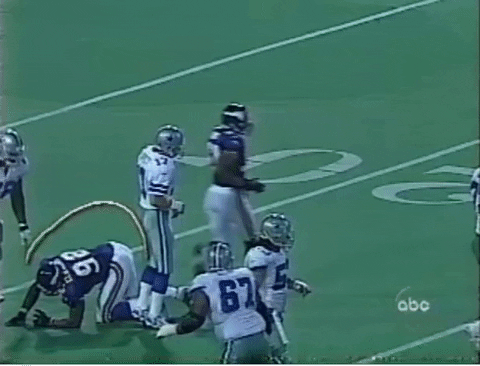 Adams understandably lit into Clemons post-game, calling him a bust who wouldn't be on the Vikings' roster the next year. And he was right, Minnesota dumped him months later, though Clemons had an ok NFL career. He who gets punched in the nuts laughs best. I think that's how the saying goes.
A decade later and turning 34, Jerry Jones wasn't willing to pay him an upcoming large salary and the Cowboys bailed on their long-time fixture of the o-line. Pittsburgh, needing help at right tackle right before training camp, signed him in July 2010 to a two year deal. That came in response to losing Willie Colon for the year, tearing his Achilles.
Adams went on to start all 16 games at right tackle. To some, switching sides sounds easy. Left tackle, right tackle, what's the difference? But it's a big one. So much so that Adams compared it to writing with your other hand.
"It was a challenge," told ESPN on media day before the Steelers' 2011 Super Bowl appearance. "I had some trouble adjusting with it and learning the scheme in the beginning. But I just stuck with it."
In learning that new spot, he earned the respect of his teammates. Team success was fleeting for Adams in Dallas. During his time there, they won just one playoff game and never came close to sniffing the Super Bowl. In Pittsburgh, the locker room rallied around him, donning Adams' Michigan State – where he attended – jerseys on the plane ride to the Super Bowl (which funny enough, was held in Dallas). A picture of which you can see in this link from NJ.com. 
"It's just the love those guys have for him," Hines Ward told the website of the gesture. "It's kind of ironic: Flo played for the Cowboys, and here he is playing in Cowboys Stadium for the Pittsburgh Steelers. I'm pretty sure a lot of Cowboys fans are highly upset, but we're glad to have him. Hopefully, we can win this thing for Flo."
Unfortunately, they came up short, falling to the Green Bay Packers. Up against the cap, and getting Colon back, the team cut ties with Adams exactly one year after signing him. Reportedly, the decision came after he didn't want to accept a pay cut.
He retired shortly after. It's been difficult to find information on what Adams has done after moving on with life's work. He's made some trips back to Michigan State. In 2014, he was inducted into Sparty's Hall of Fame.
"It feels good because it feels like the offensive linemen never get noticed unless we give up a sack or anything," he said at the time. "To be inducted into the Hall of Fame here at Michigan State is definitely an honor."
And he's spot on with that comment. That's the why the header photo shows Dennis Dixon with Adams sidecar. I spent a half hour trying to find a shot of just him. Came up empty.
Later that year, he made the incredibly generous gesture of donating $1.5 million to the school, allowing the university to complete renovations of their locker room and facilities. In return, the school named their locker room after his late mother, Rachel Adams, who died in 1996 after a battle with breast cancer.
"My mother was my rock. I could talk to her about anything and everything," Adams told the school website." We spoke on Fridays before every game, and I looked forward to her hugs after every home game. This donation and naming opportunity is the appropriate way to thank her and pay tribute to her. She was certainly a difference-maker in my life, and she loved Spartan football Saturdays."
For his NFL career, Adams made 194 starts. A testament to his durability, those were the 6th most by any player in the league and second of any linemen, trailing only Alan Faneca's 201.
Flozell Adams. Your blast from the past.