Series we're bringing back to Steelers Depot that we began last year. A snapshot of the Pittsburgh Steelers 2018 season, a look at the singular best and worst play from each player on the roster. If I wanted to sum up a players season in 30 seconds, these are the plays I would look at.
Easy one today with a look at Josh Dobbs' brief 2018 season.
Best Play: Goal Line Throw To JuJu Smith-Schuster
His first attempt of the season was also his best. Coming in mid-game for a banged up Ben Roethlisberger, offensive coordinator Randy Fichtner didn't hold back on playing it safe. Playaction, Dobbs fires a strike to Smith-Schuster between three Ravens' defenders. Excellent ball placement, throwing JuJu open with a low pass, only where the receiver can make the play.
At the time, it gave the offense some much-needed breathing room and began a drive that ended in a 29 yard Chris Boswell field goal. Put the Steelers up ten points with eight minutes to go, helping to clinch a much-needed victory over a divisional foe.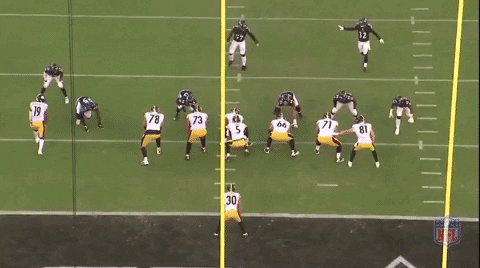 Worst Play: Incompletion To JuJu Smith-Schuster Against Raiders
There are, unfortunately, several examples to choose from with this disaster of a Raiders' game. We covered Dobbs' performance in a video after it happened, one worth checking out again. But this one stuck out to me largely because it was the easiest play to make. Football's equivalent to a layup. Shallow cross to JuJu. Mostly a clean pocket, quick throw, Smith-Schuster has space to run after the catch.
But Dobbs' doesn't drive the throw like he needs to and it's way behind his target. Incomplete. Turns what should've been 3rd and short, or maybe a first down, into 3rd and 10. That too fell incomplete and Pittsburgh was forced to punt, encapsulating how stuck in the mud the Steelers' offense was that day.
Quarterbacks have to make the easy plays. All the time, without exception. If you can't do that consistently, you won't get on the field.