Series we're bringing back to Steelers Depot that we began last year. A snapshot of the Pittsburgh Steelers 2018 season, a look at the singular best and worst play from each player on the roster. If I wanted to sum up a players season in 30 seconds, these are the plays I would look at.
Let's check out the highlights/lowlights of Maurkice Pouncey's 2018 season.
Best Play: Pass Pro Rep Vs Browns
This play from Pouncey serves as a reminder that while linemen generally like run blocking more than pass protection, the latter doesn't have to be passive. Facing Larry Ogunjobi, a budding star, I love the hand use, punch, and desire to finish the rep. Good work by the rest of the line, too, the guards looking for work after making sure there wasn't a blitz/stunt entering their gap.
Created a clean pocket for Ben Roethlisberger, who fired a touchdown pass to Justin Hunter. Unfortunately, the play was called back by a Marcus Gilbert penalty, illegal hands to the face. But Roethlisberger connected with Antonio Brown for a touchdown the following play to save face.
A close second favorite is this pancake on LB Kyle Emanuel against the Chargers. Talk about dominating a dude. But Ogunjobi is the bigger – and more talented – player so the nod went to that one.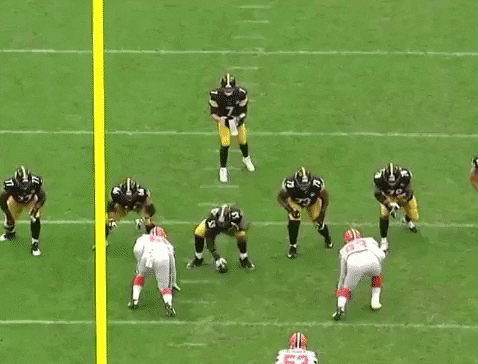 Worst Play: Bad Snap Leads To Turnover Week 1
Funny enough, both plays we're including come from the Week 1 tie against Cleveland. If Pouncey doesn't snap the ball so poorly here, the Steelers may have won it instead. RPO and had Roethlisberger not had to waste time picking the ball off the grass, Hunter was wide open on a slant for what should've been a sizable pickup. Instead, Myles Garrett seizes on the opportunity, knocks the ball out, and Cleveland recovers.
The Browns did go three and out and ultimately punt. But if this pass is complete, there's a strong chance the Steelers walk away with at least a field goal and at minimum, shave off a couple more minutes of clock. Lot of plays from that game you'd love to have back. This was near the top of the list.
Snaps were a bit of a problem throughout the year. There was a less-than-ideal snap at the end of the Denver Broncos' game too, resulting in the game-ending interception, Ben's comments on AB and…well, you know the rest of that story.