There's plenty of frustration to go around from the way things ended for the Pittsburgh Steelers' 2018 season. The collapse on both sides of the ball, the inability to finish games, the blown leads versus teams they – on paper – should've beaten.
For Mike Hilton, he can pin his peak frustration on one play. One he says he's responsible for. Allowing the game-winner against the Oakland Raiders. Sitting down with Steelers.com's Missi Matthews, Hilton briefly spoke to what happened on the play.
"I really feel like the touchdown I gave up against Oakland," he said. "The game-winning drive. I can honestly say I was trying to do too much and it caused the team to have a tough loss and it hurt us in the end."
Looking at the All-22, it's difficult to pinpoint Hilton's exact mistake. It looks like the defense is running a "box" call against the Raiders' stacked set. Hilton seems to correctly take the first man out, though perhaps bites on it too hard, losing his balance and stumbling when tight end Derek Carrier runs his pivot route back inside.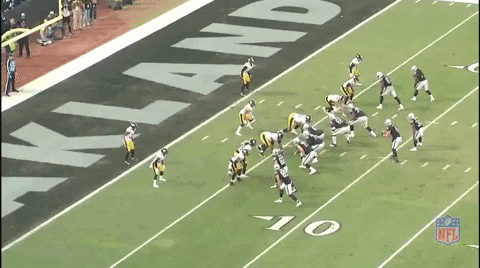 Regardless, Hilton put the play on him, one that ended in an upset loss after Chris Boswell's slip to end the game. It put the team in must-win mode the rest of the way and after losing again to New Orleans two weeks later, put their playoff hopes in Cleveland's hands. The Browns failed to knock off Baltimore and thus, Pittsburgh was eliminated.
But Hilton is determined to learn from his mistakes, telling Matthews he'll go back through every snap of his later in the offseason, reviewing where and how he can get better.
"I will go game by game. I got time so I'll game by game to try and figure out what I can do better and what we can do better as a defense…I did that last year and my stats might not show it but I feel like I was in better position to make a lot of plays."
Reportedly, Hilton is looking for a long-term extension instead of playing on his exclusive rights tender that'll pay him just $645,000 in 2019.