As we will do every Saturday to get you ready for the week's game, our X Factor of the week. Sometimes it's a player, unit, concept, or scheme. What will make or break the Pittsburgh Steelers for Sunday night's matchup as they host the Los Angeles Chargers.
X Factor: Coty Sensabaugh
Joe Haden should bounce back. He better, given his presumed difficult matchup against Keenan Allen, one of the league's best and craftiest route runners. But let's assume he's back to his typical, solid Haden self, if only to help us sleep better these next 36 hours.
That means Philip Rivers and company will be honing in on other matchups. Antonio Gates, now 437 years old, will get a couple looks. But Mike Williams should be their "next man up", especially given Tyrell Williams' injury that limited him to nine snaps last week.
Williams, a former first round pick, has really put things together this year. Limited to just 11 catches his rookie season (a reminder for Steelers' fans sour on James Washington), he's up to 24 catches and made most of them count, averaging nearly 18 yards a pop and team-leading seven receiving touchdowns. At 6'4 220, he's a tight end with better wheels. And as well as many top receivers, can win jump balls and contested catches with his size and muscle.
And that's where Sensabaugh comes in. So does my concern. Keith Butler is accurate when he says Sensabaugh has been a steadying, stabilizing force this secondary was dying for early in the year, but his ceiling is only so high. One of his biggest problems is playing the catch point. His ball skills are lacking, at least in game, even if they looked better in training camp, where veterans like him have more success against the young guys. You know the Chargers plan to throw a couple of go routes and end zone fades to Williams, a matchup that's definitely in their favor.
So if there's a guy who could use a career game, it's him. His run fits have been a little questionable too – Phillip Lindsay's 18 yard run from last week comes to mind. The Chargers may be without Melvin Gordon but backup Austin Ekeler is more than capable and could start on probably a half dozen teams.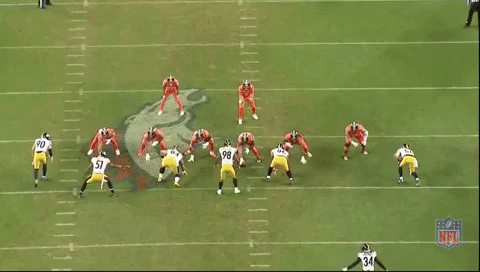 Here, the receiver is coming down to crack the safety. Instead of recognizing his crack/replace rules, filling the alley that Terrell Edmunds' would've had, he never takes his eyes off the receiver. Lindsay has the lane and darts to daylight until Edmunds is forced to push him out of bounds.
And someone in this secondary has to make a big play. That probably won't be Sensabaugh, three measly interceptions over 39 starts and 96 games. Here's a fun fact. According to Pro Football Reference, since 1970, Sensabaugh has the most games played by any cornerback to have three or fewer INTs.
But I know someone needs to make a play here. Maybe that'll be Sensabaugh. I'll take it from anyone at this point, a secondary with only four picks all season. So hey, why not him. I think he'll be peppered with targets so the dude is going to have his chances.
Contest the jump ball. Be sound in the run game. Capitalize on a bad throw or tipped pass. If Sensabaugh does that, he'll again show why he's starting opposite Haden.