Just one sack allowed this week by the Pittsburgh Steelers in their loss to the Los Angeles Chargers. But let's go ahead and break things down.
1. 2nd and 19, 14:33 4th. 11 personnel. Five blocking vs four rushing
This one is pretty simple to explain, at least in terms of who the blame will fall on.
Steelers are half sliding to the left, protecting against the potential blitz by #33, strong safety Derwin James. They bail out of that look but you have to respect the possibility. That leaves David DeCastro and Matt Feiler on islands to the away, the man side of the protection.
Which puts Feiler one-on-one against Joey Bosa, one of the league's premier pass rushers. Enough said. Bosa had been setting Feiler up with speed rushes to the edge throughout the game. This time, he hit him with an inside spin to cross his face and beat him.
It helps there's a gigantic split between Feiler and DeCastro and the two o-linemen on different planes. A big crease for Bosa to move through because of the way the DT attacked DeCastro, looking inside and more willing to contain than rush. That's Bosa reading the tackle's set and determining what rush is going to be best to win. With the inside wide open, choosing the spin was a no-brainer if you have it in your arsenal.
Ben Roethlisberger is able to avoid it for a fraction of a second but is then taken down. Downfield, there really wasn't anything developing anyway.
The line did its typical excellent job in pass protection. Over the last two weeks, only two total sacks allowed to Von Miller, Bradley Chubb, Melvin Ingram, and Bosa combined. I can definitely live with it. Sometimes these plays happen. But the blame does go to Feiler, even if you understand that's a tough spot to be in for a tackle against any pass rusher, especially one like Bosa.
Blame: Matt Feiler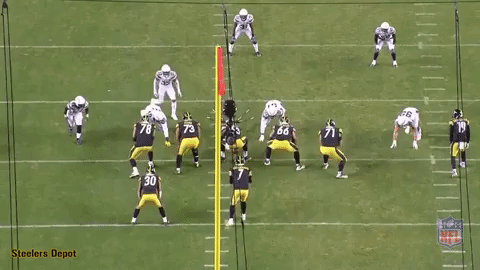 Sack Breakdown (Game)
Matt Feiler: 1
Sack Breakdown (Season)
Alejandro Villanueva: 4.5
Matt Feiler: 4
Marcus Gilbert: 2
Coverage: 2
James Conner: 1
Ramon Foster: 1
Chukwuma Okorafor: 1
Maurkice Pouncey: 1
Ben Roethlisberger: .5
Penalty Breakdown (Game)
Alejandro Villanueva: 1
Ramon Foster: 1
Penalty Breakdown (Season)
Alejandro Villanueva: 5
Marcus Gilbert: 2
Maurkice Pouncey: 2
David DeCastro: 2
Ramon Foster: 2
Chukwuma Okorafor: 1