It's going to be a long week, Steelers fans.
Sunday's 24-21 loss to the Oakland Raiders on the road was as bad as it gets for the Pittsburgh Steelers, who squandered a chance to extend their lead in the AFC North, while also getting a game back in the AFC playoff picture as the Houston Texans and New England Patriots lost.
Now, the season is moving in the wrong direction for the Steelers, and major question marks surround not only the defense – namely the secondary, but the coaching staff as well.
Like always, a few key plays can swing the game one way or another. Let's take a look at the top 5 plays that had a major factor in the outcome.
Play 5 — 4th & 15 at OAK 21 (4:29 – 2nd) C.Boswell 39 yard field goal is No Good, Wide Right, Center-K.Canaday, Holder-J.Berry.
Chris Boswell is a major problem right now for the Steelers. Following an Oakland field goal by Daniel Carlson that gave the Steelers a 10-7 lead, Pittsburgh responded with what should have been a scoring drive of their own.
The Steelers marched 54 yards in 8 plays, highlighted by a 14-yard pass from Ben Roethlisberger to JuJu Smith-Schuster, as well as two 15-yard facemask penalties on the Raiders. However, a 6-yard sack of Roethlisberger by Clinton McDonald, which would ultimately knock Roethlisberger out of the game with a rib injury until late in the fourth quarter, pushed the Steelers back for a Boswell 39-yard try.
Now, 39 yards sounds like a chip shot for Boswell. Instead, the former Pro Bowl kicker missed horribly wide right, keeping the game at 10-7.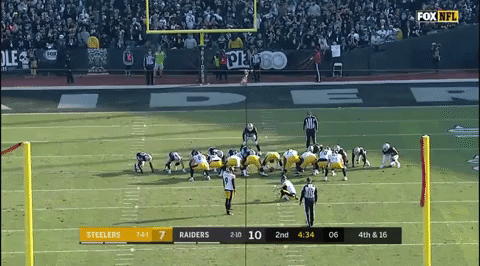 Play 4 — 3rd & Goal at OAK 1 (0:10 – 2nd) JuJu Smith-Schuster Pass From Ben Roethlisberger for 1 Yard C.Boswell extra point is GOOD, Center-K.Canaday, Holder-J.Berry.
An incompetent official, who was right in front of the catch unimpeded by a defender, originally called this pass from Roethlisberger to Smith-Schuster in the back of the end zone incomplete. He flat out missed it.
However, the officials overturned the call on the field into a touchdown, capping off a spectacular concentration catch by Smith-Schuster, who tipped the ball into the air to himself before getting two feet down with possession.
Prior to the touchdown, Roethlisberger hit Smith-Schuster with a 20-yard back-shoulder throw down the right sideline, before then finding Vance McDonald on a screen for 19 yards down the middle of the field.
The score sent the Steelers into the half with a 14-10 lead, but nobody knew what would transpire to start the second half with Roethlisberger out of the game.
.@TeamJuJu puts us back on top. pic.twitter.com/qV4WWGBRai

— Pittsburgh Steelers (@steelers) December 10, 2018
Play 3 — 1st & 10 at OAK 44 (4:21 – 4th) (Shotgun) B.Roethlisberger pass short right to J.Samuels to OAK 21 for 23 yards (E.Harris).
Trailing 17-14 at this point after a 3-yard touchdown pass from Derek Carr to Lee Smith, the Steelers needed an answer in a hurry. Enter Roethlisberger back from his rib injury.
The veteran showed no signs of rust or an injury hindering his play as he hit Antonio Brown for 13 yards over the middle to start the drive, before then finding Jaylen Samuels for 13 yards.
Following a defensive holding penalty, Roethlisberger hit Samuels on this 21-yard catch-and-run, putting the Steelers deep in Oakland territory just outside the red zone with over four minutes remaining in the game.
Samuels showed his open-field ability with the ball in his hands on this run, making a defender miss before then hitting top speed in space, running downhill against secondary defenders.
After Samuels' catch-and-run, it took Pittsburgh three plays as Roethlisberger hit Smith-Schuster from 1-yard out giving the Steelers a 21-17 lead.
Born to run. pic.twitter.com/y4S73kxFm8

— Pittsburgh Steelers (@steelers) December 10, 2018
Play 2 —1st & 10 at PIT 46 (1:52 – 4th) (Shotgun) D.Carr pass deep middle to S.Roberts to PIT 7 for 39 yards (Te.Edmunds).
This was pretty much the back-breaker for the Steelers on Sunday afternoon. The Steelers really couldn't slow down the Raiders in the fourth quarter, but this throw from Carr to Seth Roberts down the middle of the field over Terrell Edmunds and Morgan Burnett, setting the Raiders up at the Pittsburgh 7-yard line.
You know what happens after this: Mike Tomlin fails to call a timeout until there's 25 seconds left in the game, and three plays later Carr found third-string tight end Derek Carrier for a 6-yard touchdown, putting the Raiders in front for the eventual 24-21 win.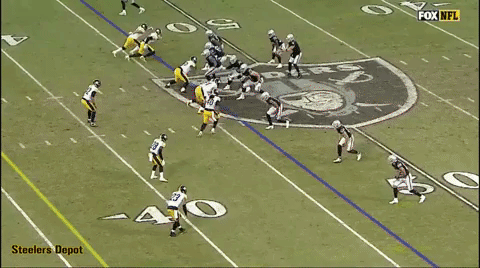 Play 1 —1st & 10 at OAK 22 (0:05 – 4th) C.Boswell 40 yard field goal is No Good, Center-K.Canaday, Holder-J.Berry.
I started this article with a Boswell miss, and I'm ending this article with a Boswell blocked field goal.
Yes, Boswell lost his footing on his plant leg, leading to a low kick that was immediately blocked, but he's a major problem for the Steelers. It's probably time to explore the option of replacing him at this point.
Prior to Boswell's blocked field goal, the Steelers needed to go at least 40 yards to give the veteran kicker a crack at the game-tying field goal. A hook-and-ladder with James Washington and Smith-Schuster that was perfectly executed for 43 yards gave the Steelers that final shot.
Instead, Boswell slipped, the kick was blocked, and the Steelers boarded the chartered flight home sitting at 7-5-1.
The cherry on top.#RaiderNation | #PITvsOAK pic.twitter.com/FZ6KivhMEC

— Oakland Raiders (@Raiders) December 10, 2018