As if Thursday night's performance wasn't dominant enough for the Pittsburgh Steelers, the black and gold turned in a season-best mark in missed tackles in the 52-21 win over the Carolina Panthers on Thursday Night Football.
In fact, the missed tackles number from Thursday's game is the best performance the Steelers have had in the four years I've been tracking missed tackles for Steelers Depot. Pittsburgh was fundamentally sound tackling, which kept the Panthers behind schedule all game long.
Let's take a look at this week's missed tackles report.
Total missed tackles vs. Panthers — 2
Bud Dupree – 1 (sack attempt)
TJ Watt – 1
Total missed tackles through 10 weeks  (9 games) — 86 (9.5 misses per game)
Joe Haden – 9
Terrell Edmunds – 9 (three on special teams)
TJ Watt 9
Sean Davis – 8
Vince Williams – 7
Mike Hilton — 6 (one on special teams)
Bud Dupree – 5 (two on sack attempts)
Stephon Tuitt — 4
Cam Sutton – 4 (one on special teams)
Coty Sensabaugh – 4
Artie Burns — 3
Anthony Chickillo – 3 (one on special teams)
LJ Fort – 3
Jon Bostic – 2
Cam Heyward – 2
Tyson Alualu – 2
Tyler Matakevich – 2
Jordan Dangerfield – 2 (one on special teams)
Roosevelt Nix — 1 (special teams)
Nat Berhe – 1

Looking at the misses from Thursday's game, the two outside linebackers were mostly dominant on the night, but they came up with the two misses for the Steelers, causing Pittsburgh to narrowly miss out on a perfect tackling performance.
On Carolina's third drive of the game, Bud Dupree gets a good jump off the ball at the snap, racing past Chris Clark for pressure on Cam Newton. Dupree has been on fire as of late, consistently getting good get-offs at the snap, allowing him to use his athleticism to get around the corner.
That's what happens here, but he doesn't finish. Going high on Newton is never a good idea because he's so darn strong. Once Dupree goes high, Newton is able to easily shake him off, avoiding the sack.
I don't give Cam Heyward a miss because he's being blocked from behind as Newton is avoiding Dupree.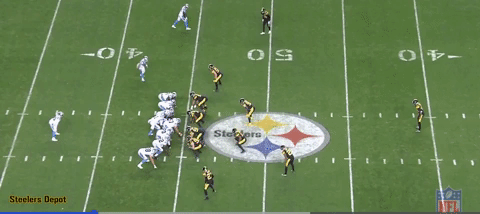 Later in the first quarter, the Panthers try to get Christian McCaffrey on the edge again to utilize his speed in space.
Here on a jet sweep, TJ Watt reads this well and strings it out, but he consistently has trouble in space against athletes because of his angle and his inability to break down at the point of attack.
That's what happens here as McCaffrey spins back inside. Fortunately for Watt, Joe Haden is there to clean up McCaffrey, holding the elusive running back to a 3-yard gain.
Offensively, the Steelers had a field day forcing missed tackles, recording 13 forced misses in primetime.
That means Pittsburgh went +11 on the night, the best mark of the season.
Total forced misses vs. Panthers — 13
James Conner – 5
Vance McDonald – 2
Antonio Brown – 1
Ryan Switzer – 1
Jesse James – 1
Jaylen Samuels – 1
Stevan Ridley – 1
Total forced misses through 10 weeks (9 games) –  107 (11.8 forced misses per game)
James Conner — 57
Antonio Brown — 14
Ryan Switzer — 13
Vance McDonald — 10
Stevan Ridley – 4
Ben Roethlisberger — 3
JuJu Smith-Schuster — 1
James Washington — 1
Xavier Grimble  — 1
Jaylen Samuels – 1
Jesse James – 1
Taking a look at forced misses, James Conner forced a team-high five misses on just 14 touches. That's a miss on 35 percent of his touches. That's remarkable.
It was nice to see Jaylen Samuels get some work again. He's starting to develop a role, and the Steelers' coaching staff is starting to trust him more and more.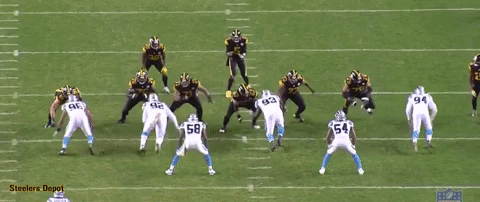 This was a little nugget I found in the game from Samuels. He's not really going to shake and bake you in the open field, but I loved this powerful stiff arm to Shaq Thompson's chest, causing the Carolina linebacker to miss Samuels near the line of scrimmage. That miss resulted in a 5-yard pickup for Samuels.
Along with Samuels, Steven Ridley played well, running hard down the stretch to help the Steelers milk the clock.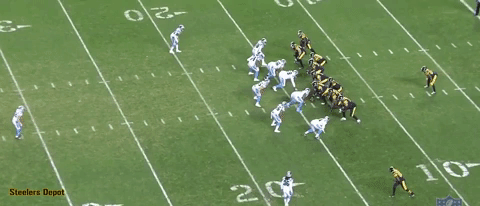 This is a sneaky good spin move in the hole by Ridley, avoiding a tackler behind the line of scrimmage to turn what could have been a disastrous loss into a solid gain.
It's nice to see the Steelers' running backs coming up big when it comes to avoiding tackles.