Coming out of the bye week at home at Heinz Field, the Pittsburgh Steelers shook off a slow start on both sides of the ball to roll to a dominant 33-18 win over the Cleveland Browns in AFC North play, keeping the black and gold on top of the division standings heading into Week 9.
Against the Browns, the Steelers defense shrugged off a slow start that saw the Browns go on three lengthy drives, but just two resulted in points, giving the Browns a 6-0 lead.
In the tackling department, the Steelers struggled to tackle the Browns again, matching their Week 1 performance with 12 missed tackles.
Let's take a look at the guilty parties.
Total missed tackles vs. Browns — 12
Terrell Edmunds – 3 (one on special teams)
TJ Watt – 2
Coty Sensabaugh – 2
Joe Haden – 2
Cam Sutton – 1 (special teams)
Bud Dupree – 1
Stephon Tuitt – 1
 Total missed tackles through 8 weeks  (7 games) — 77 (11 misses per game)
Joe Haden – 9
Terrell Edmunds – 9 (three on special teams)
Sean Davis – 7
Vince Williams – 7
TJ Watt – 7
Mike Hilton — 6 (one on special teams)
Stephon Tuitt — 4
Cam Sutton – 4 (one on special teams)
Artie Burns — 3
Bud Dupree – 3 (one on sack attempt)
Anthony Chickillo – 3 (one on special teams)
Coty Sensabaugh – 3
Jon Bostic – 2
Cam Heyward – 2
Tyson Alualu – 2
Tyler Matakevich – 2
Roosevelt Nix — 1 (special teams)
Jordan Dangerfield – 1
Nat Berhe – 1
LJ Fort – 1
Looking at those numbers from the Week 8 game against the Browns, the one that surely stands out is rookie safety Terrell Edmunds leading the team with 3 misses in that game.
It's certainly concerning to see his name at the top of the list, especially with yet another missed special teams tackle. That being said, two of the misses can be cleaned up with property technique. The special teams miss was technique, as was the miss on Nick Chubb's 20-yard run in the first quarter. He wrapped up but never brought his feet with him, instead going along for a ride with Chubb.
The miss on Cleveland's first drive on the crossing route by Damion Ratley is something to be concerned about because he continues to struggle with angles. He closed down on Ratley as the ball was thrown, but his angle was horrendous, making for an easy lane around him along the sideline.
Of course, NFL GamePass decided to be awful this week with coaches film, so it's hard to show you that because the Browns offensive coaching film was poorly cut up, and it's all in the wrong order.
Now, aside from Edmunds, Joe Haden isn't physical at all as a tackler. That's a big reason why he's tied for the team lead in misses through 7 games. He'd rather dip his shoulder and not even attempt to wrap, rather than go in with proper technique.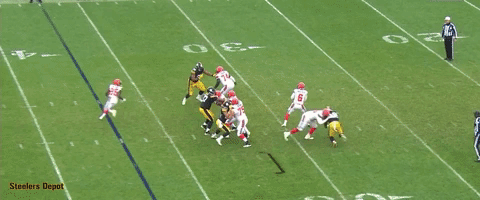 This is obviously in garbage time, but look at the effort here near the end of the game. Some can brush that aside considering score and conditions, which is generally fine, but it's bad tape to put out there.
It looks like TJ Watt is laboring to move in space, resulting in him diving for rookie running back Dontrell Hilliard's legs.
After Watt's miss, look at the effort by Haden. He drops his head, tucks his arm in and goes for a shoulder blow to Hilliard's legs. That's simply not going to cut it in the NFL. We've seen that quite often this season from Haden when it comes to tackling on the boundary. That needs cleaned up. If he can clean up the tackling and pair it with his lockdown coverage, look out.
As I wrote in my positional grades piece, Bud Dupree was outstanding on Sunday afternoon. He destroyed undrafted rookie left tackle Desmond Harrison all game long.
Now, if you want to discredit that performance because of the caliber of tackle he went again, that's on you. Dupree more than did his job on Sunday, which helped the Steelers roll to the win.
This play though was one that had people frustrated early.
Dupree gets a fantastic jump at the snap, sprinting into the backfield unimpeded for a clean shot at Nick Chubb. Instead, Dupree overruns the play, allowing Chubb to cut back. I didn't give Cam Heyward a miss here because he was being held a bit by the Browns offensive lineman.
An important side note too: Chubb forced 5 of the Steelers' 12 misses on the afternoon, while Duke Johnson Jr. forced 1 miss in limited action, and Hilliard forced a combined 4 other misses, including 2 on special teams. That means that Cleveland's running backs forced 10 of the Steelers' 12 misses, accounting for 83 percent of the forced misses.
Baker Mayfield forced 1 miss, while Ratley forced 1 as well.
For the Steelers' offense, Pittsburgh forced 10 misses, meaning they went -2 in the tackle department in a 15-point home win.
Total forced misses vs. Browns – 10
James Conner – 8
Ryan Switzer – 2
Total forced misses through 8 weeks (7 games) – 84 (12 forced misses per game)
James Conner — 46
Antonio Brown — 11
Ryan Switzer — 10
Vance McDonald — 8
Ben Roethlisberger — 3
Stevan Ridley — 3
JuJu Smith-Schuster — 1
James Washington — 1
Xavier Grimble  — 1
At some point James Conner needs to get his national due. For a guy who was considered stiff coming out of the University of Pittsburgh with a lack of elusiveness, he's leading the league in forced missed tackles through 8 weeks.
Not bad for a guy many didn't think could handle the role of starting running back in the NFL.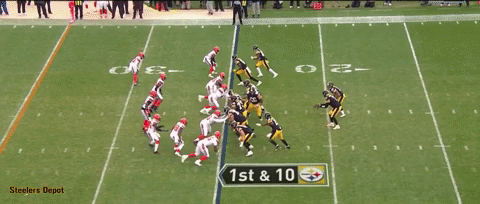 This was Conner's backbreaking 30-yard run on the Browns after Cleveland pulled to within 4 points at 16-12.
He loves the spin move, and has a mean stiff arm.
Enjoy.