Little more difficult of a sack breakdown this week. We're taking a look at the two allowed Sunday by the Pittsburgh Steelers against the Denver Broncos. 
1. 1st and 10, :59 3rd. 11 personnel. Four rush vs five block + RB chip/release
Little bit of poor technique and bad luck coming into play here. Alejandro Villanueva is matched up on #48, Shaq Barrett, one on one. Barrett is attacking him with a bull rush and get his hands into Villanueva's pads, driving him back. Doesn't matter that Villanueva has several inches and 100 pounds on him. Leverage creates power.
Drives Villanueva backwards. Then some of the bad luck kicks in. Looks like his right foot slip and he goes to the ground. Barrett is able to disengage and drag Ben Roethlisberger down for a loss of six.
The extra sucky part about this play is that it could've gone for six. Watch Antonio Brown run this post in the middle of the field, dusting the corner. If Roethlisberger has time and sees it, this is probably six.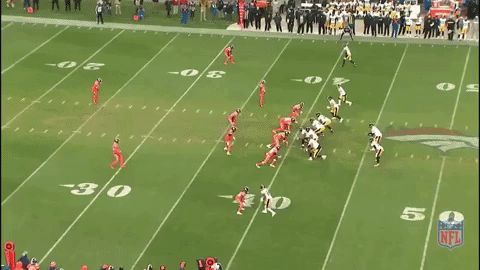 Instead, it's a sack. The next play, James Conner fumbles and the Broncos drive to take the lead. Football, man. The first full sack we've assigned to Villanueva since Week 8.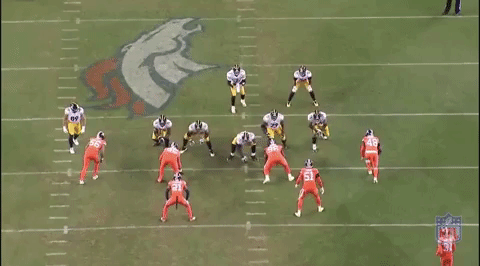 Blame: Alejandro Villanueva
2. 1st and 10, 4:26 4th. 11 personnel. Four rush vs six block.
Have to give a ton of credit here to Von Miller. Watching it live, I thought for sure he was offsides. But rewatching it, the TV angle still offers the best look, he seems to jump it perfectly. Why he's an elite pass rusher.
So that puts Chukwuma Okorafor in a bind off the snap. He might still be sitting inside knowing Conner is staying in to chip. If the tackle oversets, then the rusher can counter inside and the chip will do you more harm than good.
But Miller is able to split both guys, there's too much of a gap created as Okorafor abandons his foundation and tries to shove Miller upfield. Miller then works through Conner to drag Roethlisberger down.
Conner had to give help but Okorafor barely lays a finger on him. And you can't expect Conner to take that one solo. Great play by Miller but I'm putting it on the rookie.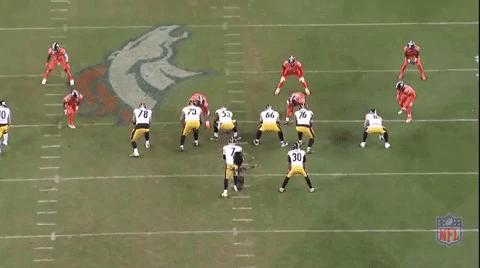 Blame: Chukwuma Okorafor
Sack Counter (Game)
Alejandro Villanueva: 1
Chukwuma Okorafor: 1
Sack Counter (Season)
Alejandro Villanueva: 4.5
Matt Feiler: 3
Marcus Gilbert: 2
Coverage: 2
James Conner: 1
Ramon Foster: 1
Chukwuma Okorafor: 1
Maurkice Pouncey: 1
Ben Roethlisberger: .5
Penalty Counter (Game)
Chukwuma Okorafor: 1
Penalty Counter (Season)
Alejandro Villanueva: 4
Marcus Gilbert: 2
Maurkice Pouncey: 2
David DeCastro: 2
Ramon Foster: 1
Chukwuma Okorafor: 1